Description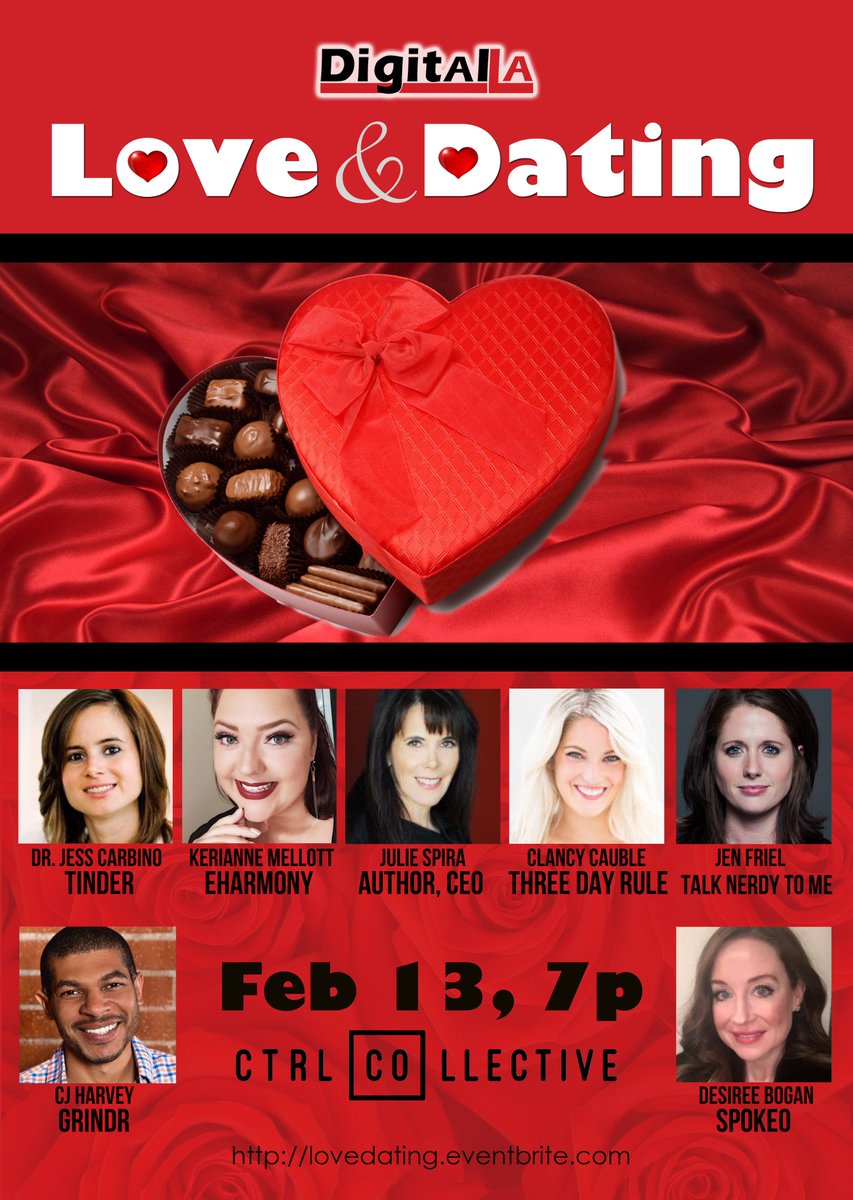 Our Valentine's Day eve Digital LA - Dating Apps panel features LA-based dating app startups to discuss how they differ, develop new features, launch, and do marketing and community building. Plus, we'll discuss how to improve your dating app profile pic, photos, and what to say to stand out when you're on a dating app or social media. Panelists will give real time advice for those who want to know how they can improve their profile pics, content, etc.
SPEAKERS:
- Dr. Jess Carbino, Tinder, Sociologist. Dr. Jess received her PhD. in sociology from UCLA, and is the Sociologist at Tinder where she conducts product tests, analyzes user data and aligns social needs with mobile product and user experience. Her work has been featured in major news outlets including The New York Times, Time Magazine, Marie Claire, Cosmo, Men's Health, New York Magazine and The Colbert Report. She has been referred to by LA Weekly as the "Dr. Ruth of the Swipe Right Generation." Dr. Carbino has appeared on many TV programs including ABC's Good Morning America, ABC's 20/20, CBS' The Doctors, CNN, HuffPost Live and Pivot's Take Part Live. She produced and hosted a weekly radio show at UCLA Radio called "Hook up With Dr. Jess." @jessicacarbino.
- Kerianne Mellott, eHarmony, Social Media Director. Kerianne manages eHarmony's Social Media Department and is responsible for overall strategy and direction for the brand across their various profiles and communities. She also has experience in creating daily campaigns, including running Facebook Ads, Instagram Ads and Twitter Ads. She hires influencers for specific campaigns and works directly with her partners at Facebook, Instagram, Twitter and YouTube to deliver highly-engaging content and effective advertising campaigns. Kerianne has also produced a library of digital video content for the online dating audience and has now branched out to include creating additional "Live" content for the brand.
- Clancy Cauble, Three Day Rule, Matchmaker. Three Day Rule is a leading tech-enabled, personalized matchmaking company that helps singles outsource their dating lives to real-life matchmakers in LA, San Francisco, New York, Chicago, Boston, Washington, D.C, and Philadelphia. Three Day Rule is the exclusive provider of white-glove, personalized matchmaking services to Match, and are backed by IAC. With a degree in Sociology/Anthropology, Clancy has always had a penchant for understanding people. Bring a photo of your ex and burn it at the Three Da yRule Clean Slate Pre-Valentine's Party 2/11 at the Viceroy http://www.cleanslateparty.eventbrite.com @ThreeDayRule
- Julie Spira, Online Dating Expert, is the bestselling author of "The Perils of Cyber-Dating: Confessions of a Hopeful Romantic Looking for Love Online." Julie's been helping singles find love online for over two decades. She's the CEO of Cyber-Dating Expert at CyberDatingExpert.com and creates Irresistible Profiles for singles on the dating scene to find their perfect match. Julie's a finalist for "Best Dating Coach of the Year," ranks as the most influential person in social media on Klout in the subjects of "online dating" and "dating," and was named one of the "Top 10 Columnists to Follow on Twitter." Follow @JulieSpira on Twitter and IG.
- Jen Friel, Talk Nerdy to Me, Founder. Jen is founder of the new media relationship blog Talk Nerdy To Me, Lover which covers all things "nerd, sex and tech." The blog has been optioned by Warner Bros. and Jerry Bruckheimer, and in August of 2015, Talk Nerdy To Me, Lover was purchased by CBS for a put pilot (a pilot with a penalty if it doesn't get air time). Friel documented her adventures of 103 dates in 9 months (using the OKCupid algorithm), "destination dating," slave ownership, and more scouting for suitors solely using dating apps and social media.
- CJ Harvey, Grindr, Product Manager. As the product lead for Data Science at Grindr, CJ analyzes user behavior and implements enhancements to improve the digital meet-up experience. Grindr is one of the largest dating apps, helping gay men find others nearby. Grindr has millions of users per day in more than 243 countries and territories. Grindr recently raised $93M investment at a $155M valuation. Grindr recently relocated to new West Hollywood offices. @grindr
- Desiree Bogan, Spokeo, Head of Recruiting. Spokeo is a leading people intelligence company, where Desiree is a trusted adviser and reports to the company's founders. She frequently partners with Three Day Rule and Match.com on employment branding initiatives and helping people navigate complex social engagements. Drawing on her master's degree in Intercultural studies, and 14 years as an HR leader, with vast people-vetting and matching experience, she will give you insights into reading people, assessing them for compatibility, and how to get the information you need to make effective personal and professional decisions.
More speakers TBA. If you're a Silicon Beach love /dating site/app that wants to be on the panel with 2 years experience, email info@digitalla.net with DATING as subject
PITCHING COMPANIES
if you'd like to pitch your dating app, email info@digitalla.net with DATING as subject
AGENDA
- 7-7:30p Checkin and Networking
- 7:30-7:50p Pitches
- 7:50 - 9p Panel

PARKING
- Complimenatry parking after 6p in the lot while space available, or park in the street