Description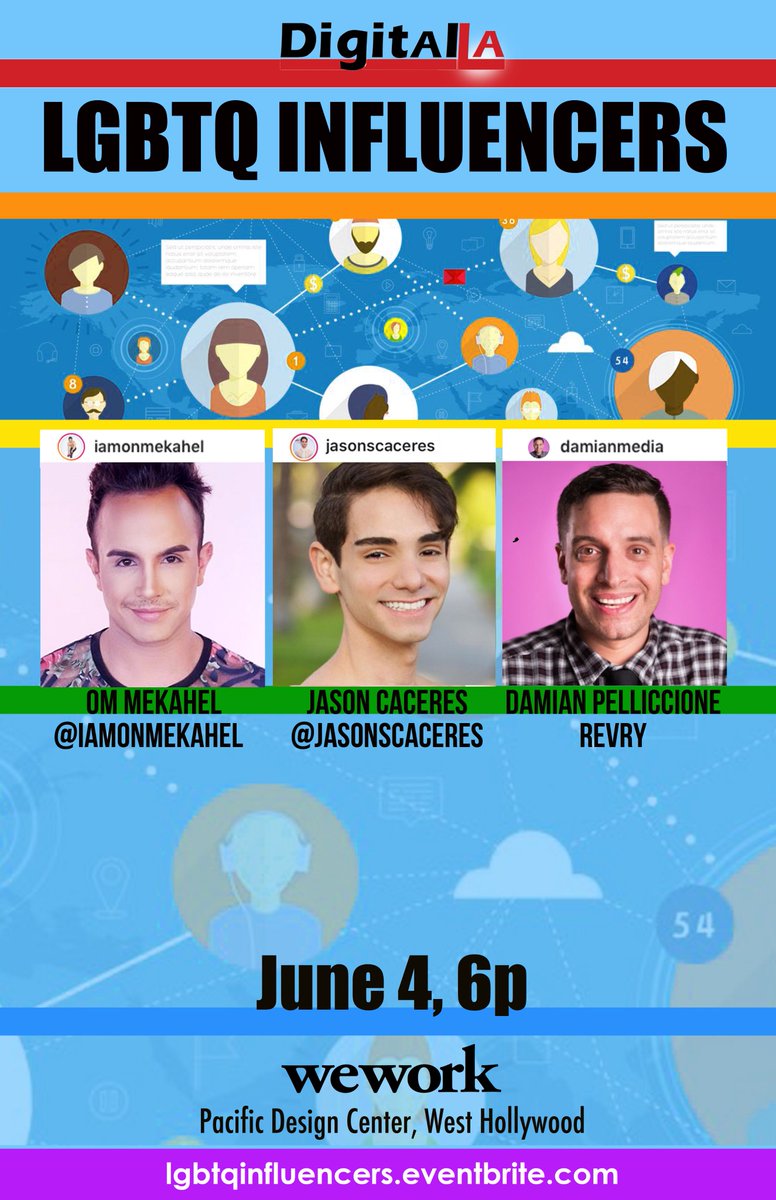 Join us for our LGBTQ Influencers panel, where speakers will share how they reach and engage LGBTQ+ audiences via Instagram and other social media. We will discuss how influencers reach their audiences, work with brands, and engage fans. We will also discuss how companies, brands, and content companies partner with influencers to reach LGBT audiences to promote content or products. We will also discuss effective messaging, imagery, incentives, and promotions to encourage engagement. This panel is our annual panel celebrating LGBT community during LA Pride in Los Angeles.
SPEAKERS
- On Mekahel, influencer who started his own underwear brand with his boyfriend. With more than 700,000 Instagram followesr, On has created a show that will be streamed on REVRY. @iamonmekhel on Instagram.
- Jason Caceres is an actor who has appeared on Criminal Minds (CBS), Insatiable (Netflix), Kidding (Showtime). He appears at several red carpet screenings, premieres and events in LA. @jasonscaceres on Instagram.
- Damian Pelliccione, REVRY, cofounder. Damian co-founded Revry, a "Netflix for LGBTQ" content, which curates and streams content featuring LGBTQ audiences. He founded it realizing the major streaming platforms don't have much contnet for LGBT audienes. @damianmedia @revry on Instagram.
- Moderator: Kevin Winston, Digital LA, founder
CALL FOR SPEAKERS: Looking for female LGBTQ speakers with at least 10K Instagram followers.
AGENDA
- 6-6:30p Check-in and Networking. Light snacks will be provided.
- 6:30-7:30p Panel with Q&A
- 7:30-8p After Networking.
SPONSOR: Show your support for LGBT Community by sponsoring! Tables start at $250, or be a presenting sponsor for $500 for your logo on the flyer and description here on this eventbrite.
DIRECTIONS
- Uber/Lyft, it is best to be dropped off in the valet round around directly below the Red building. From there, take the West elevators to the Sky Lobby (Floor 8).
- Driving: enter the parking garage on 750 N San Vicente and follow the "Parking" signs. Proceed through the garage and always keep left. Follow green signage until you are on the top of the parking garage. Walk under the red building and look for the "Do What You Love" decal on the wall. Take that elevator bank to (SL) Sky Lobby. Please note PARKING IS NOT VALIDATED!!!! Parking is $16.50 a day or $10 after 5pm.
COMMUNITY PARTNERS
- Thanks to REVRY community partner.