Actions and Detail Panel
Digital LA - InsurTech (The New FinTech?) panel
Thu, February 23, 2017, 7:00 PM – 9:30 PM PST
Description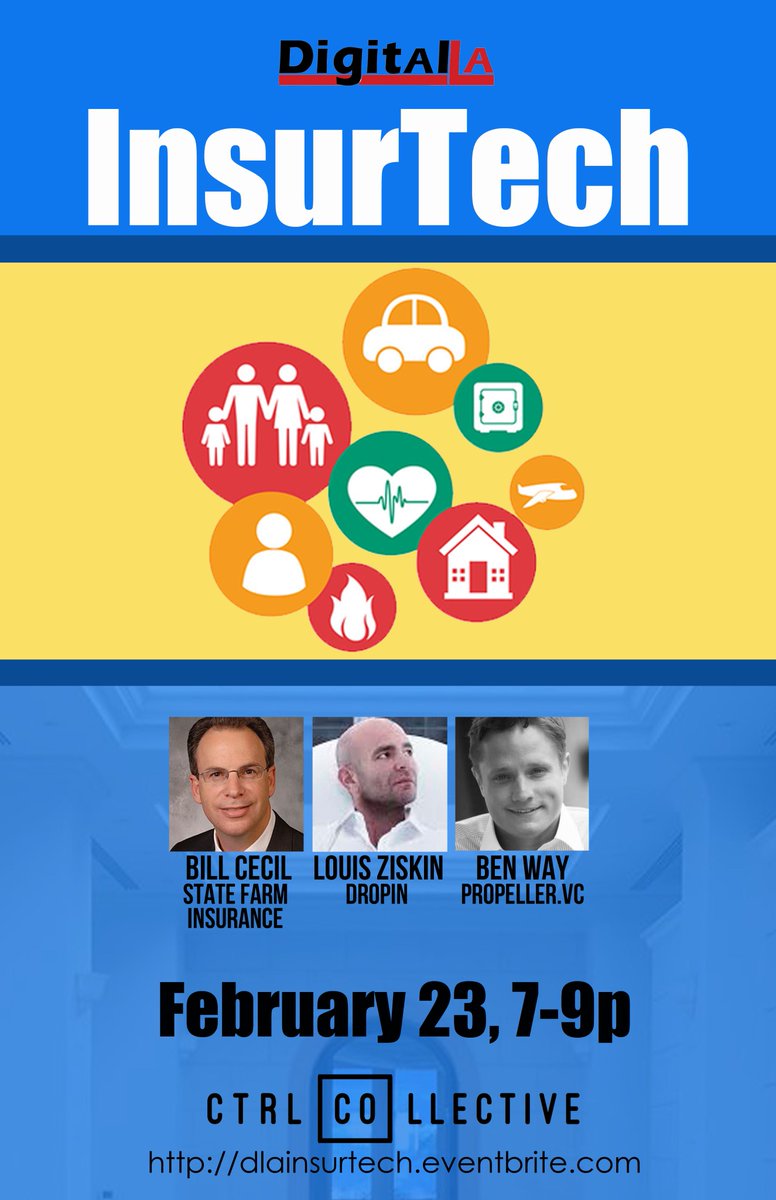 Join us for our panel on the growing InsurTech industry, which has been called the new FinTech. InsurTech startups are growing rapidly, as new digital tools are being used to disrupt and get a piece of this billion dollar industry. Our experts will discuss:
- Types of InsurTech Startups: Consumer Insurance, P2P, Reinsurance, Comparison, User Acquisition, and Industry ( Auto, Health, Home, Life, Enterprise)
- What are the hot sectors of InsurTech startups?
- What are the leading InsurTech startups in LA, Silicon Valley, nationally, and internationaly
- How do InsurTech investors find InsurTech startups?
- What are the major VCs, accelerators, incubators specializing in InsurTech?
- What are trends and predicitons for the InsurTech industry?
- Bill Cecil, State Farm Insurance, Innovation Director - Silicon Valley. Bill Cecil looks for busineses to identify emerging business models, products, services, technologies, and processes.
- Louis Ziskin, DropIn, CEO, Founder. DropIn enables insurance and automotive professionals to "be in two places at once." DropIn provides an on-demand solution for both automotive and property/casualty carriers. Adjusters can preview claims before leaving their desks, by leveraging one of DropIn's on-demand associates (called "Droperators"), or by directly sending a SMS link to the claimant at FNOL (first notice of loss) – which, when clicked, enables DropIn to go live within a matter of seconds.
- Ben Way, Propellor.VC, Entrepreneur In Residence. CEO of Rainmakers, one of the first incubators in Europe, and CEO of Digitz, which provides fintech and payemnt services