Actions and Detail Panel
Digital LA - HR Tech: How to Get a Job / Find Talent in Silicon Beach
Mon, April 17, 2017, 7:00 PM – 9:00 PM PDT
Description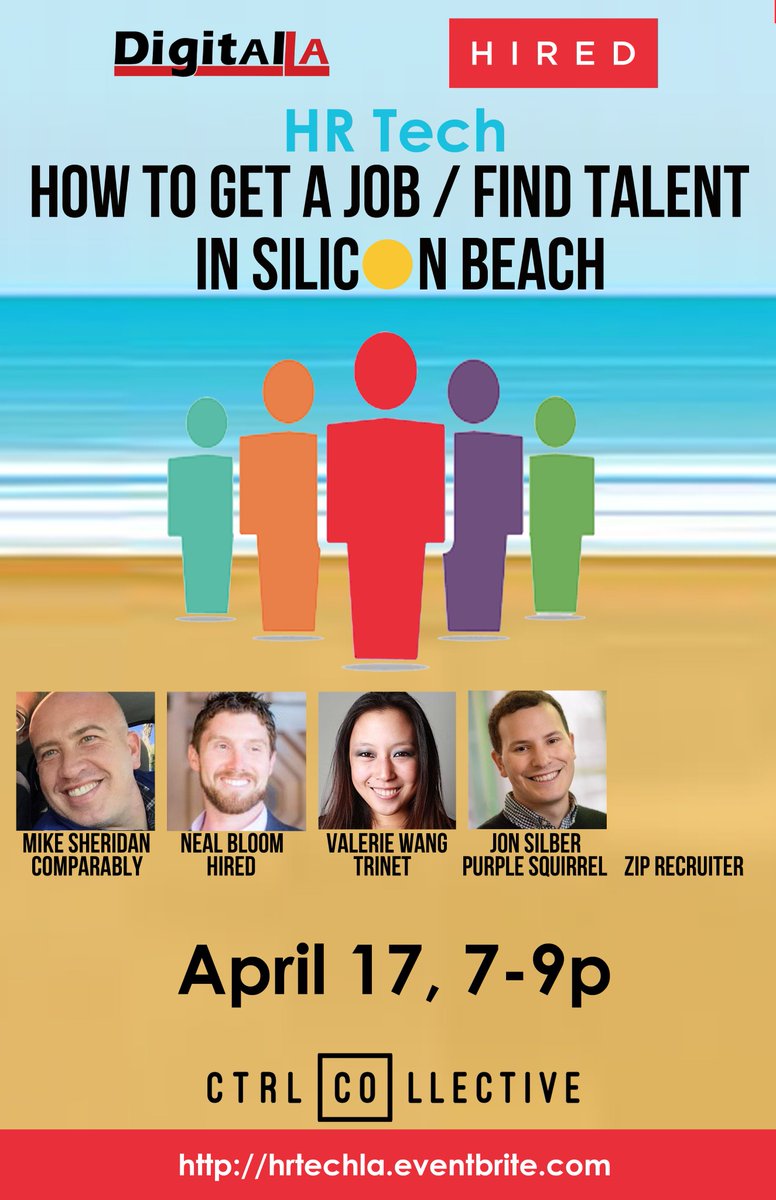 Join us for our first panel on HR Tech with founders and other executives at Silicon Beach startups that create and develop Human Resources tools, platforms, and apps to help with finding jobs, comparing salaries, and recruiting, as well as HR operations including benefits, payroll, compensation, and more. Meet HR Tech founders who'll describe what they do, the growing HR Tech market, how they increase awareness via marketing and PR and acquire customers (B2C consumers or B2B business clients).
We will also talk with experts with hands on advice on how to get a job and find talent. For job-seekers, we will discuss where to look, how to connect to the company, how to improve your resume or LinkedIn, and what employers are looking for. For startups, we will discuss how to find good candidates in Silicon Beach, including developers, business develompent and operations, digital marketing, and social media / PR, and what job seekers are looking for re compensation, quality of life, company culture, etc.
SCHEDULED SPEAKERS
- Neal Bloom, Hired, Southern California Lead. Hired is a software company that connects the right talent with the right opportunity. Its curated marketplace allows candidates and clients to discover their perfect match more effectively and efficiently. Currently focused on developers, designers, product managers and data scientists in 15 cities around the world--- and expanding quickly (and hiring!). Hired is backed by VCs Lumia, SVB, Crosslink, Sierra, Sherpa and Softtech. @Hired_HQ
- Mike Sheridan, Comparably, COO and Co-Founder. Mike and Jason Nazar founded Comparably to provide compensation data for both job seekers and employers. Job seekers use Comparably to search salary ranges, sortable by job title, industry, and ZIP code. Consumers can also discuss job related questions and share advice on the discussiong boards. Employers use Comparably to recruit talent, compare company culture to competitors, and access salary data for different industries and departments. @comparably
- Jon Silber, Purple Squirrel, CEO and Co-Founder. Job seekers use Purple Squirrel to find and contact Advocates who work at companies they are interested in. Advocates can answer questions about the job, and if there's a fit, refer to hiring manager for available jobs. Advocates can also give resume and interview advice. Recently launched. @PurpleSqCA
- Valerie Wang, TriNet, Regional Sales Consultant. Valerie works with tech startups, VC and angel investment firms, and other strategic service providers focusing in Silicon Beach. TriNet offers HR solutions for startups to mid-sized companies by administrating all HR, Payroll and Benefit responsibilities through a shared liability model. Trinet manages risk mitigation and compliance, and uses proprietary technology to automate HR administration. Trinet also helps startups offer Fortune 500 level benefits. @valeriecwang @trinet
- ZipRecruiter, TBA
- Moderator: Kevin Winston, Digital LA, CEO and Founder

THANKS HIRED for sponsoring!
Hired.com is a custom talent pipeline sourced just for each company with active candidates, algorithmic matching, and seamless communication. With 95% candidate response rate & average time to hire of 25 days, hundreds of Silicon Beach companies use Hired on a weekly basis for all their engineering, designer, and product management talent needs. Contact Neal@Hired.com, the Southern California market lead for any questions or pricing.
AGENDA
- 7-7:30p Check in and networking. Complimentary Pop Chips, Red Bull, and other snacks
- 7:30-8:30p Panel with Q&A livestreamed via Facebook Live.
- 8:30-9p Ater networking
PARKING: Complimentay aprking after 6p in the CTRL parking lot. CTRL Collectiveis a collaborative community with coworking space and private offices, with locations in Playa Vista and Downtown LA. http://ctrlcollective.com @CTRLcollective