Description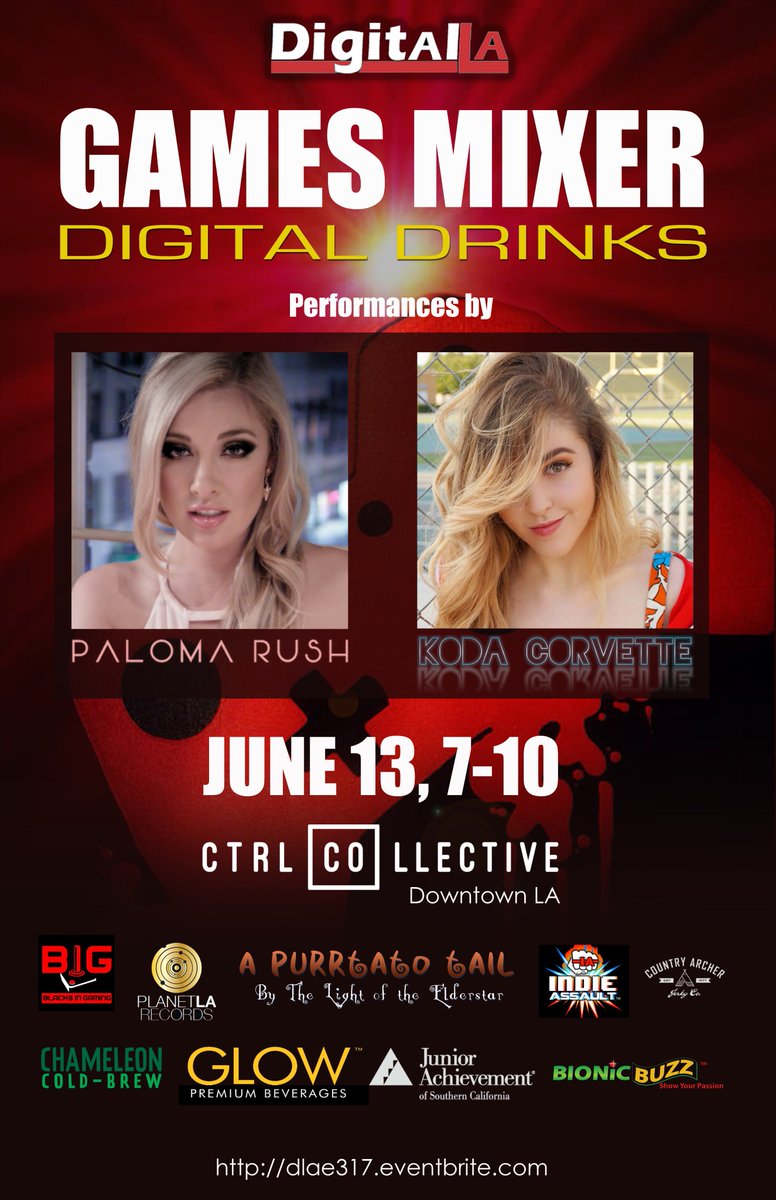 RSVP for our pre-E3 Games Party Cocktails at CTRL Collective! Trade notes on E3 parties and plans with other game industry and game fans. Check out VR demos, and take pics with our video game related standees!
FREE tickets are sold out for badge holders and non-badge holders. All atttendees: register $10 to attend.
VISIT DEMO TABLE ARCADE featuring cutting edge games, and community partners!
- A Purrtato Tail By the Light of the Elderstar is a puzzle Metroidvania about Potato Cats on the Isle of Moar. Connect characters together to explore environments, use their abilities to solve puzzles, and explore the Purrtato world in this introduction to the full furry adventure from Drunk Robot Games. @purrtatotail http://www.purrtatotail.com
- IA is a platform fighter focused on iconic indie characters, new Team-Based mechanics, and a competitive eSport community! Attendees to the Digital LA E3 after party event will get the 1st hand opportunity to check out an enthralling new eSport for consoles brought to you for the 1st public showcase ever in partnership with: Imagination Vent, LLC & Digital LA. @IndieAssault http://imaginationv.com
- Junior Achivement of Southern California, which organizes events to give student leaders exposure to business.
- Blacks in Gaming provides networking and outreach to demystify the video gaming industry for people of color
- Demo Tables are still available. Just purchase via the registration link above, and then email info@digitalla.net with GAMES as the subject.
PERFORMANCES BY
Paloma Rush, a recording artist working on her LA debut album with producer Lars Deutsch. Their sound is a blend of electronic, pop, and R&B. She released her new single and music video "Drive" in October 2016. Former member of the PJAYZ, she's performed with some big name artists such as Far East Movement, and played venues such as Van's Warped Tour, Shoreline, and Nokia Theatre, Los Angeles. She toured nationally as the DJ for Natalia Kills (Interscope), and her songs have been featured on MTV's "Real World," "Bones," E!'s "Keeping up With The Kardashians," "Jane the Virgin," "Bad Girls Club," and "So Cosmo". @Paloma_Rush http://palomarush.com
Koda Corvette is a professional 17-year-old pop/R&B singer, songwriter, dancer, producer, actress, and performer in Los Angeles, CA. She cites her musical and style influences to be Michael Jackson, Janet Jackson, Justin Bieber, and Katy Perry. Koda has opened up live in concert for big artists such as Becky G and Tori Kelly, then making waves at the LA and San Diego Neon Run EDM Concerts, the Special Olympics Fall and Summer Games, the Music Run LA, Splash Kingdom, the NOS Center, and the Universal CityWalk 5 Towers Concert Stage. She wrote, produced, and released her debut single, "Bring It On," available online now on iTunes, MTV.com and most popular music distribution sites. @KodaCorvette http://kodacorvette.com
SNACKS and BEVERAGES
- Glow Beverages
- Country Archer Jerky Co.
- Chameleon Cold Brew coffee
COMMUNITY PARTNERS
Blacks in Gaming strives to demystify the video gaming industry for people of color. We assist individuals in evolving from consumers to producers of video games. To accomplish our goals, BIG provides networking, outreach, mentoring, and entrepreneurship guidance to professionals and students. @BlacksInGaming
PARKING:
- Park on your own: Street parking or nearby garages. No validations.
SPONSOR:
- If you'd like to provide free snacks or beveages, or sponsor with a table to demo your game or VR, get a table for $250 above, and email info@digitalla.net to coordinate your table load-in.