Description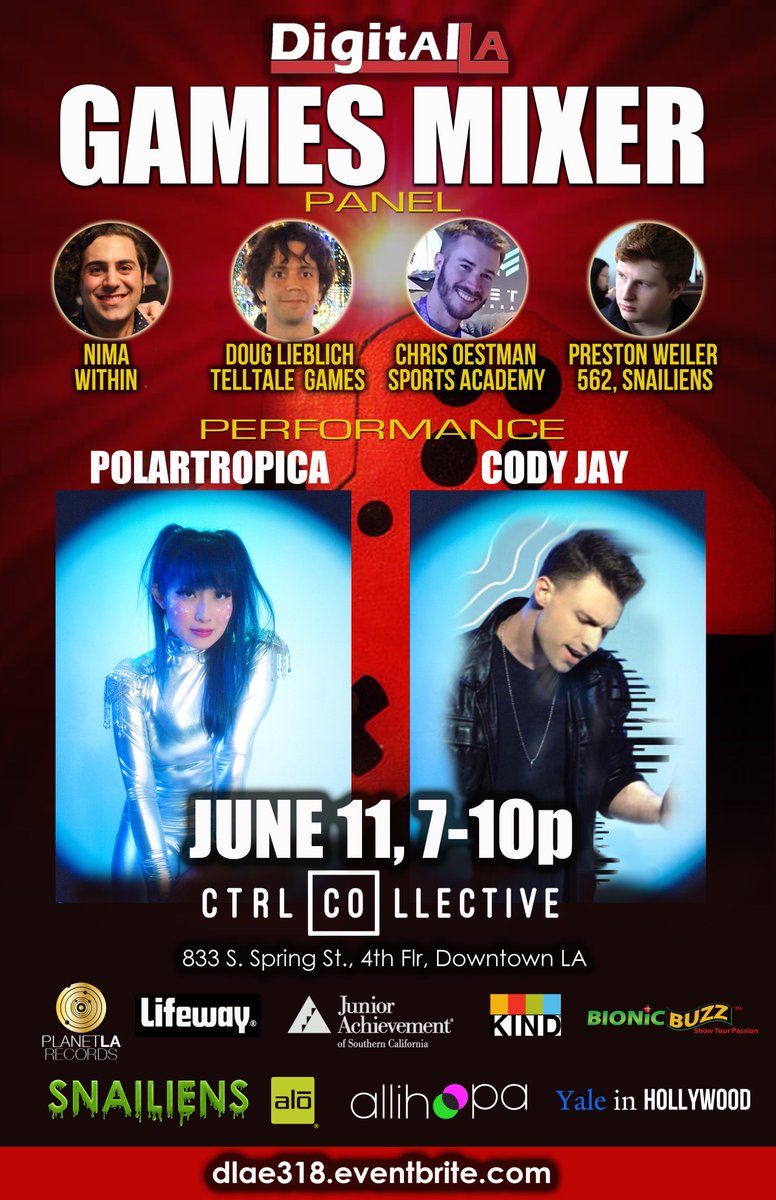 RSVP for our pre-E3 Games Digital Drinks at CTRL Collective! Trade notes on E3 parties and plans with other game industry and game fans. Check out VR demos, and take pics with our video game related standees!
AGENDA
- 7p: Check-in and explore demo tables by Snailiens and Junior Achievement. Snacks provided by Lifeway, KIND, Planet LA Music.

- 7:30p - 8p Trends in Games Panel: Experts will discuss trends in games, from VR to mobile and cross-platform and more.

Nima, WITHIN VR company. Nima was the Product Manager for the WITHIN app for Oculus Go, which was a launch title and features a ton of new Oculus features like a 1440x1440 eye render buffer resolution.
Doug Lieblich, Telltale Games. Worked on Walking Dead: The Final Season, Minecraft: Season 2 and game-related TV work incluing writing Sonic Boom for Cartoon Network
Chris Oestman, Sports Academy, Esports. Sports Academy recently launched esports, where you can train to play games along side physical sports.
Preston Weiler, 562 Interactive, Business Development. Worked with influencers to promote new indie game Snailens, which pitched at Casual Connect.
PERFORMANCES
8:30-9p: Cody Jay pop singer whose new single Work For You just released.
9:00-9:30p Polartopica space tech performer with lasers and neon, perfect for our games mixer. Her ASTRODREAMS EP out now on Lolipop Records!!
FREE for E3 pass holders when you register AND show your E3 badge at the door
Non-E3 badge holders can attend by registering $10.
Showcase your game: You made your game, now it's time to market and promote it! Demo Tables are still available for $250 for a table for you to promote your game. Bring your own tablecloth, banner, freebies like candy or T-shirts. Just purchase via the registration link above, and then email info@digitalla.net with GAMES as the subject and a short description of your game, logo, and Twitter so we can add you to the flyer and this event description.
PERFORMANCES will be announced.
SNACKS and BEVERAGES. If you'd like to provide snacks or beverages for logo placement at no cost, email info@digitalla.net with GAMES as subject.

COMMUNITY PARTNERS: if you'd like to be a community partner to help promote to your gaming community, email info@digitalla.net with GAMES as subject and a description of your community.
PARKING:
- Park on your own: Street parking or nearby garages. No validations.
SPONSOR:
- If you'd like to provide free snacks or beveages, or sponsor with a table to demo your game or VR, get a table for $250 above, and email info@digitalla.net to coordinate your table load-in.
CTRL Collective is a collaborative community and workspace with monthly open desk and private office availability at its Downtown LA, Playa Vista, and Pasadena locations, as well as Denver. For a tour of the DTLA location, email jordan@ctrlcollective.com