Description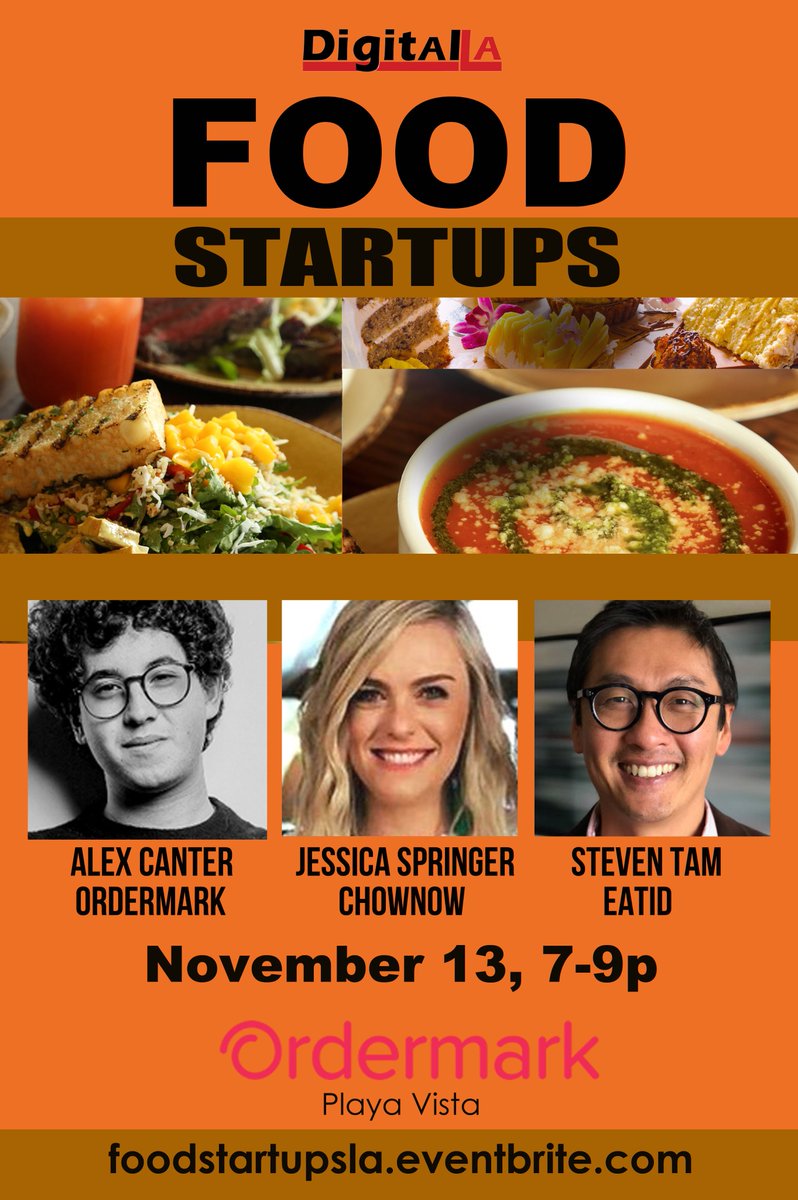 Attend our pre-Thanksgiving Food Startups panel where startup founders and CEOs will share how they developed their idea, built their product, raised funding, launched, develop partnerships, and grow their clients and customer base. Thanks to Ordermark for hosting us at your beautiful new offices in Playa Vista.
SPEAKERS
Alex Canter, Ordermark, CEO and Founder. Alex is a restaurant industry innovator, in-demand speaker, and passionate advocate for restaurant operators and workers. He was raised in the kitchen of the world-famous Canter's Deli in Los Angeles, where he and his team invented Ordermark. A fourth-generation restaurateur, the restaurant business has been in Alex's blood for over 85 years. In addition to being the visionary and leader of Ordermark, Alex is active with the Techstars network and enjoys mentoring other restaurant technology entrepreneurs. A 2019 recipient of the Forbes 30 Under 30, Alex has previously led several technology ventures. @getOrdermark
Jessica Springer, ChowNow, Director Restaurant Performance. Direct and scale a team of 20+ Success Managers and Upsell Managers across two offices, servicing 11,000+ clients. Oversee the strategy, operations, and workflow of the Restaurant Success Team. Provide vision and expertise on the "voice of the customer" for partnerships and product decisions. @chownow
Dr. Steven Tan, MD., EatID, CEO & Co-Founder. Dr. Tan is the co-founder and CEO at EatID. EatID is a physician-led, AI-powered food and health intelligence company. Their technology helps companies build digital experiences that connect customers instantly and accurately to meaningful, personalized food content such as menu items, products and recipes.
Moderator: Kevin Winston, Digital LA, CEO
AGENDA
7-7:30p Check-in and Arrival
7:30-8:30p Panel and Q&A
8:30-9p After Networking
PARKING
Ordermark is at 12045 Waterfront Drive, Building 1, Floor 3. Our address is Los Angeles 90094.
Paid structure parking is NOT VALIDATED and is $7/hour: The entrance for parking is to the right of building 4. Please enter through the parking lot and take a ticket. Take your first left into the covered parking area. Keep driving passed the two valet stands until you see an uncovered parking area. You can park anywhere in this area. Exit the parking lot and you will see our building on the right. There will be a sign for "Belkin".

Free Street parking: There is plenty of street parking right in front of our building. Make sure to check street signs to ensure you are parked in the correct area, as they do monitor this.