Event Information
Location
Phase Two
5877 Rodeo Road
Los Angeles, CA 90016
United States
Description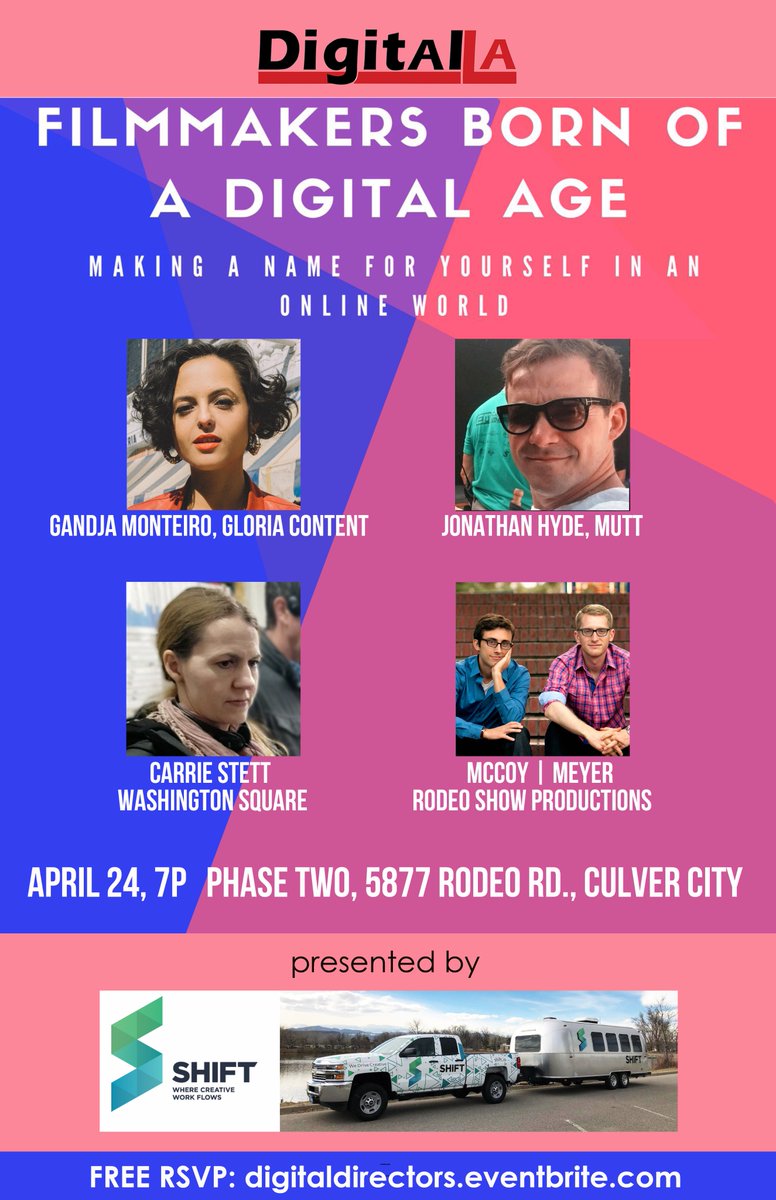 In today's online world where digital production is inexpensive and talent can soar to success on YouTube or Vimeo, launching yourself as a director has both never been easier and yet harder. With digital platforms like Tongal that provide an open marketplace to connect directors with paid branded projects and social media as a digital calling card for personal and professional brands, directors have the tools at their fingertips. Some directors have even stoked their success by creating their own viral-worthy content, aiming to produce attention-grabbing, shareable online videos that get both media and viewer attention.
A panel of emerging directorial talent with some commercial successes under their belts will share insight on how the digital media landscape has shaped their launch into the industry and the parallel challenges it also presents.
SPEAKERS:
Gandja Monteiro, Director at GLORIA Content. Gandja Monteiro is a writer, director and producer who has directed commercials and branded content for top brands such as Nike, Adidas, Google, Coca-Cola, AT&T, Chevrolet and Smirnoff, among others. She recently wrapped production on her first TV project, an hour-long episode for HBO's documentary series YOUTH. Monteiro was accepted into the highly-competitive American Film Institute (AFI) Directing Workshop for Women and directed a female-led sci-fi short that will debut at the Academy Theater in Los Angeles. She is also currently in production for a Google digital series.
Mccoy | Meyer, Directing Duo at Rodeo Show Productions. Mccoy | Meyer is an award-winning directing duo made up of Eric McCoy and Justus Meyer. The pair leverages their passion for storytelling and signature comedic-approach to extract the most entertaining narratives, regardless of the format. They've crafted more than 75 commercials, short films and award-winning music videos for such artists as Fall Out Boy, Flights Over Phoenix, The Johnsons, FLOR, Devin Kirtz, among others.
Carrie Stett, Washington Square Films, Director. Carrie Stett's award-winning work has reached viral status taking in over 120 millions views combined. She has worked with social media influencers and brands to create shows for Disney/ABC, Yahoo!, Univision, Facebook, Instagram.
Jonathan Hyde, Mutt, Director. Jonathan is a young director/DP with a background in visual effects and graphic design. His visual eye is super keen and he is always looking to capture the moment. He often is wearing his camera and is very much a part of whatever scene he is filming. Jonathan has directed commercials for the past 7 years for clients including Samsung, Jockey, Corona, Toyota, Mitsubishi and McDonald's. He has recently wrapped a short film and is working on a series of new projects in 2018."
Moderator: Bill Sewell, WiredriveCo-Founder. Bill Sewell is the co-founder of Wiredrive, a secure media-sharing and collaboration platform for creative professionals. Now under the SHIFT umbrella, Wiredrive, MediaSilo, SafeStream and Screeners.com empower creators on all levels within film, TV and advertising serving 2000 companies worldwide, to develop and deliver exceptional work. Bill works with the SHIFT team on Sales and Marketing Operations, searching for data-driven insights to sell more efficiently. Bill is a digital native, beginning his career in the Internet before the "big series of tubes" was cool. Prior to SHIFT and Wiredrive, Bill founded and ran Intranet Studio Ltd. which built the first promotions extranet for the TV industry in 1995. His work for CBS won Baseline Magazine's technology award in 1998. Bill rides bikes 5000 miles a year, plays bass and violin, and enjoys free-heel skiing. He's a graduate of Pomona College and lives with his wife Lisa and two daughters, Sophie and Fiona, in Pacific Palisades.
AGENDA
7:00 - 7:30p Arrival and Check-in. Light refreshments will be provided.
7:30 - 8:30p Panel with Q&A
8:30 - 9:00p After networking
Social: #DigtialDirectors
Thanks to our sponsor SHIFT. SHIFT makes intuitive tools that make creators successful. SHIFT's brands, including MediaSilo and Wiredrive, have been at the heart of media, advertising and entertainment for more than a decade. We'll soon be launching SHIFT, the first creative workflow platform built for speed, control, and ease-of-use that scales from small teams to large enterprises. http://shift.io
PARKING: Complimentary parking in the Phase Two lot. Enter the long alleyway and drive toward the Phase Two building.
Date and time
Location
Phase Two
5877 Rodeo Road
Los Angeles, CA 90016
United States