Description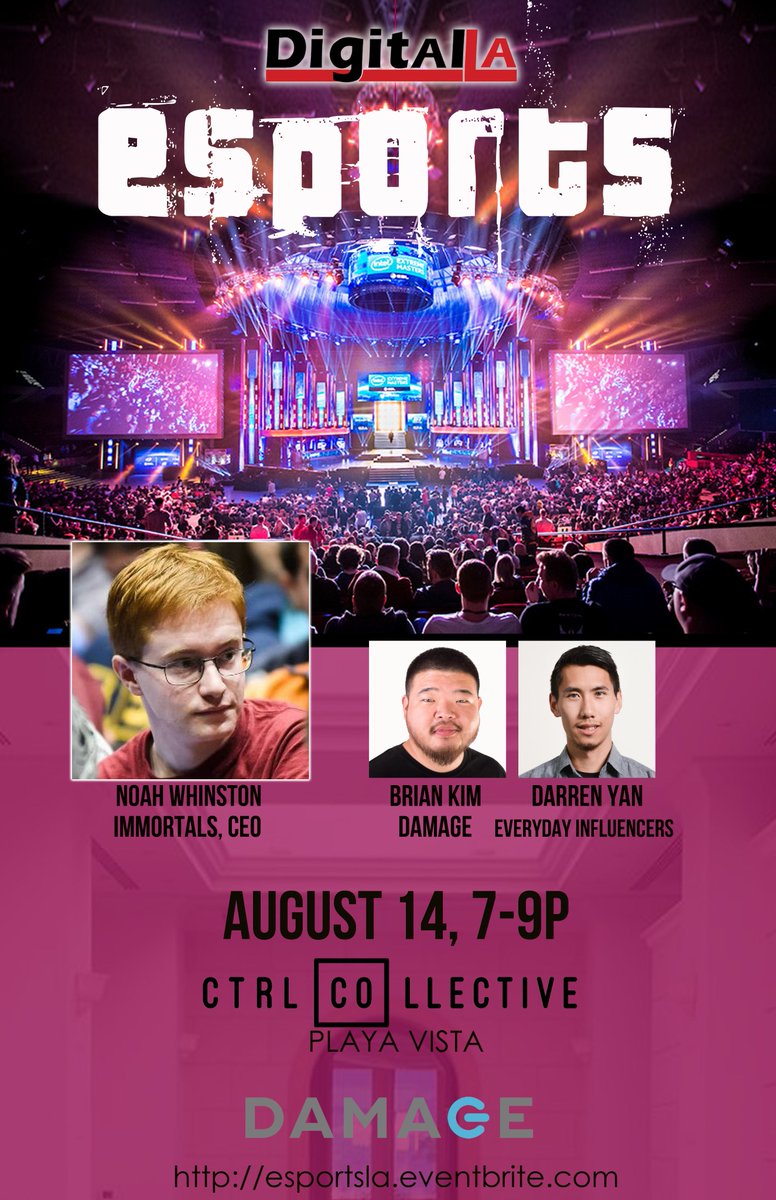 LA has become the epicenter for eSports, with game publishers, leagues, teams, tournaments, players and venues. Join us for our eSports panel where experts will provide a brief overview of eSports, why LA is the home of eSports, and what the LA eSports community can do to increase its profile among the gaming and non-gaming community. We will also discuss a day in the life of eSports athletes, and athlete management and sponsorship and brand deals. We will also disuss new leagues like Overwatch, mobile like Vainglory, and eSports at the Paris Olympics.
SCHEDULED SPEAKERS
Noah Whinston, Immortals, CEO. The Immortals is a Santa Monica based esports team that competes in the North American League of Legends Championship Series and has expanded into Counter-Strike: Global Offensive, Overwatch, Super Smash Bros, and Vainglory.
Brian Kim, Damage, Co-Founder. Damage is an LA based esports marketing agency that consults corporate brands and professional sports franchises on how to navigate the esports space. Kim handles all Damage's client esports activations, which include Subaru, Linksys, Belkin, Sprint and others. Kim has 14 years of experience as a high-level competitive gamer, team captain and team owner combined with enterprise sales expertise which allows him to identify and manage opportunities in esports for corporate brands at the highest level.
Darren Yan, Everyday Influencers, Head of Talent. Darren oversees EI's talent acquisition, talent development strategy, and commercial and programming fulfillment across all verticals. Recently, he helped create Delta Fox, Echo Fox's Challenger Team formed with clients and former pros turned streaming superstars: imaqtpie, Dyrus, Scarra, Shiphtur and Voyboy; EI consulted and provided 90% of the talent in Intel's new global esports commercial "The World is Waching," and raised profiles of clients beyond Twitch into mainstream publications like Rolling Stone.
CALL FOR SPEAKERS: Looking for speakers from Riot Games / LOL, Twitch, Activison Blizzard, and players. email info@digitalla.net with ESPORTS as subject and your background.
ABOUT DAMAGE: Damage is a full-service esports marketing agency dedicated to the growth of esports and corporate brand activations. The agency was founded by two former professional gamers, one marketing agency executive veteran and one award-winning gaming creative director. They design, execute and track effective, authentic esports integration campaigns for brands targeting the male millennial.
AGENDA
- 7-7:30p Check-in and Networking
- 7:30-8:30p Panel with Q&A
- 8:30-9p After networking
PARKING: Free parking in the CTRL Collective gated lot after 6p.