Description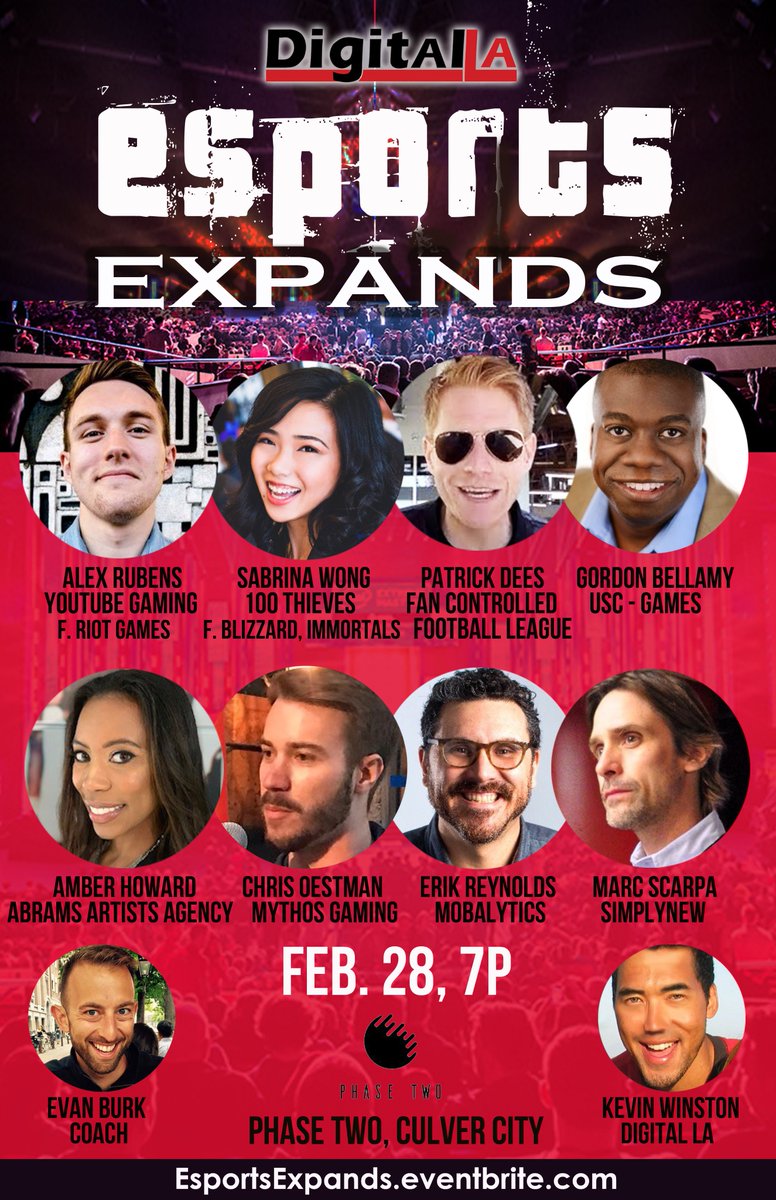 Attend our Esports Expands panel to discuss the latest in esports with industry experts. Plus we will feature several of the LA based companies that will be pitching at SXSW Pitch competition in March.
SPEAKERS
PANEL 1: 7:30-8:15p: Esports Industry, Content, Teams, Brands
- Alex Rubens, YouTube Gaming, Esports Strategic Partner Manager, Content Partnerships. Help esports teams, players, and creators thrive on YouTube. Formerly at Riot Games.
- Patrick Dees, Fan Controlled Football League, Co-Founder and Chief Gaming Officer. FCFL is the first ever fan-controlled professional sports league, where fans act as part-coach, part-GM, and part-owner. Fans have the power to design their team brands, hire coaches, draft rosters, and even call plays while streaming the games live in a digital-first broadcast on Twitch. FCFL is one of the seven LA companies participating in SXSW pitch in March.
- Erik Reynolds, Mobalytics. Head of Marketing. Mobalytics helps esports players achieve their full potential via algorithms that optimize performance. Mobalytics intelligent algorithms and expert staff assess and improve esports players performance, thereby elevating the level of competition on the playing field. Mobalytics is one of the seven LA companies participating in SXSW pitch in March.
- Gordon Bellamy, USC Visiting Scholar in Games specializing in Esports. Gordon is an esports industry expert, speaking on many industry confnerces. His games experience includes: Tencent - Business Development and Industry Relations, Board Chair at International Game Developers Association, MTV Networks, Strategy and Business Development. Executive Director, Academy of Interactive Arts and Sciences and Director of Business Development, North America, THQ.
- Chris Oestman, Mythos Gaming, Marketing Manager. Chris manages marketing for Mythos Gaming, a leading UK based esports company interested in expanding in the U.S.
PANEL 2: 8:15-9p: Esports Innovation: Players, Startups, Stadiums
- Sabrina Wong, Team Manager at 100 Thieves, Previously Immortals and Blizzard Entertainment.
- Amber Howard, Abrams Artists Agency, Agent, Alternative Programming, Licensing and Digital Media. Amber has experience managing and booking celebrity talent, professional athletes, host broadcast talent, and increasingly esports athletes, at various levels, and has managed the talent operations of both studio and remote live events.
- Marc Scarpa, Simplynew, Founder. Marc is an executive producer and director specializing in live participatory media. Marc produces high-endbroadband programming for live events as well as provide solutions for multi-platform digital and social syndication. He recently developed and launced the new esports stadium in Arlington, equipping it with livestreaming and Internet capabilities.
- Evan Burk, Performance Coach. Leadership Coach with the Overwatch League's Los Angeles Gladiators. Evan was previously a NFL and college football coach with the Miami Dolphins, UCLA, and SMU.

Moderator: Kevin Winston, Digital LA, CEO Founder. Kevin previously worked at IGN games.
AGENDA
7-7:30p Check-in and Networking
7:30-8:30p Panel + Q&A
8:30-9p After Networking
PARKING: Complimenatary parking in Phase Two lot after 6p