Description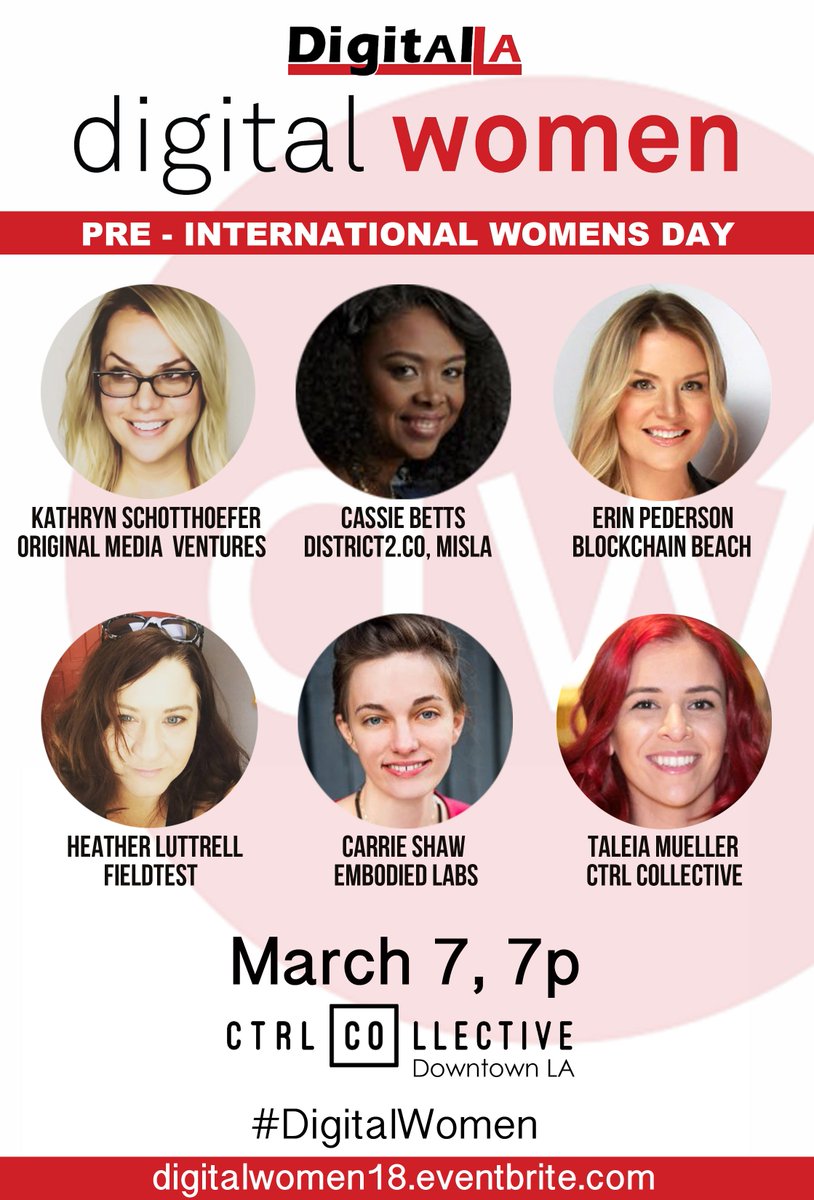 Join us for our annual Digital Women event celebrating women founders in the digital tech ecosystem on the eve of International Women's Day. Meet with these founders who will discuss how they turned their idea into a company, developed their technology, found funding, built their teams, manage marketing, create company culture, expand into new markets and in some cases exit and start new companies. Our annual Women's Day session is known to be both informative and inspirational.
AGENDA
- 7-7:30p Check-in and Networking
- 7:30-8:30p Panel
- 8:30-9pm Networking
SPEAKERS
- Kathryn Schotthoefer, Original Media Ventures, CEO. Previous President of Heavenspot / M&C Saatchi

- Cassie Betts, Founder of District2.Co fashion marketplace, CEO of MadeInSouthLA urban tech accelerator, and founder of Black Women in Tech

- Erin Pederson, Blockchain Beach, Co-Founder of blockchain news and info site; previous co-founder of Markett
Heather Luttrell, FieldTest, Co-Founder. FieldTest helps marketers increase their revenue and customer base through content amplification. The platform delivers content and earned media via major publishers through highly targeted programmatic campaigns. Formerly SVP Strategic Insights at Demand Media, Heather helped transform content data into tactical brand strategy and thought leadership. Heather joined Demand through its acquisition of the company she co-founded, IndieClick. Following the acquisition, she positioned Cracked.com as the number one humor site in comScore and helped grow IndieClick to an audience of 100m US uniques. She helped extend IndieClick products across the Demand portfolio delivering revenue lift across all divisions. Ms. Luttrell spent her early career as a strategic management consultant working in the most profitable business group at KPMG (now Bearing Point). She has been a speaker or led panels at OMMA, Experian Marketing Services Conference, Digital Hollywood, CommunityNext, Silicon Beach Fest and NY Internet Week.
Carrie Shaw, Embodied Labs, CEO and Founder. Embodied Labs is a VR platform for healthcare services workforce training. Her VR simulation puts doctors in patients' shoes. Embodied Labs' work has been featured by the AARP, United Healthcare, Forbes, JAMA, IDEO, and The History Channel and Carrie speaks frequently as a thought leader at healthcare technology conferences. After graduating from UNC Chapel Hill with a B.S. in Public Health, Carrie spent 2 years working as a Health Education Peace Corps volunteer in the Dominican Republic where she fell in love with the way visual communication tools have the unique potential to cross cultural, language, and education barriers. Following that time, Carrie worked concurrently as her mother's primary caregiver, a medical visualization research assistant and a teaching assistant for undergraduate Anatomy & Physiology. Her mother's diagnosis of Early Onset Alzheimer's disease opened Carrie's eyes to the needs of caregivers and the aging services workforce, leading her to complete a Master's of Science in Biomedical Visualization and eventually found her company Embodied Labs.
Taleia Mueller, CTRL Collective, Co-Founder and COO. CTRL Collective is a creative campus and coworking space for entrepreneurs, innovators and creators. Taleia has helped grow CTRL Collective from its Playa Vista launch location, opening up four more locations in downtown LA, Pasadena, Manhattan Beach, and Denver. Taleia oversees CTRL's operations, marketing, company culture, and expansion into new markets. She previously worked at Machinima.
VENUE: Thanks CTRL Collective for hosting. If you're interested in a tour of the co-working space at its downtown location, contact jordan@ctrlcollective.com
PARKING isn't validated or comped. Please look for parking on the street (watch for street signs) or in the parking lots adjacent to the CTRL DTLA building (should be $5-10)