Description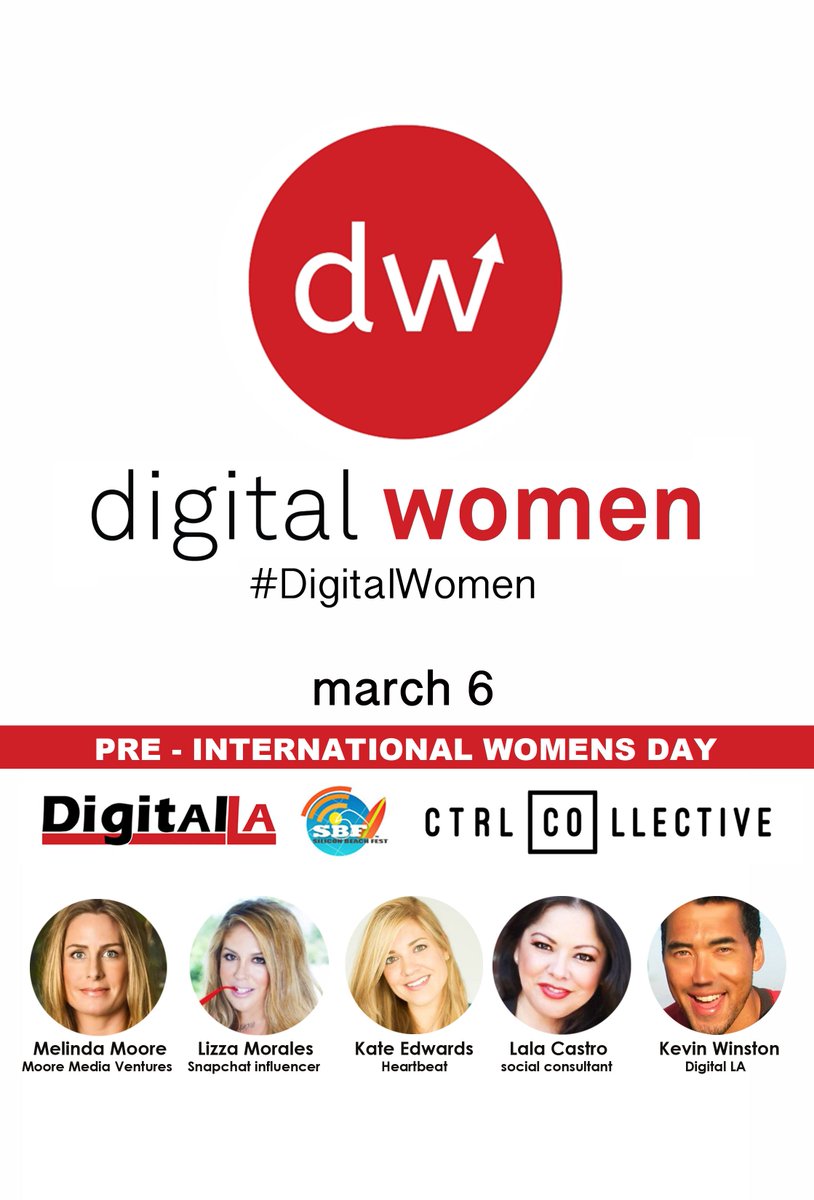 We celebrate women in tech with our third annual Digital Women event, pre-International Womens Day! This year, our programming features women leaders in startups, digital content and social media, who'll discuss what they do, tips to use social media to increase your startup and personal brand, and how to increase women in tech.
AGENDA
- 8-8:30p Check in and Arrival
- 8:30- 9:30p Panel
- 9:30 -10p After Networking
SPEAKERS
- Melinda Moore, Moore Media Ventures, Founder. is a social entrepreneur, a seasoned digital marketer and a frequent speaker at leading technology conferences. With over 15 years as a start-up leader (two exits) and Fortune 500 experience, Melinda combines her passion and experience in health & sustainability, female empowerment, tech & digital media. Her work has been widely recognized by Digital LA (Top 50 Digital Women in 2015), and the National Association of Women Business Owners' Hall of Fame. Her marketing campaigns have been featured by global brands including Ford, LIVESTRONG, Netflix, Obama for America, Orbitz, Sony, USA Networks, and YouTube. She has forged strategic partnerships with leading business, media, and entertainment figures including Jimmy Fallon, Laird Hamilton, Dr. OZ, Dr. Phil, Ryan Seacrest and Yao Ming. After co-founding and selling the successful e-commerce site LovingEco to John Paul Dejoria in 2012, she co-founded Tuesdaynights, a hosted invite-only networking organization of female executives and entrepreneurs Her growing list of event sponsors include Google, Lifetime and Silicon Valley Bank. While continuing to establish Tuesdaynights as a preeminent network event, Melinda is growing her marketing and content creation technology practice. Melinda graduated from UCLA with a BA in psychology. She recently wrote the book How to Raise Money: The Ultimate Guide to Crowdfunding which is currently available on Amazon.
- Lizza Monet Morales, xoxo Lizza, Founder. Lizza is a social media influencer covering entertainment to empowerment, via Periscope/ Twitter, Snapchat, and other social media. She has worked with dozens of brands including the GRAMMYs, Microsoft, Nike, Ford, Red Bull, Sears, AT&T and CoverGirl. She has been featured on The Conan O'Brien Show, CNN and NPR. As well as featured in AdWeek, Vanity Fair and in a full page feature in Cosmo for Latinas. She was named one of the "20 Most Influential Latinos and Latinas of 2016" by Alegeria magazine and is nominated for the 2017 Shorty Awards as Periscoper Of The Year. @xoxolizza
- Kate Edwards, Heartbeat, Founder and CEO. Heartbeat partners with everyday social media influencers, working with clients like Netflix, Amazon, and H&M. Hearbeat was in the Final Five of the Silicon Beach Fest - Startup Showcase startup pitches last summer.
- Lala Castro, Lala Castro Media, Founder. Lala is a ocial media consultant who has worked on campaigns for Knott's Berry Farm, Johnny Rockets Restaurants, Patina Restaurant Group, Toshiba USA/Latin America, Unilever, Dr. Pepper and more. She has appeared on camera for segments for Sony at CES, and Univision. Founder of Latina Geeks. @sparklinglala
CALL FOR SPEAKERS: Email info@digitalla.net if you have a tech story people want to hear, or you're a guy who's done things to help increase women in tech.