Description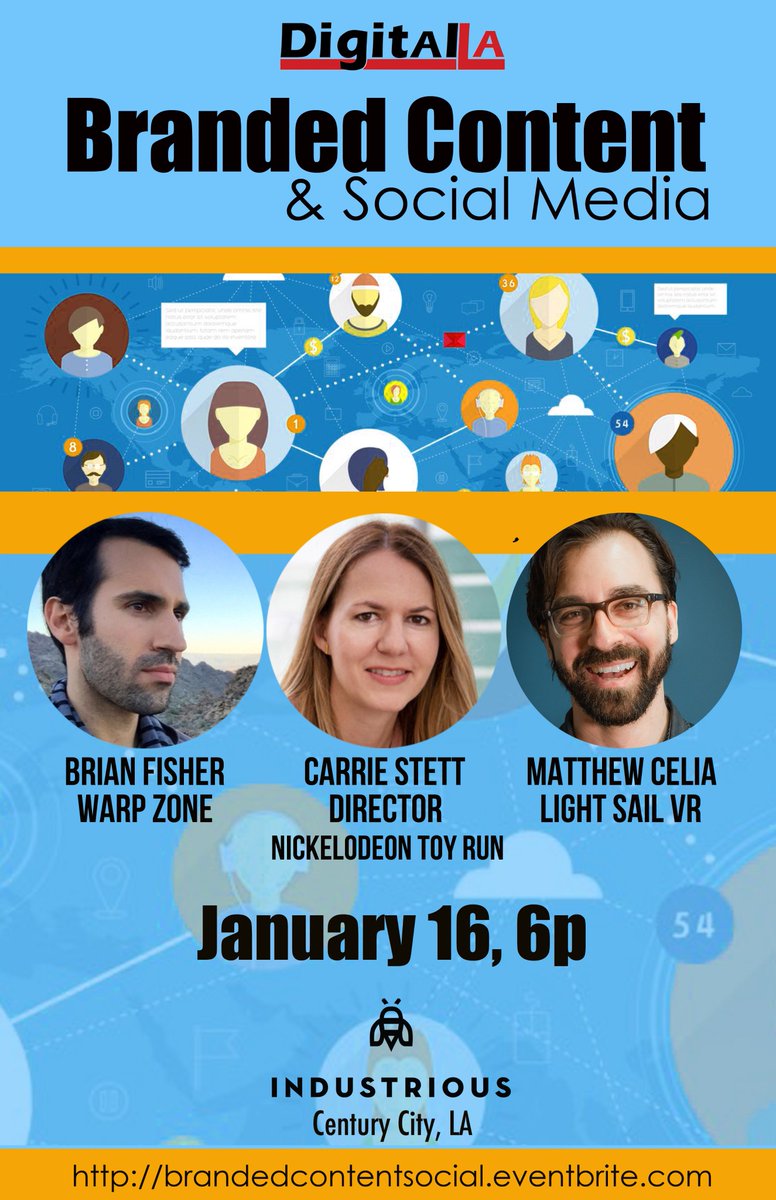 Learn how to create branded digital content and supporting social media campaigns for your brand, whether it's your company, startup, small or medium business, organization, or personal brand. We will discuss how to define your brand, and create original digital content, from short videos and ads that best represents your brand online. We will also discuss how to promote your content via digital marketing and social media, including Facebook, Twitter, Instagram, Snap and more.
SPEAKERS:
Brian Fisher is the co-founder and creative producer of The Warp Zone, a pop-culture sketch comedy brand that has amassed over 2.2 million subscribers and 600 million views on YouTube since its inception in 2010. Part of his Warp Zone journey has involved working for former new media juggernauts, Maker Studios and Defy Media, in production and channel oversight roles. Brian has managed numerous Warp Zone branded campaigns for clients primarily in the gaming, entertainment, and food/beverage industries. These clients include Microsoft, EA, Ubisoft, Kellogg's, Hot Pockets, Old Spice, & more.
Carrie Stett, Director. Represented by Washington Square Films, Carrie has directed Facebook Live productions for top brands including Kleenex, Jell-O, White Castle, Nickelodeon, Toyota, Walgreens, WhoSay, Paramount, singer Michael Bolton, Surya Spa, Major League Baseball and Latin network mitu. Her background as a filmmaker across scripted short form work and unscripted TV has allowed her to bring her brand of authentic storytelling to the live production landscape, tackling the approach from both a narrative and logistical standpoint. Click HERE to view her recent Facebook Live "Nickelodeon Toy Run - Family Style," which took in over 690,000 views in December 2018.
Matthew Celia, Creative Director and Co-Founder of Light Sail VR,. Light Sail VR has done several branded content/social media campaigns in the past year. Most notable includes Refinery29's VR180 series 'Sweet Digs'that allowed viewers to tour the homes of their favorite YouTube stars. They also produced Refinery29's 'Get Glam' VR series that debuted on the Refinery29's YouTube channel--and gave an exclusive behind-the-scenes look into notable celebrities preparing for the top events of the season. They also produced a brand collaboration video series with Groupon and Refinery29that provided viewers with holiday shopping hacks and was distributed on Refinery29's site and YouTube channel that has 1.6 million subscribers. The videos garnered over 1 million views.
THANKS TO OUR HOST: Industrious is nations leading provider in premium co-working and flexible workspace. Industrious prides itself on providing world-class hospitality and luxury amenities. Our 55+ all inclusive locations, nationwide, offer a high end and tailored solution to a range of members from Fortune 500 companies to scaling startups and solo entrepreneurs. In addition, every location is beautifully and meticulously designed to offer a balance of private, shared and community workspaces that cater to different needs, tasks, and personalities to enhance productivity. Click here to learn more or take a tour of their 6 Los Angeles area locations.
PARKING isn't validated or comped. Parking in the parking structure is $32 for 2 hours, so we recommned Uber or Lyft.