Description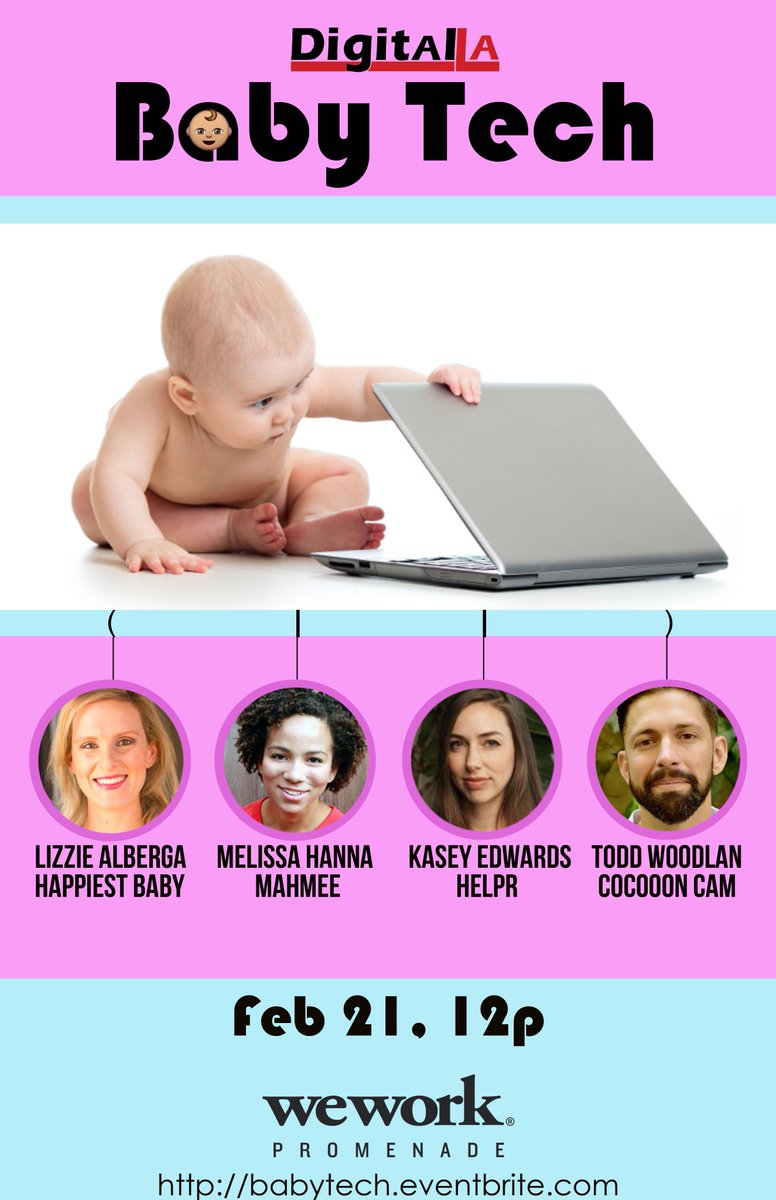 Join us for LA's first Baby Tech panel! Apps and Internet enabled cribs, lights, monitors are being used in babies nurseries to help monitor the baby, safety, educational tech toys, and more. There was even a Baby Tech Awards at CES with more than a dozen nominated companies.
Join our lunch time chat with LA startups to discuss the increase of baby tech: what products are parents interested in to help care for their baby? How do baby startups inspired parents' trust? What tech aspects (redundancy, bacups, etc.) are critical for baby tech companies? How do you use digital marketing, social media, influencers, and more to get customers? How do you listen to user feedback for new product features? How do you engage your consumers with content?
- Lizzie Alberga, Happiest Baby, VP Marketing. Happiest Baby creates SNOO, the baby cradle that you can rock remotely with your iPhone app. SNOO was part of the CES Baby Tech pavilion. Santa Monica based Happiest Baby is a VC-backed company developing a suite of science-based, smart products for parents. @HappiestBaby
- Melissa Hanna, Mahmee, CEO and Founder is a mobile health app that provides personalized, on-demand care and education to new mothers. Mahmee completed the 500 Startups program. @getMahmee
- Helpr, Kasey Edwards, Co-Founder. Helpr is babysitting on demand, offering personally screened and curated babysitters to take care of your baby, infant, or child. Arriving at your door in as little as three hours or book in advance. All ages welcome. Currently available in LA, Orange County, and Santa Barbara. @Helpr
- Todd Woodlan, Cocoon Cam, Digital Marketing Lead. Cocoon Cam is a cloud-based baby monitor that uses computer vision to monitor a baby's breathing without wearables. Recently, Cocoon Cam started online sales direct to consumer and is developing new features such as heart rate, temperature, and more to release in the near future. @CocoonCam
This event is located WeWork Third Street Promenade, second floor, in the confernece room.
PARKING: Recommended 90 min free parking at Third Street Promenade lots. No validation from this event.