Digital LA and the Television Academy's Interactive Media Peer Group present: Top Content of 2014 Panel and Screenings
When and where
Location
Crest Westwood 1262 Westwood Blvd Los Angeles, CA 90024 United States
Refund Policy
Contact the organizer to request a refund.
Description
The Television Academy's Interactive Media Peer Group and Digital LA present Top Digital Content of 2014: Panels and Screenings Tuesday, December 9 6:30-10:00 PM The Crest Theatre, 1262 Westwood Blvd, Westwood Join the Television Academy and Digital LA as they welcome leading digital content creators and MCNs, for panels and screenings celebrating top content of 2014.

VIP tickets get priority seating in the couches area in the front of the theater, and invitation to the pre-mixer at Emporium Thai restaurant across the street from the Crest, from 5-6p with complimentary appetizers and a drink ticker for a complimentary beer or wine. Dinner and additional drinks available for purchase.
AGENDA
6:30p-7p: Arrival, Check-In and Networking
7-7:15p. OPENING WELCOME with Seth Shapiro and Kevin Winston
Kai Hasson, Portal A, Creative Director. Kai will discuss a newly launched YouTube project. Portal A isan award-winning creative studio based in San Francisco and Los Angeles that develops, produces and distributes shareable branded and original content built for the web. @PortalA @kaihassan

7:15-8p CREATOR PANEL 2014 has been a banner year for Digital Content Creators, who have grown their audiences across platforms, appeared on the cover of Variety, and have released theatrical films. Our all-star top content creators who ALL won Streamy Awards join us for an exclusive panel. We will discuss new ways in the past that they: created content, grew their audiences, and worked with MCNs, brands, and partners. We'll also ask about their highlights of 2014 and predictions for content in 2015.
- Moderator: Kevin Winston, Digital LA, CEO / Founder.
- Freddie Wong and Matt Arnold, Video Game High School Co-Creators, RocketJump Studios partner. Freddie and Matt created the popular Video Game High School web series, with 7M subscribers. VGHS 3 won three Streamys Awards: Directing, Ensemble Cast, Action and Sci-Fi, and was nominated for four awards: Comedy Actress, Comedy Actor, Costume Design, Visual and Special Effects, and Show of the Year. VGHS 3 is also nominated for a Producers Guild Award for Outstanding Digital Series. @fwong @mattLarnold @rocketjumptweet
- EpicLLOYD aka Lloyd Ahlquist, Epic Rap Battles of History, Co-writer and Creator with Nice Peter, with Maker Studios. With more than 11M subscribers, the popular Epic Rap Battles of History pits two historical figures rap battling for dominance ERB won three Streamys awards including Best Writing, Best Costume Design, and Best Music Video for Goku vs Superman, and also received nominations for Best Editing and Collaboration. @ERBofHistory @TheEpicLLOYD
- Margaret Dunlap, Lizzie Bennet Diaries, Co-Executive Producer. Margaret both helped produce the multiple-award winning series The Lizzie Bennet Diaries, and also wrote many of the episodes for the main series. Created by Pemberly Digital, Lizzie Bennet Diaries won two Streamy Awards for for Best Drama and Best Drama Actress. @spyscribe @TheLBDOfficial
- DeStorm Power. As a personality, musician, comedian, and motivational speaker, DeStorm's channel has more than 250 videos with >204M views, and >1.6M subscribers. Over the past year, he has leveraged his YouTube audience to grow his comedy Vine channel, and won the inaugural Streamys Award for Vine Comedian. @DeStorm
- Shira Lazar, What's Trending, Co-Founder and Host. The multiple award winning What's Trending series features online trends, celeb interviews and musical performances, and can be seen on Virgin America's RED inflight entertainment system. What's Trending helped produce the Tubeathon, which won the Streamys award for Live Event. The Tubeathon featured top YouTuber influencers asking fans to tweet #TUBEATHON #FIESTAMOVEMENT, and Ford donated $1 for each hashtag to Covenant House, which helps homeless children. @shiralazar @whatstrending
- Cassey Ho, Blogilates creator. Cassey's Blogilates health and fitness channel recently won a Streamys Award for Health / Wellness cateogry @blogilates

8-8:20p Keynote Q&A with Stephanie Horbaczewski, StyleHaul CEO Co-Founder. StyleHaul is the leading fashion and beauty multichannel network, recently valued at $200M with its recent RTL Group investment. StyleHaul's YouTube network includes >200M subscribers with >60M monthly uniques and 5,000 channels, across 62 countries. Under Stephanie's leadership, StyleHaul has created branded content with marquee brands like L'Oreal and Maybelline, announced a FremantleMedia deal to develop 10 original series over the next two years, and debuted Showtime Networks' 'Web Therapy' starring Lisa Kudrow. Stephanie has expanded StyleHaul beyond its LA headquaraters to more than 70 employees with offices in New York, Chicago and London, and programming in South East Asia and Brazil. Stephanie was named one of Fast Company's 100 Most Creative People in 2013 and has been featured in The Hollywood Reporter, Variety, Bloomberg and The Wall Street Journal.
- Moderated by Kevin Winston, Digital LA, CEO/ Founder.

8:20p - 9:15p MCN Panel: Trends of 2014 and Predictions for 2015. Multichannel networks have led the headlines in 2014, with the acquisitions of Maker Studios, Fullscreen, and StyleHaul making mainstream national and international news. These three acquistions representing more than $1.5B of investment, showcase mulitchannel networks as a shining success story among Silicon Beach startups. Top executives from multichannel networks will discuss trends of 2014 and outlook and predictions for 2015 (45 min panel, 15 min Q&A)
- Moderator: Seth Shapiro, Television Academy Interactive Media Peer Group, Governor
- Dan Weinstein, Collective Digital Studio, President. CDS multichannel network empowers creators, grows brands and builds audiences with over 700 channels delivering nearly 1B views a month. CDS' popular shows include VGHS, The Annoying Orange, Epic Meal Time, and more. @danwesintein21 @CollectiveDS
- Will Keenan, Endemol BEYOND, President. Will has grown Endemol's talent of top talent including music (Pitbull), YouTube (Michelle Phan) and Vine (Brittany Furlan) to help them create multi-platform brands and franchises. @WillKeenan @EndemolBEYOND
- Larry Shapiro, Big Frame, Co-President. Larry directs startegy for the management team, grows Big Frame's client roster and works with parent company AwesomenessTV. He previously was Head of Talent at Fullscreen @BigFrameCo
- Vanessa Del Muro, StyleHaul, SVP of Talent and Global Head of Channel Development. Vanessas works with key content creators on original and premium programming for braned entertainment. @StyleHaul
- Khudor Annous, Fullscreen, VP Integrated Marketing @Fullscreen
- Jorge Granier, Latin Everywhere, CEO, Founder Latin Everywhere is a Spanish-language MCN with >500,000 hours of long-form content (films, TV shows, tellanovellas) and short-form (YouTube channel creators posting daily content) with 50M+ views per month and 5-6 million subs, formerly GoTV.

9:15-10p Screenings including content from both Creators and MCNs. (6-10 video clips from content creators/MCNs) - 10p+ Reception with holiday cheer and networking.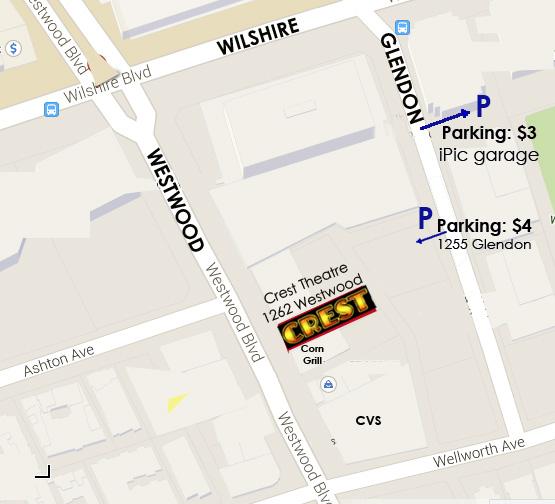 PARKING: $4 flat rate at 1255 Glendon, or $3 flat rate at the iPic theatre garage (enter via Glendon). See map.
If you are a member of the TV Academy, please see the TV Academy e-newsletter for the code to register on this eventbrite for free.
SPONSOR: If you'd like to sponsor in-kind via snacks or drinks, or via paid sponsorship for banner / logo placement, email info@digitala.net with CONTENT as the subject