Description
NOTE - While registration has ended, please note walk-in guests are welcomed and you can register on-site!
Agency Abron is continuing to drive the conversation between digital influencers and marketers as we collectively come together to generate mutually beneficial campaigns.
Our event will:
Focus on intentional networking with a more intimate audience through interactive networking sessions
Connect bloggers and social media influencers with PR and marketing professionals from a variety of agencies and companies so everyone that attends will walk away with newly established relationships.
Discuss how PR pros and influencers can gain a clearer understanding of each other's roles, but more importantly, how their roles intersect and positively enhance each other's profession
Joining us are:
PR and marketing professionals from across Los Angeles who helm from large agencies, in-house corporate marketing departments, as well as those who work with a broad client base independently.
Locally established influencers who can discuss their career and their personal interactions working with PR professionals.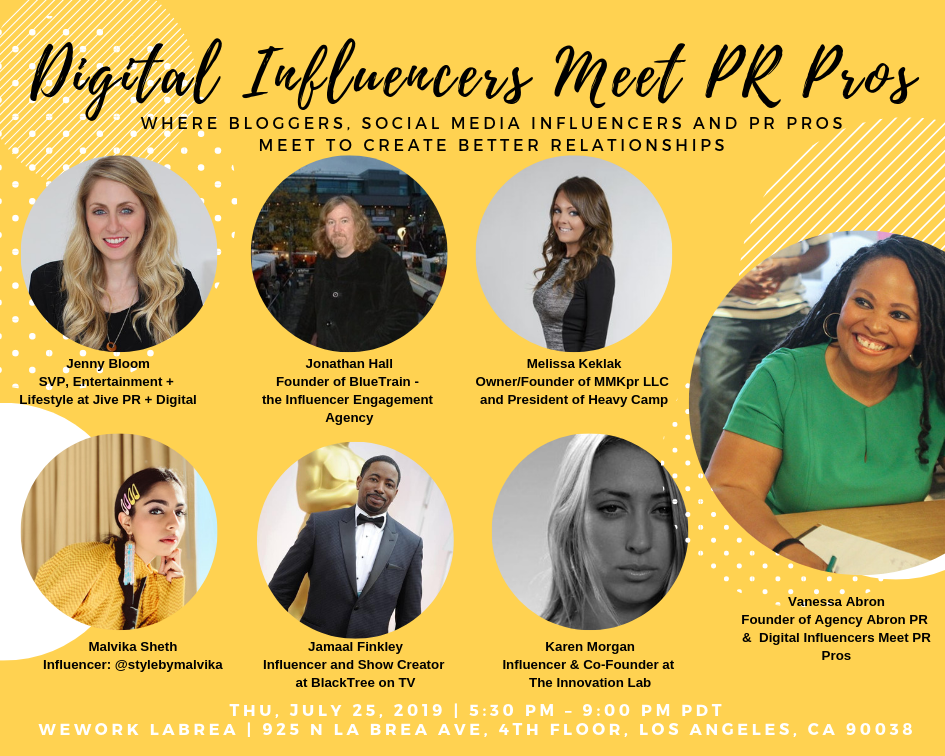 Event Flow:
5:30 p.m. - Check-in/refreshments/ light networking
6:05 p.m. - Opening remarks and introductions
6:10 p.m.. - Networking Activity Round 1
6:30 p.m. - Discussion 1
6:50 p.m..- Discussion 2
7:20 p.m. - Networking Activity Round 2
7:40 p.m. - Discussion 3
8:00 p.m. - Overall Q+A
8:30 p.m. Final Remarks/Event Conclusion
Confirmed Speakers:
Jenny Bloom - SVP, Entertainment + Lifestyle at Jive PR + Digital

Jonathan Hall - Founder of BlueTrain, the influencer engagement agency

Melissa Keklak - Owner/Founder of MMKpr LLC and President of Heavy Camp

Malvika Sheth - Influencer

Jamaal Finkley - Influencer and Show Creator at BlackTree on TV

Karen Morgan -

I

n

f

l

u

e

n

c

e

r

a

n

d

C

o

-

F

o

u

n

d

e

r

/

C

r

e

a

t

i

v

e

D

i

r

e

c

t

o

r

a

t




T

h

e

I

n

n

o

v

a

t

i

o

n

L

a

b