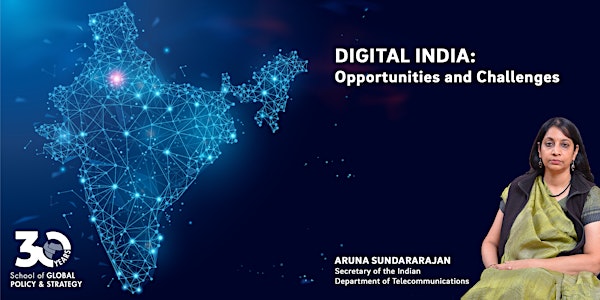 Digital India: Opportunities and Challenges
When and where
Location
UC San Diego The Ida and Cecil Green Faculty Club Atkinson Pavilion
Description
India is digitizing rapidly and profoundly spurred largely by the Modi Government's ambitious "Digital India" agenda while being facilitated by the growing spread of telecoms and internet access, social media platforms and digitization of the financial sector. Predictably, this has opened up a world of opportunities, new livelihoods and services, and new forms of social and political interaction for millions; empowering them substantively in the process. However, it has also thrown up profound public policy challenges and dilemmas, many of them unique and unprecedented.
Secretary of the Indian Department of Telecommunications and Pacific Leadership Fellow Aruna Sundararajan will discuss these aspects of India's ongoing technological transformation and the public policy lessons that emerge from this engagement.
The event will start with a talk at 5 p.m., followed by a reception at 6 p.m.
Location: UC San Diego Faculty Club Atkinson Pavilion (directions).
Parking: Please be advised that there is a lot of construction near the event venue. It is our suggestion to set aside ample time for parking. There will be a parking attendant at the UC San Diego Faculty Club parking lot to hand out a limited number of complimentary permits on a first come, first serve basis. There will also be limited complimentary parking at Pangea Parking Structure as well as pedestrian signage to help direct you from the structure to the Faculty Club. All other spots will require attendees to purchase a permit either in the Faculty Club or at a pay station. Please note that there is a limited number of parking spaces available at the Faculty Club and that the nearest parking structure with self-pay machines are at Pangea.
Questions? Contact Lisa Lee.