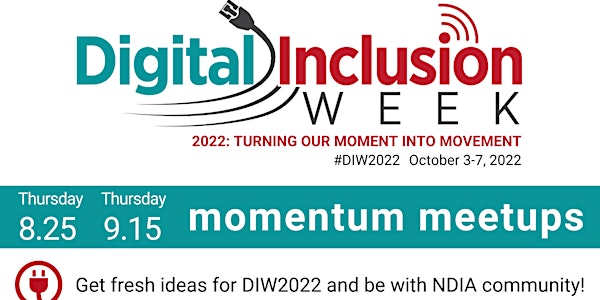 Digital Inclusion Week Momentum Meetup
Gather virtually with folks in the NDIA community to share ideas, ask questions, and get inspiration for Digital Inclusion Week 2022!
About this event
NDIA and the 2022 National Digital Inclusion Week Committee are ready to help you plan for Digital Inclusion Week, which will be nationwide Oct. 3-7!
We'll have virtual meetup rooms for you to pop into, organized by category, so you can connect with a variety of experienced digital inclusion practitioners.
Whether you're interested in holding an event to gather used computers, inviting your community to learn digital skills, throwing a virtual event, reaching out to elected officials, or working on press outreach, we'll have some great tips and meetup conversation for you! All are welcome to gather, share, and learn - whether you've participated in DIW in the past or it's your first time!
Momentum Meetup 1 - Aug. 25, 1-2 p.m. - This event will be an introduction to DIW and help you build ideas and plan how you can participate in DIW in October.
Momentum Meetup 2 - Sept . 15, 1-2 p.m. - This event will continue conversations AND provide you with toolkits to take various actions during DIW. These will include contacting your local officials, sharing a press release, and planning your social media campaign.
Expert participants and hosts include NDIA staff and members of the 2022 National Digital Inclusion Week Committee from the following organizations:
Alliant Credit Union
Austin Free-Net
Chicago Housing Authority
Chicanos Por La Causa
City of Long Beach
City of Louisville
Community Tech Network
Crystal Clear Communications
FUSE Corps in Birmingham, AL
InspirEDU
Next Century Cities
SHLB
Tech Goes Home
Tech Goes Home Chattanooga
Underline
VIA3