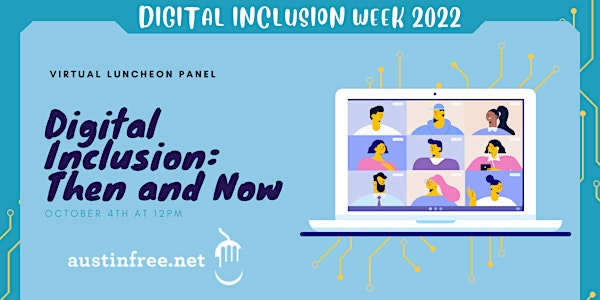 Digital Inclusion: Then and Now
Digital Inclusion Week 2022 Luncheon Panel, Digital Inclusion: Then and Now. Past and present perspectives weigh in on the digital divide.
About this event
Digital Inclusion has been the hard work of many since the public release of the world wide web in 1993. 2020's COVID-19 pandemic put a national spotlight on digital inclusion and how our world depends on technology like never before. As a result, many new soldiers have joined the battle for digital inclusion. This panel brings together past and present perspectives and focuses on how we can gain insight to better bridge the digital divide.
Guest Panelist:
Angela Siefer | Executive Director, National Digital Inclusion Alliance
Rondella Hawkins | Officer, Telecommunications & Regulatory Affairs
Sue Beckwith | Founder of Austin Free-Net, Executive Director of Texaslocalfood.org
Chloe Munn | DI Program Manager, Travis County Technology & Operations
Michael Ward Jr. | Executive Director, AUTUMHQ
Hosted by:
Jess Ross | Executive Director, Austin Free-Net