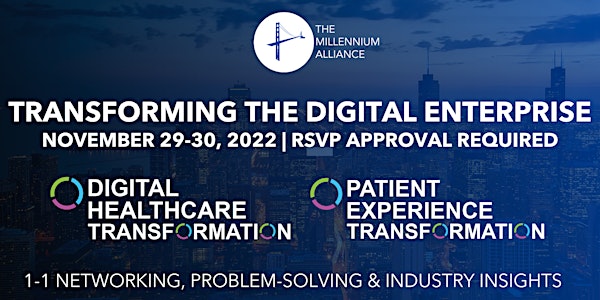 Digital Healthcare & Patient Experience Transformation Assembly
Digital Transformation starts here. Join leading C-Suite executives at our Digital Healthcare & Patient Experience Transformation Assembly.
About this event
Request to attend our 2-day think tank on digital health & patient experience transformation! This assembly features 1-1 networking opportunities, interactive roundtable and workshop discussions, as well as keynotes and panels led by industry leaders, analysts & academics in the space.
Topics of Discussion:
Looking Out Over The Next 10 Years: Long-Term Trends in Healthcare
Redesigning of Digital and Clinical Facilities
Savings & Maximizing ROI on Your Investments
The Power to Transform Care
A Call To Action for Digital Innovation
Improving Patient Experience: Gathering and Executing on Data Insights
Mental Health and Wellness For Healthcare Employees
Employ Your Digital Front Door
The Road to Increasing Patient Activation
Patient Communication in a Polarized World
Transforming Nurse Innovation 2023
This isn't like any conference or summit you've been to before.
Our Founders, like many C-Suite executives today, became disillusioned by the slew of healthcare conferences, summits, events, and webinars that promised "world-class networking" opportunities with leading healthcare decision-makers. In reality, most of these events had antiquated or irrelevant discussion topics, and people from any seniority level could attend. The problem is: most events don't have the high-level research and insights that C-Suite leaders are looking for.
Assembly agendas are data-driven and curated from our industry-expert Advisory Board, a group of trailblazers with a proven record of digitally transforming organizations from the ground up. And the leaders that attend our events? They have either been personally invited to join or have an approved application to be a part of the Assembly. This ensures that our events remain high-level and relevant to the C-Suite, and makes peer-to-peer learning one of the most valuable takeaways from the experience. Our mission is to provide the C-Suite with the knowledge and connections they need to digitally transform their organizations.