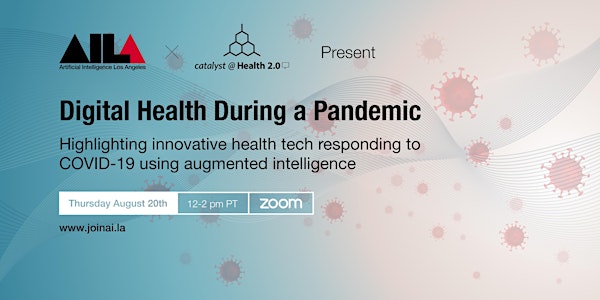 Digital Health During a Pandemic
Highlighting innovative health tech responding to COVID-19 using augmented intelligence
About this event
AI LA, in collaboration with Catalyst @ Health 2.0 ("Catalyst"), is proud to host "Digital Health During a Pandemic," a virtual event that highlights innovative health tech responding to COVID-19 using augmented intelligence.
The event will take place on August 20th from 12-2 PM PT and will consist of a panel discussion, exciting Q&A and project demos with CA-based startups like Anchor Health, Syllable.ai, and Quantgene.
The panel discussion will be moderated by Catalyst @ Health 2.0's co-founder, Indu Subaiya.
Catalyst is the industry leader in digital health strategic partnering, and is launching a free, searchable database, SourceDB for COVID-19, which contains detailed information on more than 250+ health tech companies, products, and industry experts that are actively responding to the global pandemic. SourceDB for COVID-19 is a sub-set of the larger SourceDB, which is an industry-leading database which tracks more than 5,000 companies, 15,000 experts, and 7,000 products in the health tech ecosystem.
Schedule
12:00pm PT Opening by Todd Terrazas
12:02pm PT Moderated Panel Discussion
1:00pm PT Open Q/A
1:30pm PT Demos
2pm PT Event Ends
Speakers
Kash Kapadia is the Founder and CEO of Anchor Health. Previously, Kash was Vice President and General Manager of Digital Health at Stanford Health Care and held leadership roles at HP, McKinsey & Company, Booz & Company, and Sun Microsystems. Kash obtained his M.B.A. from Columbia Business School, and a B.S. in Electrical and Computer Engineering from the University of New Hampshire.
Dr. Adam Silverman is the Chief Medical Officer of Syllable.ai.
Adam is a passionate healthcare innovator with 30 years of experience as a physician and executive. He has a diverse work history that includes private practice, academic medicine and physician leadership in both hospital and ambulatory settings. He is a board-certified General Internist who relocated to the West Coast in 2019 to serve as the inaugural Chief Medical Officer of Syllable.ai, a conversational AI healthcare technology company. He has deep accountable and value-based care experience and has had senior leadership roles in large health systems. He co-directed the Connecticut Institute for Primary Care Innovation and has presented nationally on the concept of the primary care office of the future and population health. Adam is passionate about the need to go "upstream" to address the real drivers of health care cost and quality. In pursuit of this, he has founded his own company, Upstream Solutions Group, LLC in an effort to work with like minded individuals to solve some of healthcare's most vexing problems. He received his BA in Geography at Middlebury College, his MD at the Pennsylvania State University School of Medicine and completed his residency at the Northwestern University School of Medicine.
Jo Bhakdi is the founder and CEO of Quantgene. His work in machine learning, sequencing technology, and DNA extraction procedures defines the cutting edge of genomic diagnostics, early disease detection, and precision medicine. Prior to Quantgene, Jo founded i2X, an investment framework that composes low-risk Venture Capital portfolios across large numbers of technology startups. The i2X platform laid important foundations for advanced analytics in both financial and biotechnology applications, such as the Quantgene machine learning platform. Bhakdi holds a Masters in Economics and Psychology from Tubingen University, one of Germany's leading academic institutions, with a focus on financial theory and statistics. He kicked off his career at WPP and Omnicom, where he held Strategy and Executive Director positions. Beyond his focus on technology and the future of medicine, Bhakdi is dedicated to bringing together the best and brightest and transforming them into pioneers, pushing the boundaries of health, life, and innovation for all.
Companies
Anchor Health champions individuals in navigating health care and creates tangible value for enterprises. We save members time and money and connect them with best of breed products and services. A full stack AI platform, Anchor Health engages members with a modern conversational experience. Premium members can also connect with Anchor's outstanding human advocates when dealing with complex challenges such as denied claims and surprise bills. By partnering with Anchor Health, enterprises such as employers, payers, providers, and pharma, can inform and influence critical decisions and transactions towards value accretive choices.
Syllable.ai is a leader in call center automation for health systems, hospitals, and provider groups. Syllable helps hospitals and patients communicate with each other. We provide actionable information and self-service resources through the web and phone. We use natural language understanding to deliver insight on what millions of patients want across thousands of phone numbers and tens of thousands of web pages.
Quantgene has developed a method for the Deep Human Genome sequencing which allows us to see mutational patterns of disease down to a single molecule. Our mission is to save lives through early detection, better prevention, and more effective cures for all diseases, starting with cancer. Our theory was that most disease can be detected far earlier than today by introducing quantitative science and a new level of precision into medical practice. Our team has spent over 4 years building the industry's best team of pioneers and developing the GRIFFIN Deep Genomics platform. GRIFFIN combines extreme precision sequencing, software and AI technologies to profile cell-free DNA (cfDNA) fragments with unprecedented depth and precision. In 2016, Quantgene launched its first clinical feasibility trial which continues today with the goal of adding 10,000 patient samples to the GRIFFIN platform by 2020. We are determined to build a future where everyone is protected against most diseases through early detection with our innovative technology.