Description
Do you know how to read your analytics to optimise your efforts in the best way?
Our experienced mentors work one-on-one with startups to diagnose and fix current website performance metrics and analytics, evaluating if current efforts are actually making an impact. This 2-day program dives deep into analytics and challenges companies to really look into their overall performance to implement solutions for real results. There are only 10 spots per cohort to ensure mentors and trainers have ample time for personalised one on one sessions.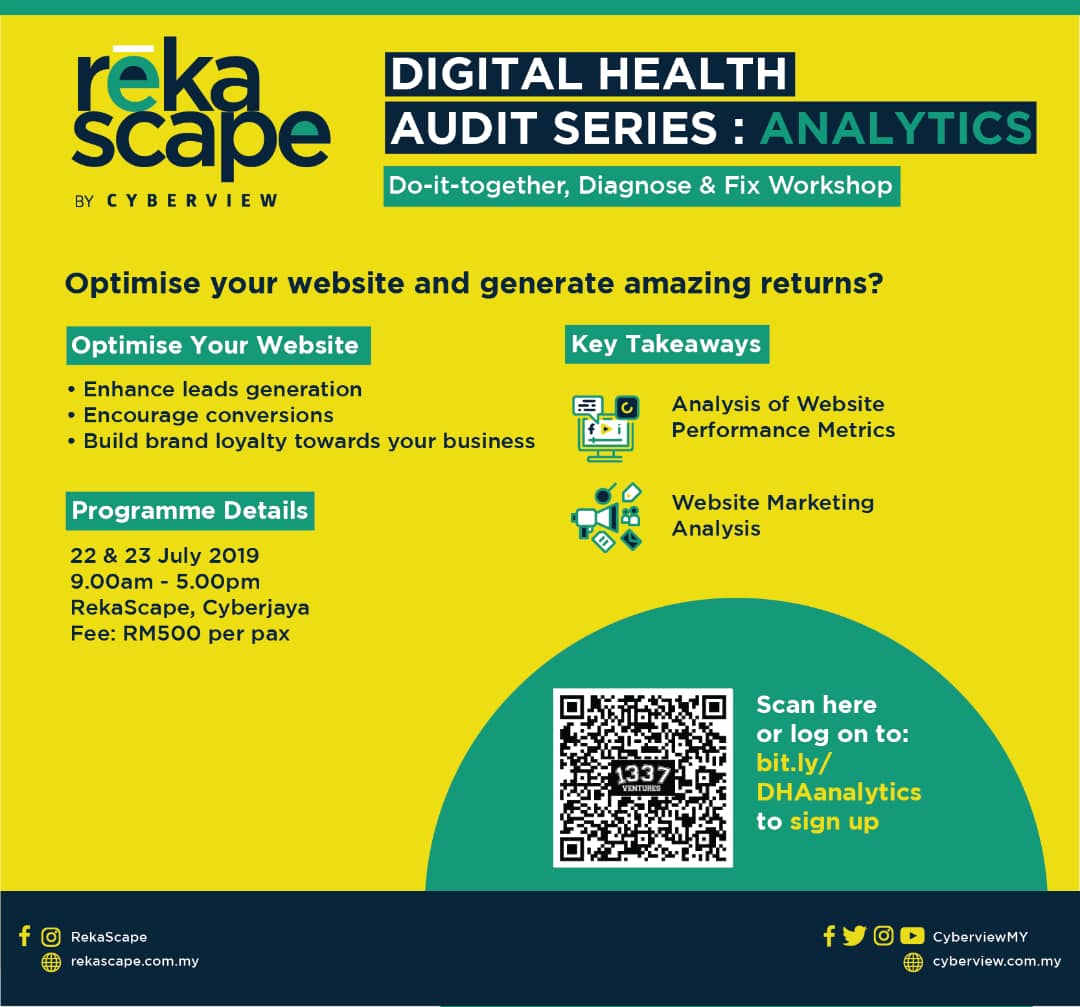 Your investment will get you the following returns:
Personalized mentoring for 2 days (worth RM 11,200)

Do-It-Together workshop where we use current analytics and real data to produce immediate results

8 week access to Peasy* (worth RM 412)

Full feature access 1337 Digital Business & Mentoring Tools (worth RM 1000)

Money-can't-buy access to the prestigious Alpha Startups (conditions apply)

*Peasy is a SaaS Marketing platform which replaces the role of digital advertising agency. Peasy creates, runs and optimizes Google and Facebook campaigns to produce 4X better results at 10X lower price point, compared to hiring an agency. Peasy's AI simplifies digital marketing into 4 easy steps, so users can focus on their business and not AdWords.



TRAINER TRACK RECORD
CTOS, whereby the conversion every month was increased by 500% while Cost-Per-Acquisition was reduced by 85%.

TUNE, sold 500% more insurance policies in just 3 months.

100 PLUS, 3800 participants for a run in 2 months.

NESCAFE, 0 to 141,000 engagements in 8 months.
Ben is the founder of Peasy; a SaaS Marketing platform which aims to make digital marketing really
easy, cheap and effective for startups and SMEs.
Prior to Peasy, Ben started and grew Mitosis to a regional digital transformation agency. Under his leadership, Mitosis helped large banks, insurances and ecommerce firms generate up to MYR300 million in online sales in 2018 alone. Ben believes the key to scalability lies in repeatability.
---
REQUIREMENTS
For web-based companies, you must have access to Google Tag Manager.

Have access to company Facebook, Google, Analytics, Social Media, CMS and e-mail marketing accounts.
POWERED BY 1337 Ventures.
1337 Ventures has educated more than 500 startups and brought them from idea to implementation. Some notable startups mentored to success are ParkEasy, EatCakeToday, GigFairy, MaidEasy, Senang, Tide Analytics, iRichment, and Microleap.

SIGN UP NOW, ONLY 10 SPOTS PER COHORT
Subsidized tickets for RM 500 available for startups with promocode: startup2019