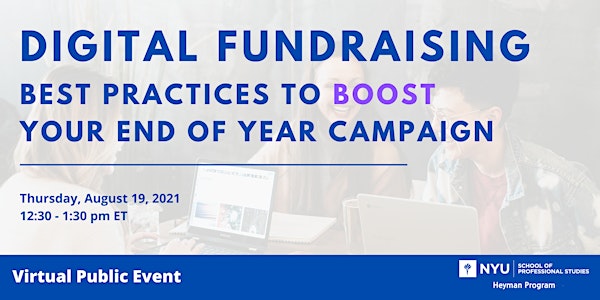 Digital Fundraising: Best Practices to Boost Your End of Year Campaign
Explore tips and best practices to enhance your digital fundraising strategies.
About this event
Digital fundraising, which includes giving via social media, virtual events, websites and mobile channels, enables nonprofit organizations to expand their reach beyond geographical boundaries, develop relationships with new supporters, and raise awareness and funds for their campaigns. In the largely digitally-connected world in which we live -- and with the COVID-19 pandemic having shifted both donor interaction and charitable giving further toward the digital environment -- nonprofit organizations must create awareness of, generate support for, and deliver their programs online through digital fundraising and storytelling.
In this webinar, participants will learn about best practices that can boost their organizations' fundraising campaigns. Special emphasis will be given to end of year giving including #GivingTuesday, the world's largest philanthropic movement. According to GivingTuesday (the organization behind the movement and eponymous hashtag), nonprofits in the U.S. alone raised $2.47 billion on December 1, 2020 from 33 million adults. (Source)
The webinar will take the form of a panel discussion featuring faculty from our new Professional Certificate in Digital Fundraising:
Moderating the discussion will be Elizabeth Ngonzi, Faculty Program Developer and Adjunct Assistant Professor - Digital Storytelling, Innovation, and Fundraising and Virtual Events and Fundraisers.