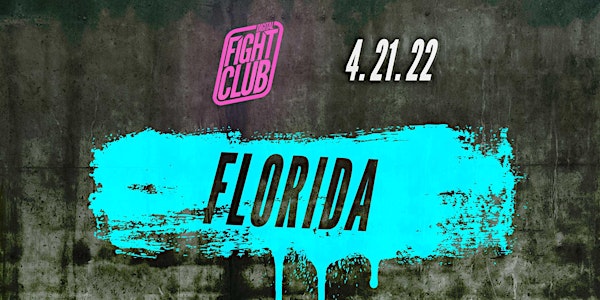 Digital Fight Club: Florida 2022 (Virtual Edition)
Tired of boring Zoom calls? So are we. We're turning the virtual event world on it's head with Digital Fight Club, Virtual Edition
Refund Policy
Contact the organizer to request a refund.
Eventbrite's fee is nonrefundable.
About this event
Just like IRL, we're putting 2 experts in their fields up against each other in front of a raucous virtual audience.
What does that look like?
Experience the fights with your friends on your own virtual couch
Heckle & React verbally and electronically like you would in person
Network by moving to another couch
Chat the audience up
We do this in front of hundreds CEOs, technologists, entrepreneurs and investors not to mention thousands in the audience.
So there is no pressure.
Then we let the refs and audience (that's you) vote for a winner within the virtual experience. That's not boring. That's fun.
…and you might learn something.
Event Timeline (All times EST)
5-5:45pm - VIP reception
5:30pm - Doors open (DFC Experience)
6pm - Fights begin
7pm - Fights over
7pm - Virtual After Party
The Fight Card
Fight #1: Future of Work: The right blend of WFH & Office
Fighters: Brian Kornfeld - CEO, Synapse vs Gustavo Medina - CEO, Nubii
Fight #2: What's the greatest innovation of the current supply chain abundance challenge?
Fighters: Renato Scaff - SMD Supply Chain, Accenture vs Pierre Mawet - MD, Supply Chain, Accenture
Fight #3: How will the metaverse change our behavior?
Fighters: Kyle Morrand - CEO, 302 Interactive vs Joe Hamilton - Head of Network, Metacity
Fight #4: What does brand promise transparency look like?
Fighters: David Capece - CEO, Sparxoo vs Sheetal Jaitly - CEO, TribalScale
Fight #5:  How can businesses care for the well-being of their employees and customers?
Fighters: Johnny Crowder - CEO, Cope Notes vs Anna Gandrabura - Founder, English for IT/Techville
The Format
Opening salvo: 45 seconds each
Rebuttal #1: 30 seconds each
Rebuttal #2: 30 seconds each
Ref's question: 15 seconds each
Ref's follow up: 15 seconds each
Fight Referees