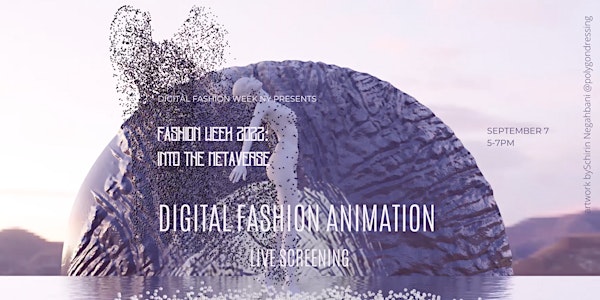 Digital Fashion Animation: Virtual Screening
Metaverse Screenings of Digital Fashion Animations by the World's Leading Digital Fashion Designers and Animators
About this event
DIGITAL FASHION ANIMATION SCREENING: Explore new worlds of fashion at the Virtual Fashion Exhibition. This is where everything in the future of fashion is happening now.
See screenings of Digital Fashion Animations* and the latest works of Digital Fashion Designers
Visit the booths and chat with innovators in the fashion industry
Check out a virtual runway show
Digital fashion designers are reimagining fashion and conventional fashion shows.
Designers:
Ecoolska
Tokyo White
Sidharth Vohra
Dragana Todorovic
Gulnara Fattakhova
Balzhan Beisenbayeva
Schieva x Tokyo White Int
Edvard Nielsen
Lane Odom
Ninoosh Mohseni
Leonid Krykhtin
Miki Flores
Ukrainian Fashion Education Group
Maya ES
Shiu-Huei Wang
TRENDIMENSIONAL
Tony Murray
Patricia Musat
Afsha Iragorri
Sharannya Variyamkandy
OnClickCloset
Jessica Schott
Hanna Halasz
Soledad Gallardo
Julia Mozzart Belyakovich
Nicole Holtan
Sam Price
Kadine James
Right Direction
Ljuba Roichman
Anustha Kishor
K16 xYulya Boriskina
Zoha Khan
OHXRN