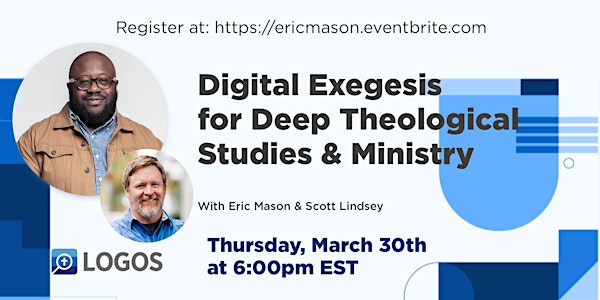 Digital Exegesis for Deep Theological Studies & Ministry
Digital Exegesis for Deep Theological Studies & Ministry
Date and time
Thursday, March 30 · 3 - 4pm PDT
About this event
Some of the most frequently asked questions asked about Bible study and teaching/preaching prep process are:
What trustworthy tools and resources are available for solid exegesis?
How do I organize my personal Bible study time with God?
What goes into writing books, Bible studies, or preparing to preach/teach?
I understand how overwhelming it can be to find reliable answers and methods of study. That's why I want to help you by sharing best practices and a tool I love called Logos Bible software.
Join us, Monday, March 30th at 6pm EST, for this conversation where you will leave equipped to:
Approach studying the Bible with more confidence by applying best practices that ensure clarity and accuracy.
Dig deeper in the Bible for key historical, social and cultural context that bring evergreen relevancy and application in today's ever-changing world.
Avoid common mistakes and misunderstandings by learning the simple method to do Biblical Hebrew and Greek word studies you can use over and over again.
Get solid, biblical insight for over 1,000 counseling topics.
Learn about the NEW version of Logos: Logos 10 and how to use this tool to find solid answers with the click of a button.
Register Now. Seats are limited.
About the organizer
For almost 25 years, Scott Lindsey has been the Ministry Relations Director for Logos Bible Software. Scott's passion is to equip Christians with the best tools available for the life-long pursuit of God through His word. The world has gone digital and Scott's ministry is to bring your Bible study into the 21st century. Scott teaches at over 20+ conferences per year and works with most major ministries and denominations.
"Years ago a good friend of mine, who was a few years my senior, told me I was behind the curve on bible software. Since then I have found Logos to be the most intuitive and complete bible software out there. Scott, as the ambassador of Logos, greatly helped me learn how to customize it and master its best features. I heartily recommend him and his training to anyone who wants to get the most out of their Bible study."
- Tim Keller ​​