"Digital Equity for Small Businesses" presented by Oakland Digital (ODALC) & YP.com

Thursday, August 11, 2011 at 10:50 AM (PDT)
Event Details
"Digital Equity for Small Businesses - 2011"
Presented by Oakland Digital (ODALC)
Sponsored by YP.com & Western Digital
In Association with Oakland Metropolitan Chamber of Commerce
and the Michael McPherson Oakland Business Assistance Center
This series of six classes will educate small businesses in a broad range of online marketing tools. Classes will be offered on key topics, such as building a successful website, driving traffic to your site with search engines, using social media, online video, QR codes and mobile marketing, and creating an effective online marketing plan for your business.

Oakland Digital (ODALC) is a volunteer-run California 501(c)(3) not-for-profit, public benefit organization that makes computer education more relevant and provides small business owners with the tools they need to be productive members of the increasingly digital economy. Oakland Digital works with technology leaders including Yahoo! Small Business, Constant Contact, Pandora, Yelp, and AT&T.
Suggested donation: $20 per class - Cash or Credit Card at the door, encouraged but not required.
Registration online required* – http://digitalequity.eventbrite.com
*If you cannot register online, please call 510.435.2945.
Businesses may attend any individual class, or the whole series of six classes. Attendance at the entire series is recommended for development of a comprehensive online plan. All classes will be held at the Oakland Metropolitan Chamber of Commerce located at 475 14th Street in downtown Oakland.
Please see class descriptions below (check mark selection(s), see next page):
Digital Equity 101 --- Five Elements to an Effective Website July 7th, 11 am - 12 Noon
Learn the basics of getting a website established. Emphasis is placed on identifying a quality domain name and building a site that speaks to your target audience. Other topics covered: Front-end vs. Back-end, HTML and Content Management System (CMS). Raffle with prizes!
Primary Instructor: Lovell McElroy, Internet Marketing at YP.com
Guest Instructor: Shaun Tai, Founder & Executive Director at Oakland Digital (ODALC.org)
Digital Equity 102 --- Driving Traffic to Your Website July 14th, 11 am - 12 Noon
Identify sources to help drive traffic (and potential customers) to your website - bring physical customers to physical storefronts. There's no need for a website that can't be found! Topics covered: HTML5 and Semantic Search Engine Optimization (SSEO). Raffle with prizes!
Guest Instructor(s): David Tolioupov and Shahbano Imran, Co-Founders at LocalOn.com
Digital Equity 103 --- Sources of Traffic for Your Website July 21st, 11 am - 12 Noon
Discover the power of Search Engine Marketing (SEM), and the value it brings to small businesses. SEM is a form of Internet marketing that seeks to promote websites by increasing their visibility in search engine result pages. Other topics covered: Google Places and local business listings. Raffle with prizes!
Primary Instructor: Lovell McElroy, Internet Marketing at YP.com
Digital Equity 104 --- Optimizing Your Website July 28th, 11 am - 12 Noon
Learn about Search Engine Optimization (SEO), and optimizing your website when your customers are searching for a business in your area. SEO is "optimizing" website pages to achieve higher ranking in search results via the process of selecting specific keyword expressions associated to the website. Raffle with prizes!
Guest Instructor: Reginald Missouri, Web Content Manager at YP.com
Digital Equity 105 --- Social Media, Online Video, and QR Codes August 4th, 11 am - 1 pm
This 2-hour class will discuss essential social media platforms (Facebook, Yelp, Twitter), online video (YouTube), and quick response (QR) codes with an emphasis of how small businesses can leverage their existing customer base for Social Media Marketing.
Attend this class and learn:
The strategies and best practices to get the most out of your social media activities

How to use time management and how to measure the return of your social media investment

What social media marketing really is and how to incorporate it into your small business without losing productivity

Case studies on how other local businesses are using these low-cost tools to gain visibility, develop relationships and drive sales and response
Refreshments provided. Raffle with prizes!
Guest Instructor(s): Karen Rice, Regional Development Director at Constant Contact; George Dy Jr., Co-Founder at GetContact.Info
Digital Equity 106 --- Mobile Marketing & Creating Your Online Strategic Plan August 11th, 11 am - 1 pm
This last 2-hour class will have two segments.
Segment 1 will cover the following topics:
Mobile Marketing: History & Overview
Review of Digital Equity classes
Measuring your Online Ads
Segment 2 will break-up the attendees into two groups - beginning and advanced. Attendees will have the opportunity to consult with class instructors and begin to outline their online strategic plan utilizing the tools covered in the classes. Many instructors from previous classes will be present! 
Refreshments provided. Raffle with prizes!
Primary Instructor: Lovell McElroy, Internet Marketing at YP.com
Guest Instructor(s): Sian Morson, Principal at Kollective Mobile; Michael Gumora, President at Xperience Mobile; Shahbano Imran, Co-Founder at LocalOn.com; Robert Bogle, Internet Marketing Manager at YP.com
Questions or comments? Email info@odalc.org or call 510.435.2945.
About the Primary Instructor:
Lovell McElroy has 8 years of Internet marketing experience. He began his marketing career with an internship at KQED, and then excelled to spearhead SEO strategies for FOX News Corp. properties IGN.com and Rottentomatoes.com. At Epic Advertising, Lovell focused on managing over $2MM in annual media spend driving leads through the top Search Engines. Prior to AT&T Lovell developed and managed all SEM, SEO and mobile advertising campaigns for Playphone.com and their strategic distribution partners Wal-Mart mobile and Sony Pictures.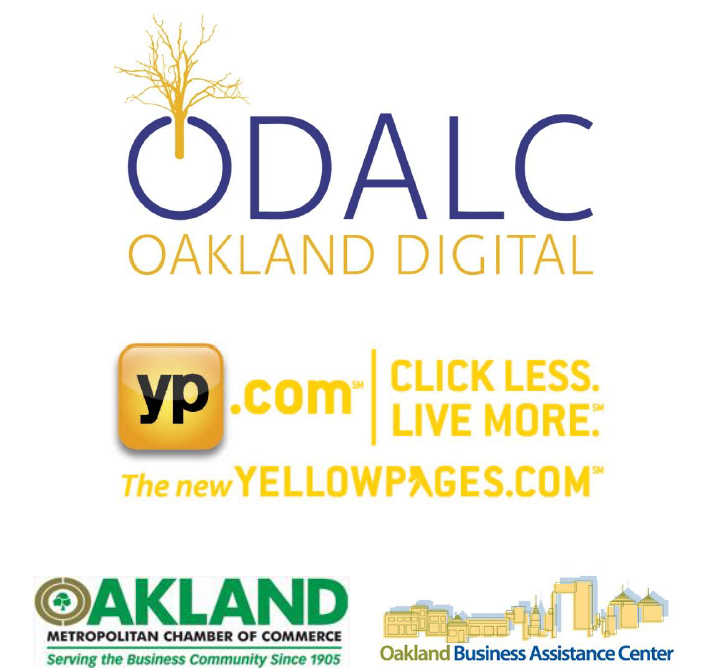 Photos courtesy Linda Poeng for Visual Verbs
Coffee & Tea provided by It's A Grind Oakland
Have questions about "Digital Equity for Small Businesses" presented by Oakland Digital (ODALC) & YP.com?
Contact OAKLAND DIGITAL
When & Where

Oakland Metropolitan Chamber of Commerce
465 14th Street
Oakland, CA 94612-1903


Thursday, August 11, 2011 at 10:50 AM (PDT)
Add to my calendar
Organizer
Oakland Digital is an award-winning 501(c)(3) design studio for good, giving overlooked Creatives the resources to discover and explore meaningful careers (e.g., UX, UI, Visual Design) while improving diverse local economies. Since 2009, Oakland Digital has directly impacted the lives of 5,200 East Bay citizens. Our core programs, Inspire Oakland and Digital Equity, have boosted the local economy by $4.8MM, leading to opportunities for 21st century employment and economic mobility. Our exciting web application BRIDGEGOOD has bridged the design & marketing needs of 1,000 business owners with 4,500 talented creatives, creating tangible opportunity for everyone.