Description
Overview of the Meetup
What?
Digital Entrepreneur Meetup Austin
A one-time meetup of entrepreneurs, investors, and influencers who leverage the internet to build their business. Connect with other like-minded entrepreneurs and help each other overcome roadblocks by sharing experiences.
This is a free event with a "no pitch" policy.
When?
The date and time is listed on this Eventbrite page
The agenda begins with 30 minutes of mingling followed by one hour of facilitated discussions where you'll get to help and be helped by others attending. Then, for those interested, we'll continue the conversation with dinner after (cost not included).
Who?

This event is designed for entrepreneurs, founders, business owners, and investors who own websites, app and other tech based businesses.
Meet a range of people across business types including:
Ecommerce

Amazon sellers

Advertising or affiliate based sites

SaaS

Productized services

Mobile apps

Membership and Subscription

And other digital business models.
This event is hosted by Chris Yates, Founder of Rhodium Weekend. Chris acquires, invests in, grows, and sells online businesses and organizes events for others who do the same.
Chris is on a 1,500 mile road trip hosting 7 meetups along the way and this is one of the stops on the journey. Questions can be directed to Chris at chris@rhodiumweekend.com.
Why?
Have you ever heard the saying "you are the average of the five people you surround yourself with?" This is an event designed to surround yourself with other like-minded people so you can increase your average.
We believe it's more efficient to learn from other people's mistakes than to have to make them yourself. This meetup creates an environment of open experience sharing and a "give first" culture so we can all help each other become more successful.
You'll walk away with new friends willing to help you in the future, tons of business growth ideas, and that feeling of energy that comes from surrounding yourself with the right people.
Skeptical?
There's no pitch or angle here. Just great people coming together. To hear about the experiences of others who have attended events I've hosted, check out this Youtube Video: https://youtu.be/EE8MbPww2cM
How?
Please register for free before the event on this Eventbrite page.

####
The Story: Special note from the Host Chris Yates...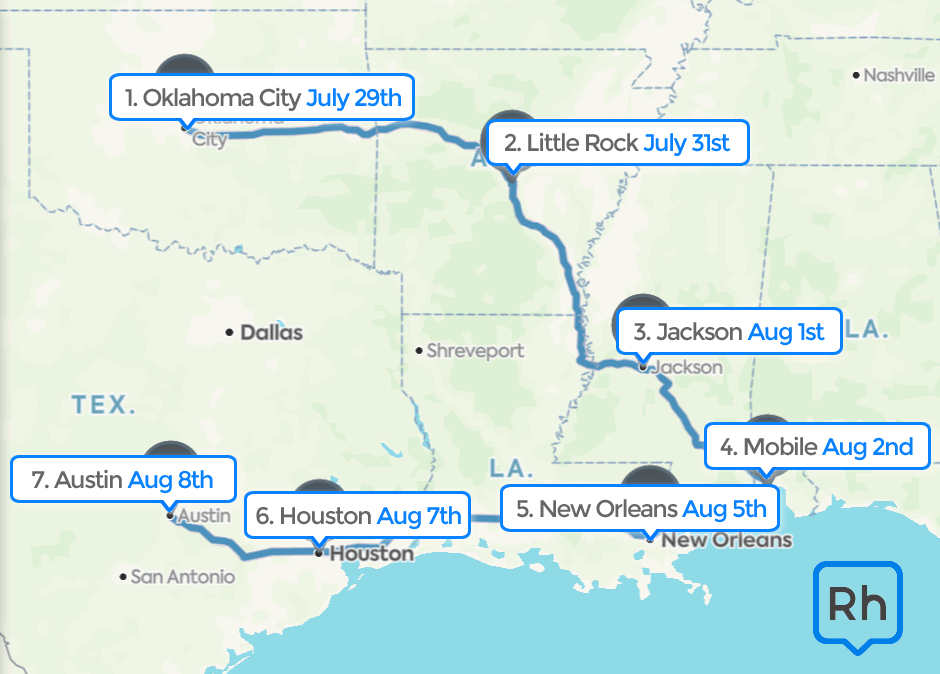 I might be a little crazy...
Driving 1,500 miles in 18 days.
Hosting 7 events in 7 cities along the way.
All while dragging along my wife, Melissa, and our 2 boys.
So, why would I do this?
Back in 2012 I hit my goal of achieving time and location freedom through owning online businesses. However, something unexpected happened.
I started feeling very isolated. I tried to explain to my friends and family, who didn't work full time online, how I made a living and they never quite "got it." It was like I was speaking a different language.
I craved the connection, energy, and ideas that came from sharing experiences with other like-minded people.
So, I started joining peer groups, attending conferences and even launched my own event called Rhodium Weekend. I developed a passion, and a bit of a knack, for bringing entrepreneurs together and creating an environment where they can help each other by sharing what's working and what's not in their businesses.
I've seen amazing things happen, to the tune of $100 Million in deals getting done, simply by getting online entrepreneurs to connect in the offline world through my events.
Now, I've decided to hit the road and see what happens when I facilitate meetups with local digital entrepreneurs on their home turf.
I expect new local communities of like-minded people will be fostered and I'll get to meet a lot of interesting people who are leveraging the internet to create fun and profitable businesses.
I encourage you to join us. It's free and it's going to be fun.
####
FAQ
What's the catch? Are you going to try to sell me something?
No catch. I won't sell you anything. I'm in this for long term relationships and spending time with others who share that same mindset. Plus it allows me to take a partially tax deductible family vacation. :)
Who is this event for?
Entrepreneurs who primarily earn their living online.
Offline entrepreneurs looking to go online.
Industry experts and influencers.
Passive investors looking at online businesses as an asset class.
People with experience buying or selling businesses.
Mobile app entrepreneurs.
Who this event is not for?
People looking to aggressively pitch and solicit other attendees.
Business opportunity seekers looking for quick money.
People who have been "thinking of starting a business" but haven't taken concrete action yet.
What is the agenda?
30 Minutes of open networking.
60 Minutes of facilitated experience sharing.
Optional dinner immediately following the networking portion. Cost not included.
Where else will you be going on your road trip?

7/29 - Oklahoma City
7/31 - Little Rock
8/1 - Jackson
8/2 - Mobile
8/5 - New Orleans
8/7 - Houston
8/8 - Austin
If you know someone in another city on my trip, I'd love if you can spread the word!
For a full list of event pages for each city, go here.
How can I help?
If you know someone who would be a good fit for this event or events in other cities along the road trip, please encourage them to attend. If you'd like to volunteer to help in any other way, please contact Chris Yates at chris@rhodiumweekend.com.
How can I contact the organizer with any questions?
Contact the Organizer, Chris Yates, by email at chris@rhodiumweekend.com.