The 9th annual Digital Entertainment World Online Conference is here!
About this event
Join industry leaders February 7 - 11, 2022 to gain insights into Television + Streaming, Brands + Entertainment, Games + Esports, RightsTech, and Music + Podcasts.
2022 Topics Include:
Keynote Presentation
The Future of Streaming: What's Next?
The Evolution of Viewing Habits & Today's Video Mix: OTT + Cable + Linear
The Rise of the Metaverse: What Does it Mean for the Television Business?
Fireside Chat
Keynote Conversation
Youth Marketing and the Entertainment Marketing Mix
Influencer Marketing and the Creator Economy: What's Next?
The Power of the Metaverse: How Brands are Embracing Marketing's New Frontier?
Fireside Chat
Keynote Conversation - Investing in the Games Ecosystem
The Rise of Blockchain Games
Esports + Games Dealmakers
The Rise of User-Generated Content in Games
Fireside Chat
No Laughing Matter: Comedy, Spoken Word Audio, Rights and Royalties
Licensing the Metaverse
Back to Front: New Trends in Rights-Based Finance
Fireside Chat
Keynote Conversation
Music Live Streaming + the Future of Concerts
The Continued Growth of Podcasting: What's Next?
Music & The Metaverse: The Massive Opportunity for Artists and Labels
Fireside Chat
View our agenda here: https://www.dewexpo.com/2022-agenda
2022 Sponsors and Media Partners Included: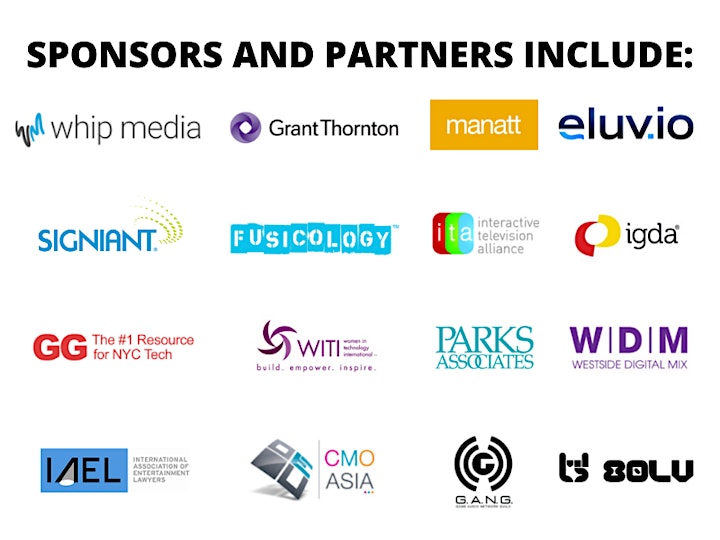 Interested in sponsoring? Contact Tinzar at tsherman@digitalmediawire.com
Organizer of Digital Entertainment World 2022 | Online

Digital Media Wire, Inc. is a media company that provides strategic consulting and manages marketing campaigns for digital media brands, and owns and produces industry conferences. DMW has one of the largest and most engaged and senior-level communities in the digital media industry.
www.dmwmedia.com