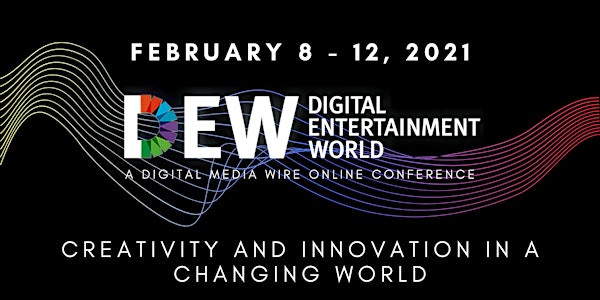 Digital Entertainment World 2021
Digital Entertainment World is the leading B2B event to discuss, debate and celebrate the digital entertainment industry.
Refund Policy
Contact the organizer to request a refund.
About this event
Note: Eventbrite is currently experiencing an outage - if you cannot access tickets, please email comments@digitalmediawire.com
Described by Hollywood insiders, digital influencers and industry leaders throughout the world as a "must-attend" event, now in its 8th year, Digital Entertainment World (DEW) is where you want to be if you are in the business of creating or monetizing digital entertainment content.
2021 Speakers have been announced - view the lineup here!
2021 Agenda Highlights Include:
What's Next In Streaming
Today's Video Mix: OTT, Linear, Cable
The Future of the Digital Games Business
Esports + Gaming Culture + Lifestyle Content
Next Frontiers for Influencer Marketing
Bridging the Music Data Divide
The Rise of Music Livestreaming
What's Next In Podcasting
Music and the Metaverse
2021 Confirmed Speakers Include:
Chris Akhavan, SVP of Business & Corporate Development, Advertising, Glu Mobile
Donald Albright, Co-Founder, Tenderfoot TV
Karen Allen, Author, Twitch for Musicians
Fabian Alsultany, Director of Business Development North America, Bitfury Surround
Chris Ambrozic, VP, Product Development, TiVo
Lisa Anderson, Senior Vice President of Studio Operations, Jam City
Kathy Baker, Head of US Label Relations, YouTube
Rayna Bass, Head of Marketing, 300 Entertainment
Robbie Baxter, Strategy Consultant and Founder, Peninsula Strategies LLC
David Bloom, Senior Contributor, Forbes and Tubefilter
Dae Bogan, Head of Third-Party Partnerships, The MLC
John Boyle, Former President, Live Nation Japan
Chris Busse, Head of Skydance Interactive, Skydance Interactive
Ricky Ray Butler, CEO, Branded Entertainment Network
Bryan Calhoun, Creator, The Music Business Toolbox
Casey Campbell, Managing Director, North America, Gameloft
Melanie Capacia-Johnson, Head of Studio at Whistle Studios, Team Whistle
Louie Carr, Artist Manager, Own Path Media Group
Dawn Chmielewski, Senior Editor, Media, Entertainment & Technology, Forbes
Michele Cobb, Partner, Forte Business Consulting
Jennifer Cotter, Chief Content Officer, Peloton
Kirt Debique, CEO & CTO, SyncFloor
David della Santa, Co-Founder and Chief Creative Officer, Trqk
Mike DeLaet, Senior Vice President of Strategic Partnerships, Scopely
Colin Dixon, Founder and Chief Analyst, nScreenMedia
Chris Early, SVP of Partnerships and Revenue, Ubisoft
Jonathan Flesher, Head of Business Development, Discord
Steve Fowler, SVP, A List Games
Jennifer Freed, CEO, Trevanna Tracks
Rob Gelick, EVP and GM of Streaming Services & Chief Product Officer, ViacomCBS
Lawrence Griff, Partner, Audit Services, Grant Thornton
Shirley Halperin, Executive Editor of Music, Variety
Jaci Hays, Chief Operating Officer, FaZe Clan
Chris Heatherly, Former EVP, Games and Digital Platforms, NBCUniversal
Einar Helde, Co-Founder, Head of Business Development, AIMS API
Rob Holmes, VP of Programming, Roku
Rick Howe, Host, The Friday Fireside
Mike Hurst, CEO and Co-Founder, Exactuals
TQ Jefferson, Chief Product Officer, Survios
Zach Katz, Founder and CEO, Raised In Space
Christopher Kenneally, Director, Content Marketing, Copyright Clearance Center
Sang Kim, SVP Product, Samsung Electronics
Jim King, CEO, Spoken Giants
Deborah Klein, Partner, Artist Manager, Primary Wave Music
James Lauzun, VP of Product, Magellan TV
Adam Leber, Partner, Maverick Management
Peter Levin, Managing Director, Griffin Gaming Partners
Sarah Lyons, EVP, DTC Global Product Management, HBO Max, WarnerMedia
Arash Marzban, SVP of Product, StackPath
Steve "Franchise" Marzocca, Head of Influencer Relations, Twitch
Kevin McGurn, President of Sales and Distribution, Vevo
Stefanie Meyers, Senior Vice President, Distribution, Starz
Adrian Montgomery, CEO, Enthusiast Gaming
David Morin, Industry Manager, Media and Entertainment, Epic Games
Kristen Muller, CCO, KPCC
Michelle Munson, Co-Founder and CEO, Eluvio
Lauren Murphy, Senior Strategist, Deutsch LA
Lars Murray, Business Development, RYLTI
Travis Mynard, Esports Agent, UTA
Vickie Nauman, Founder and Owner, CrossBorderWorks
Jeff Price, Co-Founder, Word Collections
Jennifer Prince, Global Head of Content Partnerships, Twitter
Peter Rafelson, Co-Founder of ElectraCast, Gadfly and Bon Vivant
Steve Raizes, Senior Vice President, ViacomCBS Podcasts
Thai Randolph, President and COO, Kevin Hart's Laugh Out Loud
Phil Ranta, COO, Wormhole Labs
Ira Rubenstein, Chief Digital and Marketing Officer, PBS
Oana Ruxandra, EVP of Business Development and Chief Digital Officer, Warner Music Group
Chris Sawtelle, Head of Digital Ventures, ICM Partners
Doug Scott, Co-Founder and Chief Managing Director, Subnation Media
Marisol Segal, Head of Digital Partnerships, AEG Presents
Shara Senderoff, President and Partner, Raised In Space
Pat Shah, Head of Content Acquisition & Development, Audible
Lucas Shaw, Reporter, Bloomberg
Ned Sherman, Partner, Manatt, Phelps & Phillips
Julie Shumaker, Vice President of Revenue, Unity Operate Solutions, Unity
Ralph Simon, Chairman and CEO, Mobilium Global
Brandon Snow, SVP, Chief Revenue Officer, Brand Partnerships and Esports, Activision Blizzard
Paul Sweeting, Founder and Principal, Concurrent Media
Kerry Tucker, Chief Marketing Officer, Pocket.Watch
Ken Umezaki, Co-founder and Chief Executive Officer, Verifi Media
Nelson Veiga, Vice President, North America - Enterprise, Vindicia
Jon Vlassopulos, Global Head of Music, Roblox
Zane Vella, Vice President, Audience Development & Innovation, Comcast
Michael Vorhaus, CEO, Vorhaus Advisors
Joanne Waage, General Manager, Crunchyroll
Kayleen Walters, General Manager, Licensing & Partnerships, Minecraft at Microsoft
Max Willens, Senior Reporter, Digiday
View more here: https://www.dewexpo.com/2021-speakers
FAQs
What's the refund policy?
Refunds are subject to a $100 processing fee, which will be subtracted from your refund total.  We must receive your written request for a refund by January 8, 2021. Cancellation requests received after January 8, 2021 are non-refundable.
Is my registration fee or ticket transferrable?
You may transfer your registration to another person. Please provide written authorization to comments@digitalmediawire.com. Confirmed and paid attendees who do not attend or who cancel after the deadline are liable for the entire fee.
How can I contact the organizer with any questions?
For questions, please email us at comments@digitalmediawire.com