Digital Entertainment World 2020
When and where
Location
Marina del Rey Marriott 4100 Admiralty Way Marina del Rey, CA 90292
Description
Described by Hollywood insiders, digital influencers and industry leaders throughout the world as a "must-attend" event, now in its 7th year, Digital Entertainment World (DEW) is where you want to be if you are in the business of creating or monetizing digital entertainment content.
The 7th annual Digital Entertainment World (DEW) focuses on "The Power of Direct and Digital" – a theme that speaks to the massive shift underway in the media landscape as consumers are empowered by new technologies, platforms and devices that are enabling them to access media and entertainment content - video, games, music, comics and books - on their own terms - whenever and however they want.
The DEW 2020 program will dive into this theme as it examines the evolving media landscape. With 7 tracks, 50 sessions and 300 speakers, the event will address the big themes central to the future of the media business including:
Power of Direct and Digital
The Streaming Wars
Esports' Next Big Act
The Brand as Media Company
The Evolution of Influencer Marketing
The Growth of Mobile Gaming
Artist Empowerment
Technology and the Ever-Evolving Music Business
Innovation in Rights Management & Licensing
The Entertainment Marketing Mix
XR Factor: Creating Immersive Experience
Creators and Influencers Roundtable
The Podcast Revolution
And more...
The event includes keynotes, fireside chats, presentations, panel discussions, tech demos, startup competition, innovative exhibitions, daily DJ music and performers and the best networking in the hotel's Sinder Lounge. Join DEW 2020 and be a part of the future of connected entertainment.
Agenda: https://www.dewexpo.com/2020-agenda/
Speakers: https://www.dewexpo.com/2020-speakers/
Sponsors/exhibitors/media partners: https://www.dewexpo.com/sponsors-2020/
---
2020 Confirmed Speakers Include: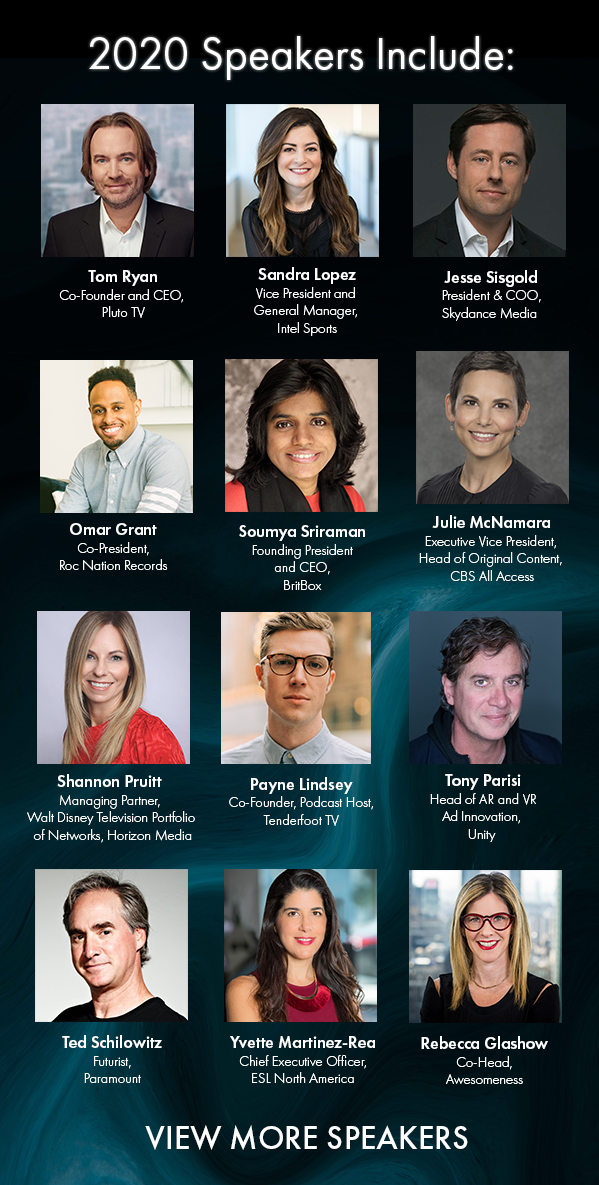 Confirmed Speakers Include:
Wesley T. A'Harrah, President, Hyper Orange
Lenoria Addison, Director of Influencer Strategy, Deutsch LA
Shiraz Akmal, CEO & Co-Founder, SPACES
Donald Albright, Co-Founder and CEO, Tenderfoot TV
Karen Allen, Creator, Twitch for Musicians
Amber Allen, CEO, Double A Labs
Fabian Alsultany, Director of Business Affairs, RChain Cooperative
Lisa Anderson, SVP of Game Operations, Jam City
Lauren Apolito, SVP of Strategy & Business Development, HFA/Rumblefish
Ed Arrow, Senior VP, Global Digital Administration, Universal Music Publishing Group
Jon Bahr, VP, Creator Services, CD Baby
Stephanie Barish, CEO, IndieCade
Jared Bartie, Partner, Co-Chair, Sports Industry Group, O'Melveny & Myers LLP
Floris Bauer, Co-Founder and CEO, Gunpowder & Sky
Eyal Baumel, CEO, Yoola
Jake Beaumont-Nesbitt, International Music Managers Forum, Copyright Committee
Virginie Berger, Co-Founder, WeAreMusicTech
Barbara Bickham, Founder & CTO, Trailyn Ventures, LLC
David Bloom, Consultant and Columnist, Tubefilter
Dae Bogan, Co-Founder and CEO, TuneRegistry
Hale Boggs, Partner, O'Melveny & Myers LLP
Bjorn Book-Larsson, President of Viveport, HTC
Rian Bosak, Founder and CEO, SuperBam
Steve Bradbury, President & Head Coach, Deep Sports
Susan Brazer, CEO, LionShare Media
Josh Brooks, Senior Vice President of Brand Strategy and Marketing, Jam City
Brent Bushnell, CEO and Co-Founder, Two Bit Circus
Dot Bustelo, CEO & Founder, Loupe
Paul Cabana, EVP, Multi-Platform Programming, A+E Networks
Adam Cardew, VP, Podcasting & Creative Strategy, Sony Music Entertainment
Rishi Chadha, Head of Gaming, Twitter
Dawn Chmielewski, Senior Editor Media, Entertainment, and Technology, Forbes
Amadea Choplin, Chief Operating Officer, Pex
Shaun Clark, Partner, Sheppard Mullin
Greg Clayman, SVP New Platforms, Strategic Partnerships, Entertainment One
Michael Cohen, President, Whistle
Ted Cohen, Managing Partner, TAG Strategic
Bill Colitre, Vice President & General Counsel, Music Reports, Inc.
Sarah Comtois, Director, Planning/Senior Partner - Team Facebook, Mindshare
Kevin Conroy, Founder & CEO, ConroyMedia
Guy Costantini, VP of Global Interactive Marketing, Skydance Media
Christine Cook, SVP and Chief Revenue Officer, CNN Digital, WarnerMedia Ad Sales
Sandro Corsaro, Chief Creative Officer, Fandango
Ashley Crowder, CEO, VNTANA
Eric Dahan, CEO, Open Influence
Hisham Dahud, Founder and CEO, ArtistPro
Franco De Cesare, Head of Console & Online Gaming, Facebook
Patrick Dees, Co-Founder and Chief Gaming Officer, Fan Control Football League
James DeJulio, Co-Founder and CEO, Tongal
Chris Denson, Creator/Host, Innovation Crush
Geoffrey DeStefano, Founder & CEO, Brand Programming Studios
Gayle Dickie, Founder & CEO, World News Entertainment
Rana DiOrio, Founder & CEO, Creative Mint
Colin Dixon, Founder and Chief Analyst, nScreenMedia
Allison Dollar, CEO, ITV Alliance
Jayar Donlan, Executive Vice President, Advanced Media, WWE
Derek Douglas, Head of Games Department, CAA
Kevin Dreyfuss, VP Digital Content Studio, AMC Networks
Mary Ermitanio, Senior Manager, Manatt Digital
Sam Estes, Co-Founder / Director of Music Production, Amper Music
Andrew Fair, Executive Director, Entertainment Marketing, Oglivy
Trevor Fellows, Executive Vice President, Digital Sales and Strategy, NBCUniversal
Ross Festenstein, Licensing Manager, Monstercat
Jeff Filiberto, Head of Entertainment within Brand Consulting, CAA
Jason Fishman, SVP Digital Strategy, DNA - Digital Niche Agency, Inc.
Tom Fishman, VP Marketing, Eko
Sid Fohrman, Partner, Sheppard Mullin
Javon Frazier, Chief Product Officer and President, Gaming, Studio71
Jennifer Freed, CEO & Founder, Trevanna
Taishi Fukuyama, COO, Amadeus Code
Kun Gao, Founder, Crunchyroll, Inc.
Hemal Ghelani, VP, Analytics Advisory Leader, Technology, Media, Entertainment, Genpact
Rebecca Glashow, Co-Head, Awesomeness
Rich Goodstone, Co-Founder, Superfly
Omar Grant, Co-President, Roc Nation Records
Steven Haft, Head of Global Partnerships, Consensys
Minard Hamilton, Managing Partner, Driver Ventures
Chris Heatherly, EVP, Games and Digital Platforms, NBC Universal
Christina Heller, CEO, Metastage
Ken Hertz, Partner, Hertz Lichtenstein and Young LLP
Gabrielle Heyman, Head of Global Ad Sales, Zynga
Phil Hickey, EVP, Brand & Marketing, Seriously
Alison Hoffman, CMO, Starz
Rob Holmes, VP of Programming, Roku
Andrew Hotz, EVP of Worldwide Digital Marketing and Chief Data Strategist, Warner Bros. Pictures
Adam Hua, SVP, CitizenNet
Jonathan Hurd, Director, Altman Vilandrie & Co
Vance Ikezoye, President and CEO, Audible Magic
Leslie Iwerks, Founder and Creative Director, Iwerks & Co
Natalie Jarvey, Digital Media Editor, The Hollywood Reporter
Jeonghee Jin, CEO, Pearl Abyss America
Gigi Johnson, Exec. Director, Center for Creative Futures, Maremel Institute;
Faculty, Music Industry, UCLA Herb Alpert School of Music
Mike Johns, Founder/CEO, Executive Producer, Digital Mind State, Tech This Out
Mike Johnson, Head of Social/Digital within Brand Consulting, CAA
Greg Kampanis, Senior Vice President & General Manager, Digital, Omnia Media
Josh Kaplan, CEO, Stemit
Marc Karzen, CEO and Strategist, RelishMix
Scott Kegley, Executive Director of Digital Media & Innovation, Minnesota Vikings
Cameron Kelly, Chief Marketing Officer, Complexity Gaming
Gabrielle Kessler, VP Experiential, Future PLC
Chang Kim, Founder & CEO, Tapas Media
Clint Kisker, President & Co-Founder, MWM
Jenna Kurath, Vice President of Startup Partner Development, SportsTech, Comcast Cable
Ed Laczynski, CEO, Zype
Felix LaHaye, Founder and CEO, United Esports
James Leaverton, Vice President of Ecosystems & Co-Founder, Stackpath
Mike Lee, Esports Agent, United Talent Agency
Sean Lee, Chief Corporate Development Officer, Wargaming
Owen Leimbach, Co-Founder & Managing Partner, Tiny Horse
Philip Lelyveld, Immersive Media Initiative Program Lead, Entertainment Technology Center @ USC
Peter Levin, Managing Director, Griffin Gaming Partners
Payne Lindsey, Co-Founder, Podcast Host and EP, Tenderfoot TV
Sandra Lopez, Vice President and General Manager, Intel Sports
Henry Lowenfels, SVP of Business Development, Scopely
Mike Lu, CEO, Triller
Dave Madden, SVP, Global Brand Partnerships, Electronic Arts
Yvette Martinez Rea, CEO, ESL Gaming
Gene Massey, CEO, MediaShares
Colin McCafferty, Managing Partner, McCafferty & Company
Dren McDonald, Composer/Sound Designer, Facebook
Julie McNamara, Executive Vice President, Head of Original Content, CBS All Access
Erik Mendelson, CEO/Co-Founder, Tune Token
Alexis Miller, Lead, Global Product Marketing, Spark AR
Robert Miller, Co-Founder, Campaign Livecast
Shabnam Mogharabi, Co-Founder and GM, SoulPancake, a division of Participant Media
Jamil Moledina, Principal, XP Consulting LLC
Nathan Moore, Director, Principal Software Engineer, Stackpath
Bryn Mooser, CEO, XTR
David Morin, Head of Los Angeles Lab, Epic Games
Tatiana Moroz, Singer/Songwriter, Creator, TatianaCoin
Kristen Muller, CCO, Southern California Public Radio
Dan Murray, President, Skybound Interactive
Lars Murray, Partner, Voxally
Vickie Nauman, Founder/Owner, CrossBorderWorks
Mark Netter, CEO, ElectraCast
Linda Ong, Chief Culture Officer, Civic Entertainment Group
Jaime Otero, Managing Director, RightsTrade
Andrew Paradise, CEO, Skillz
Tony Parisi, Head of AR and VR Ad Innovation, Unity Technologies
Damian Pelliccione, CEO and Co-Founder, Revry
Greg Penny, Independent Record Producer, Flower Records
Cassie Petrey, CEO, Crowd Surf
Peter Phillips, COO, Giphy
Joanna Popper, Global Lead, Virtual Reality Location Based Entertainment, HP
Christopher Price, Strategic Partner Manager for Augmented Reality, Facebook
Shannon Pruitt, Managing Partner, Walt Disney Television Portfolio of Networks, Horizon Media
Tobias Quessier, CEO and Co-Founder, Cinelytic
Peter Rafelson, Founder/President, ElectraCast
Neeta Ragoowansi, Co-Founder/SVP, Business Development & Legal Affairs, NPREX (National Performing Rights Exchange)
Sabaa Rehmani, Co-Founder and President, Denali Publishing
Parker Reyes, CEO, Tone Den
Alex Riggs-Miller, CEO, iProdoos
Brian Ring, CEO, Ring Digital
Ty Roberts, CEO, Ty Roberts Innovation
Michelle Roguso, Head of Experiential Marketing within Brand Consulting, CAA
Ira Rubenstein, Chief Digital & Marketing Officer, PBS
Tom Ryan, CEO, Pluto TV
Nick Sallon, Head of US News Partnerships, Twitter
Phil Sanderson, Managing Director, Griffin Gaming Partners
Jen Sargent, Chief Operating Officer, Wondery
Seth Schachner, Managing Director, Strat Americas
Ted Schilowitz, Futurist in Residence, Paramount
Rob Schonfeld, Senior Vice President, Revenue, Activision Blizzard
Lori Schwartz, Governor, Television Academy
Michael Shanley, Vice President, IT & Business Development, Music Reports, Inc.
Seth Shapiro, Managing Partner, Pacific Strategy Partners
Lucas Shaw, Entertainment Reporter, Bloomberg
Ned Sherman, Partner, Manatt, Phelps & Phillips, LLP; Founder, Digital Media Wire
Kirin Sinha, CEO, Illumix
Jesse Sisgold, President, Skydance
Jonathan Skogmo, Founder and CEO, Jukin
Eric Smith, Industry Manager for Entertainment, Facebook
Georgii Speakman, Founder, Outlier Co.
Soumya Sriraman, Founding President and CEO, BritBox
Ash Stahl, VP of Business Development and Operations, FlightHouse
Christopher Sumner, SVP Business Development and Strategy, Refinery29
Marine Suttle, EVP, Chief Product Officer, The Boxoffice Company
Josh Swartz, COO, PopDog
Paul Sweeting, Co-Founder, RightsTech Project; Founder & Principal, Concurrent Media Strategies
Robert Tercek, CEO and Co-Founder, VIA: Venture Intellect Associates
Colin Thomson, Founder & CEO, Kast Media
Daniel Tibbets, President and General Manager, El Rey Network
Joe Torry, Comedian, Actor, Entrepreneur
Nick Tuosto, Managing Director & Head of Gaming, LionTree
Julia Turner, Deputy Managing Editor for Arts and Entertainment, LA Times
Sarah Unger, SVP, Cultural Insights & Strategy, Civic Entertainment Group
John Vars, Chief Executive Officer, MixHalo
Benoit Vatere, CEO, Mammoth Media
Joanne Waage, General Manager, Crunchyroll
Kent Wakeford, Co-Founder and Vice Chairman, Gen.G
Andrew Wallenstein, Co-Editor-in-Chief, Variety
Nick Weir-Williams, Director of Strategic Partnerships, Ingenta
Jeremy Welt, CMO, The Wave
Ron Wheeler, Managing Director, ATSC 3.0 Security Authority (A3SA)
David Willis, CEO, That Christmas Movie
Christina Wootton, VP of Brand Partnerships, Roblox
Kristin Yasuda, Director, Artist Partnerships, Bandsintown
Chris Younger, President, Principal, Ayzenberg Group
Ahmet Zappa, EVP, Global Business Development, Eyellusion
Shelley Zimmerman, Co-Head, Awesomeness



2020 Sponsors and Media Partners Include: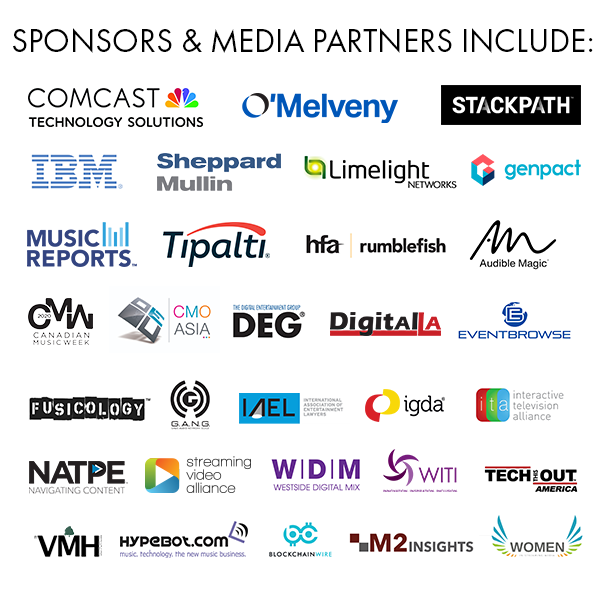 FAQs
What's the refund policy?
Refunds are subject to a $100 processing fee, which will be subtracted from your refund total. We must receive your written request for a refund by January 6, 2020. Cancellation requests received after January 6, 2020 are non-refundable.
Do I have to bring my printed ticket to the event?
No. However you may be asked to show a government issued ID or drivers license to verify identity.
Is my registration fee or ticket transferrable?
You may transfer your registration to another person. Please provide written authorization to info@digitalmediawire.com. Confirmed and paid attendees who do not attend or who cancel after the deadline are liable for the entire fee.
How can I contact the organizer with any questions?
For questions, please call or email us at 310-855-0033 or info@digitalmediawire.com