Description
Described by Hollywood insiders, digital influencers and industry leaders throughout the world as a "must-attend" event, now in its 5th year Digital Entertainment World (DEW) is where you want to be if you are in the business of creating or monetizing digital entertainment content. DEW 2018 focuses on "The FUTURE of..." and will cover topics from OTT to Innovation to eSports to Millennials to Content Marketing to VR/AR to Music Rights to Startups, etc., as this theme guides all talks, discussions, meetings and presentations over the two days. This year's event will be held in the hip and modern Marina del Rey Marriott just steps from the beach and located in the heart of LA's thriving Silicon Beach with easy access to Santa Monica, Venice and Playa Vista. The event includes keynotes, fireside chats, presentations, panel discussions, tech demos, startup competition, innovative exhibitions, daily DJ music and performers and the best networking in the the hotel's Sinder Lounge. Join DEW and be a part of the future of connected entertainment.
Agenda: https://www.dewexpo.com/agenda/
Speakers: https://www.dewexpo.com/speaker-submission/
Sponsors/exhibitors/media partners: https://www.dewexpo.com/sponsors/
---
Selected Featured 2018 Speakers

Confirmed Speakers Include:
Michelle An - Senior VP/Head of Creative Content, Interscope Geffen A&M
Darcy Antonellis, CEO, Vubiquity
Jonathan Azu, GM and EVP, Red Light Management
Craig Barry, EVP & Chief Content Officer, Turner Sports
Virginie Berger, CEO, Armonia Online
Steve Boom, VP, Amazon Music
Matt Burns, Co-Founder and General Counsel, INGrooves
John Canning, VP Interactive Experiences, NBCUniversal
Rishi Chada, Head of Gaming, Twitter
Bill Colitre, VP & General Counsel, Music Reports
Alex Collmer, CEO, Vidmob
Justin Dellario, Head of Esports Programs, Twitch
Chris Denson, Director, Ignition Factory, Creator & Host, Innovation Crush
Colin Dixon, Founder & Chief Analyst, nScreenMedia
Daniel Eilemberg, President and Chief Content Officer, FUSION
Tony Emerson, Managing Director, Microsoft
Kristen Ewing, Manager, Media & Entertainment, Twitter
Michael Gold, Cofounder and CEO, Holojam Inc
David Grant, President, POPSUGAR Studios
Ben Grossmann, Cofounder and CEO, Magnopus
Harold Hayes, Creative Director and Co-Owner, SunnyBoy Entertainment
Tom Hayes, SVP & Head of New Media, Paramount Pictures
Joe Hodorowicz, Talent Manager, Studio 71
Terry Hurlbutt, Vice President and General Manager of Digital, Good Morning America
Ziba Kaboli-Gerbrands, Director of Content Acquisition, Roku
Brittani Kagan, Head of Talent, Portal A
Erica Kaufman, Director, Content Strategy, Mattel
Edward Klaris, Managing Partner, Klaris IP, LLC
Todd Klein, Partner, Revolution Growth
Stanley Kwon, Vice President, PSB Research
Scott Lindenbaum, EVP, Director of Digital Strategy, Deutsch
Petar Mandich, Chief Talent Officer, Addition
Lisa Marino, CEO, RockYou Media
Yvette Martinez-Rea, COO of North America, ESL
Matt McMahon, SVP of Business Development, Seriously
David Moffly, CEO, Baeble Media
Carolyn Moneta, Agent, WME
Alex Morrison, President, Grey West
Tosca Musk, Founder & CEO, Passionflix Inc
John Penny, EVP, Product Strategy & Consumer Business Development, 20th Century Fox
Lisa Perrin, CEO of Creative Networks, Endemol Shine Group
Sharon Rechter, President, Head of Business & Distribution, First Media
Jesse Redniss, Chief Innovation Officer, tbs/TNT
Keith Richman, CEO, DEFY Media
Ted Schilowitz, Futurist, Paramount Pictures
Andrew Schneider, CMO, BAMTECH Media
Seth Shapiro, Governor, Interactive Media, Academy of Television Arts & Sciences
Ned Sherman, Counsel & Director, Manatt Digital
Greg Silverman, CEO, Stampede Ventures
Brandon Squar, EVP, Digital Strategy & Sales, ADA- Alternative Distribution Alliance (part of the Warner Music Group)
Erik Steigen,President & CEO, USA Media Rights, Inc.
Andrew Sugerman, EVP, Publishing & Digital Media, Disney Consumer Products & Interactive Media (DCPI)
Barry Tishgart, SVP & GM of Technical Services, BAMTECH Media
Sam Toles, Senior Vice President of Digital and New Platform, MGM
Andy Tu, CMO, DEFY Media
Pete Vlastelica, President and CEO, Major League Gaming (MLG)
Mike Vorhaus, President, Magid Advisors
Bryce Weiner, Founder, Tao Network
Geoff Weiss, Senior Editor, Tubefilter
Chris Young, SVP, Nickelodeon Entertainment Lab
Anton Zietsman, Director, 3311 Ventures
Shelley Zimmerman, Head of Scripted Series, AwesomenessTV


---
2018 Sponsors Include: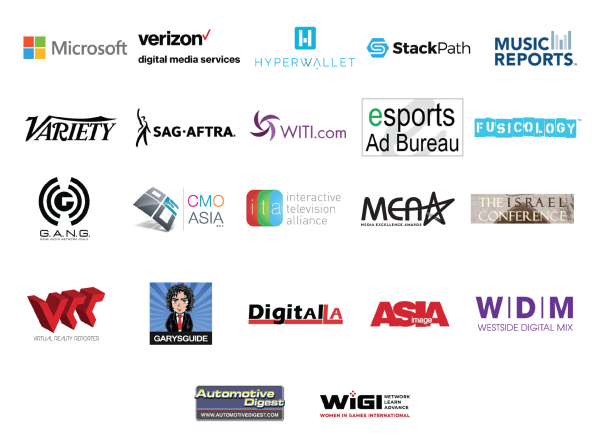 View the complete 2018 sponsors list: http://www.dewexpo.com/sponsors
---
FAQs
What's the refund policy?
Refunds are subject to a $100 processing fee, which will be subtracted from your refund total. We must receive your written request for a refund by January 5, 2018. Cancellation requests received after January 5, 2018 are non-refundable.
Do I have to bring my printed ticket to the event?
No. However you may be asked to show a government issued ID or drivers license to verify identity.
Is my registration fee or ticket transferrable?
You may transfer your registration to another person. Please provide written authorization to info@digitalmediawire.com. Confirmed and paid attendees who do not attend or who cancel after the deadline are liable for the entire fee.
How can I contact the organizer with any questions?
For questions, please call or email us at 310-855-0033 or info@digitalmediawire.com