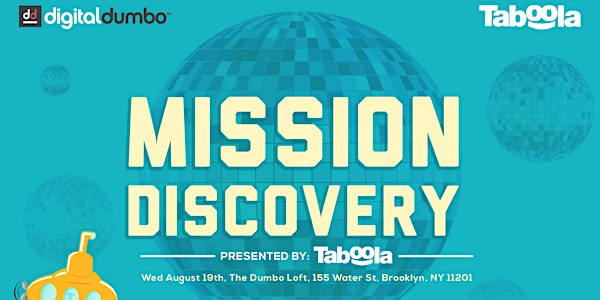 Digital DUMBO "Mission: Discovery" Presented by Taboola
When and where
Location
The Dumbo Loft 155 Water St Brooklyn, New York 11201
Description
This month we're teaming up with our friends from Taboola for "Mission: Discovery" - a social gathering, music, and drinks with the king… content.
Join us and Taboola to discover how the most innovative publishers and marketers in the world are using incredible content to entertain, enlighten, and engage us. Not only will our photobooth be in full effect, but giveaways from our partners are probable, a good time is highly likely, and sharing drinks and conversation with some of the smartest digital+creative minds around is guaranteed.
Special thanks to our supporting sponsors The Execu|Search Group and WeWork.
Agenda
6:15-6:30 - Arrival to The Dumbo Loft
---
6:30-7:15 - Drinks, Music & Networking
---
7:15-7:35 - Presentation from Taboola
---
7:35-9:30 - Drinks, Music & Networking Continue
Speaking...
VP Media Sales, Taboola

Zev Gollender leads Taboola's demand business in the US and Europe. Zev joined the company in 2012 and built a global team of sales and account managers, helping to drive more than $200 million in advertising revenue in 2014. Zev works with thousands of new and existing buyers on Taboola's media platform, including leading brands, publishers, and performance marketers encompassing the digital landscape.
The Venue - The Dumbo Loft
Built in 1891 and utilized by a coffee factory and manufacturer of smoking pipes for many years, The Dumbo Loft was newly renovated in 2010 to transform the interior into a flexible event venue and today plays home to many of Digital DUMBO's events.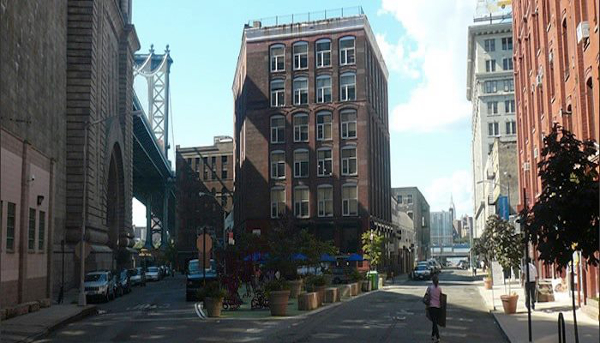 Event Sponsors

Taboola is the leading global discovery platform, serving over 200 billion recommendations to over 550 million unique visitors every month on some of the Web's most innovative publisher sites, including USA TODAY, Business Insider, Chicago Tribune, FOX Sports, and The Weather Channel. Headquartered in New York City, Taboola also has offices in Pasadena, Tel Aviv, London, New Delhi, and Bangkok. Publishers, marketers, and agencies leverage Taboola to retain users on their sites, monetize their traffic, and distribute their content to drive high-quality audiences. Learn more at www.taboola.com and follow @taboola on Twitter.

As one of the leading recruitment and temporary staffing firms in the Northeast, The Execu|Search Group has been connecting quality candidates with quality companies for 30 years. As an organization, we've established a track record of excellence and innovation within the industry, and our Creative & Digital recruitment team specializes in connecting professionals in digital design, marketing, UI/UX design, copy editing, and web design/development with a broad range of small, mid-sized, and Fortune 500 companies!

WeWork provides the space, community, and services you need to make a life, not just a living. With weekly events, personalized support, flexibility, and access to thousands of like-minded entrepreneurs, small businesses, and freelancers around the world - WeWork is the perfect place to grow your business in 2015. The community of creators is coming to Brooklyn on 8/1 with it's first location in Dumbo. To learn more about joining the community, email joinus@wework.com or call 877.302.6221.

About Digital DUMBO
Digital DUMBO produces live events, conferences, content, and custom experiences that connect companies & brands with our community of digital tastemakers, talent, and executives.
Digital DUMBO started in 2009 as a social gathering for innovative companies in the DUMBO (Down Under the Manhattan Bridge Overpass) neighborhood of Brooklyn, a six-block area with over 100 media and technology companies. We've since hosted events in some of the world's most innovative cities.
With over 15,000 members, Digital DUMBO is one of the fastest growing digital communities in the world.