Description
ScreenCraft is thrilled to present our next event about the future of distribution and content creation, in association with WGA East, Hello World and NoFilmSchool.com! Moderated by entrepreneur-filmmaker Ryan Koo. Companies represented include:

Conversation panelists:
Amy Singer, Content Partnerships, YouTube
Amy joined YouTube in 2010 as a Strategic Partner Manager and is responsible for leading several of YouTube's major television network relationships, as well as overseeing all Canadian content partnerships. Amy was formerly Vice President of Business Development for Viacom Music Group's Enterprises Division, where she was responsible for strategy and business development for all off-air businesses including home video, video games, syndication, direct-to-video film, and consumer products.
Erica Anderson – Chief Marketing Director, Seed&Spark
Erica is the Chief Marketing Director for Seed&Spark and currently heads up the Studio or Crowdfunding side of the site. She is an actress and producer in NY's commercial advertising worlds. In 2011, she had the privilege of working on her first feature film with a remarkable group of women. The spirit, the community and the challenges of that project, Like the Water, inspired Seed&Spark. Erica hails from colorful Colorado and graduated from Smith College in Massachusetts. Erica's deep commitment to her family, the arts, and her community has lead her to assist in the start-up of a "'Mom and Pop" bakery business. Through her guidance as the Development and Marketing Director, My Mom's Pie is evolving into a national Pie enterprise. She is now thrilled to be in the development phase with Seed&Spark and hopes to bring an easier and more inspiring avenue for independent filmmakers and audiences alike.
Erick Opeka – Senior Vice President of Digital Distribution, Cinedigm
As Senior Vice President of Digital Distribution for Cinedigm Entertainment, Erick directs the company's sales, client management, content strategy, development and operations across digital platforms, including subscription and ad-supported VOD, electronic sell-through, cable TV and IPTV. Erick has grown Cinedigm into one of the largest aggregators of digital video content worldwide. He oversees the distribution of over 20,000 films and programs for partners ranging from distributors and home entertainment companies to independent filmmakers. Most recently, Erick worked with the Sundance Artist's Initiative to bring the festival's 4,000 alumni to digital audiences worldwide. Previously, Erick spearheaded digital business development for New Video, leading to that company's selection as the first iTunes video aggregation partner. Prior to that, Erick managed releases for the A&E Home Entertainment line and the Docurama Films label, including over 20 Academy Award®-winning and nominated films. Erick received his BA The University of Texas at Austin and his MBA from Florida State University.
Adam Neuhaus – Creative Producer, @radical.media
Adam Neuhaus is a Creative Producer for @radical.media, a global studio that creates innovative content experiences for scripted, non-scripted, digital and branded entertainment platforms. Adam helped launch @radical.media's YouTube channel, THNKR, including creating the hit digital series, PRODIGIES. He helped develop the YouTube channels for VOGUE and WIRED magazines in association with Conde Nast Entertainment. Prior to @radical.media, Adam worked at Original Media developing and producing television for Discovery, TLC, History, Bravo, Spike, and Sundance. Before that, Adam started at IFP New York, followed by the mailroom at the William Morris Agency and later at Paradigm Talent Agency working with screenwriters and film directors. In 2005, Adam founded Headsets and Highballs, a media network of entertainment¹s next generation of industry leaders. Through H&H, Adam created The H&H/GFS Partnership, a comprehensive partnership with The Ghetto Film School that includes industry training, mentorship, and internship training/placement. Adam is also a member of the Board of Directors for The Ghetto Film School.
Marc Schiller – Founder & CEO, BOND 360
Marc Schiller, Founder and CEO of BOND Strategy and Influence, is an accomplished advertising and marketing executive with decades of industry and entrepreneurial knowledge, in the areas of digital marketing, brand strategy, corporate consulting, cultural curation and public relations. BOND's mission: To help clients understand, tap into, and leverage the rapidly evolving technologies that consumers use to communicate in the digital era. To that end, Marc and BOND create innovative influencer strategy campaigns that deliver success for a diverse client base, from independent films and media companies to hospitality giants and Fortune 500 corporations. Recent agency clients include: American Express, General Electric, Starwood Hotels, The Economist, HBO, MTV, A&E Networks, BabyBjörn, Seamless, Tribeca Film Festival, Microsoft, Netflix, and a host of consumer product, hospitality, media and entertainment companies. Marc currently consults on marketing strategy for a variety of film projects that include Banksy's Academy Award-nominated film, "Exit Through the Gift Shop" and Asif Kapadia's "SENNA." In 2013, Marc was honored by Indiewire as of their "2013 Infiewire Influencers" Marc's relentless focus on social media and how people connect through technology is a signature of his career. Prior to launching BOND (formerly known as Electric Artists), Marc served as Corporate Vice President of House of Blues Entertainment, Inc. where he pioneered music and entertainment content on the internet to create a multi-platform presence for the brand. Before joining the House of Blues, Marc developed motion pictures for Warner Brothers, TNT, and 20th Century Fox. Marc lives in New York with his wife, Sara, and their daughters, Samantha and Charlotte. He currently sits on the board of directors of the IFP and Eyebeam, a New York based think tank for the convergence of art and technology.
Matthew DiPietro - VP of Marketing, Twitch
Matt is VP of Marketing and Communications at Twitch (www.twitch.tv), the world's leading video platform and community for gamers where more than 44 million gamers gather every month to broadcast live video, watch and chat about gaming. Twitch launched in June 2011, won a Webby Award in 2012 and 2013, and has become ubiquitous in the video game industry. Game developers, publishers, media outlets, pro players and casual gamers all use Twitch as a platform to stream live content. Top media have also praised Twitch. Business Insider called Twitch "one of Silicon Valley's hottest startups." Slate described the company as "the YouTube of video gaming." Bloomberg said, "it's enormous, it's bigger than a lot of cable audiences." And Associated Press touted that "Twitch has become one of the most popular ways for gamers to share footage online." Prior to Twitch, Matt launched and managed marketing for Socialcam, a stand-out social mobile video application that was acquired for $60 Million in July 2012. Often called "Instagram for video," The New York Times called Socialcam "the most talked about video app," and CNET called it "mobile video sharing done right." From 2007 to 2010, Matt was Director of Marketing and Communications at Federated Media. During that time, FM became one of the leading voices in new media, and is now a top media property per comScore. At FM, we pioneered the idea of Conversational Marketing, ran some of Twitter's first forays into the advertising business, and helped grow TechCrunch, Mashable, and hundreds of other independent media sites into digital stalwarts.
MODERATOR: Ryan Koo, NoFilmSchool.com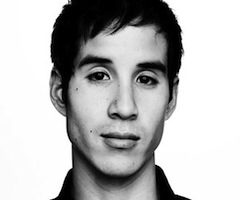 Named one of Filmmaker Magazine's 25 New Faces of Independent Film, Ryan Koo co-wrote, directed, shot, and edited the "urban western" web series THE WEST SIDE, which won the Webby Award for Best Drama Series. His latest short film AMATEUR can be viewed free online at manchildfilm.com. AMATEUR is a prequel for Koo's forthcoming feature MANCHILD, which was awarded a Tribeca All Access grant by the Tribeca Film Institute; it was selected for IFP's Emerging Narrative and No Borders programs; and it was selected for the Film Society of Lincoln Center's inaugural Emerging Visions program. Koo's $125,000 Kickstarter campaign for MANCHILD became the single most successful narrative film campaign on Kickstarter at the time; eleven-time NBA champion coach Phil Jackson and Los Angeles Lakers VP Jeanie Buss backed the project after seeing it on Twitter. Koo and co-director Zack Lieberman's production company EXIT STRATEGY was recently awarded a seed grant by Dogfish Accelerator, which was founded by producer James Belfer (LIKE CRAZY, COMPLIANCE, PRINCE AVALANCHE) to be the first seed accelerator for film production companies. Koo is the founder of the website nofilmschool.com, which currently averages over two million views a month and won Total Film's Best Creative Blog award.
Organizer of Digital Discourse: The Future of Distribution and Content Creation