Digital Discipleship Boot Camp - Summer 2019

Sunday, March 17, 2019 at 12:00 AM

-

Saturday, June 22, 2019 at 11:30 PM (EDT)
Event Details
NOTE: The ONLINE program begins Thursday, June 13, 2019. The dates listed in Eventbrite are start and end dates for DDBC REGISTRATION. 
Here is the Registration Schedule: 
Early Bird Registration Begins: March 17 and Ends: April 28, 2019 (11:55 PM)
Regular Registration Begins: April 29, 2019 and Ends: June 2, 2019 (11:55 PM)
Late Registration between June 3, 2019 - June 22, 2019:  There is a late registration fee of $25.00 and a transaction fee. Discounts are not available for late registrations.  
The ONLINE training program begins on Tuesday, June 11, 2019 with an optional GoToWebinar Practice Session.  For the full class schedule, please go to - https://ddbcformation.org/overview/registration/.  Most sessions are recorded and available for YOU. A few sessions are LIVE and recorded and available to you in a 24-48 hour period.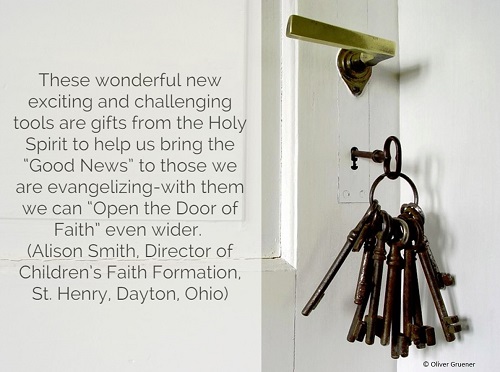 Digital Discipleship Boot Camp (DDBC) is a guided course of study that will help you understand how web-based technology and social media can be applied in ministry settings. It is an opportunity for catechetical leaders at all levels to learn the basics of faith-based educational technology and new media. This is your opportunity to gain the needed skills to be a Digital Disciple.
Why do we call this program Boot Camp? Because we offer you survival skills that you will need to be an effective communicator of the faith in today's digital environment. We will equip you to use the new media tools of today: Facebook, Twitter, blogs, wikis, digital storytelling tools, webinars, using smart phones in ministry, and all kinds of collaborative web-based applications. Everything we teach is intended to be adapted to your ministry.
Digital Discipleship Boot Camp is perfect for Parish Catechetical Leaders, Catholic school teachers, Directors of Faith Formation, Youth Ministers, Catholic school administrators, or anyone with a desire to learn more about technology's relevance to faith formation.
DDBC will help you…
Update your technology skills with practical, hands-on training
Explore safe, free and affordable technology tools
Creatively apply what you learn to your  classroom, catechetical setting, or ministry
Discover the new discipline of Pastoral Technology
Prepare to lead students, faculty, and  catechists to a better understanding and use of web-based technology for faith formation
Meet other Catholics who wish to remain connected via digital communication beyond the scope of DDBC
DDBC is structured as an ONLINE series of eight modules that are scheduled weekly with additional time for participants completing Capstone Projects.
For full information about DDBC visit - http://ddbcformation.org/
Save This Event
When & Where

Dates listed for event are REGISTRATION DATES.
Online Webinars
34677


Sunday, March 17, 2019 at 12:00 AM

-

Saturday, June 22, 2019 at 11:30 PM (EDT)
Add to my calendar