About this Event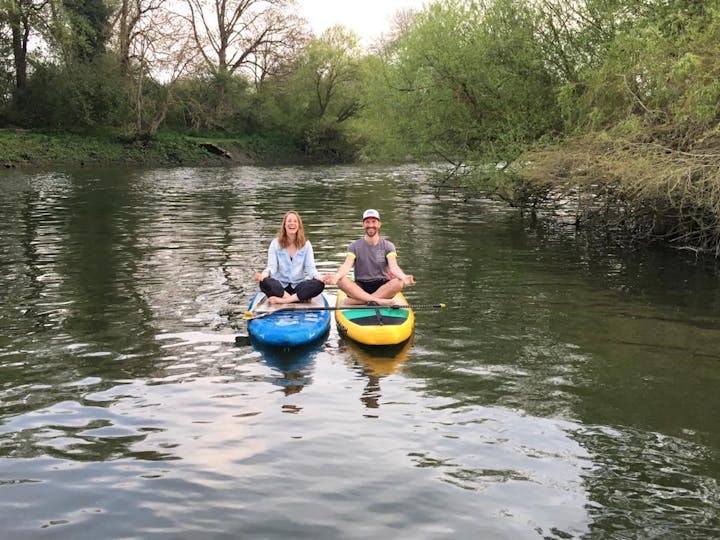 Join us on the river this Bankholiday weekend. Leave your phone and your every day life behind for 24 hours and retreat into nature.
Meet us in Tonbridge at 1.30, place all your belongings into dry bags and step onto a paddle board and away we go!
Peacefully paddling down the Medway, you will have time to enjoy the beautiful surroundings and fully immerse yourself in nature. Spotting animals. Soaking up the bank side scenery. Chatting to your fellow paddlers. Once we have found the right spot, we will set up camp and build a fire. Before we settle down for dinner there will be time to go swimming and sit in peace to a guided meditation. Once it gets dark, why not go out exploring again for a midnight padddle
After sleeping under the stars, greet the day with a grounding yoga routine and some breath work before we paddle back to Tonbridge.
What we will supply:
What you need :
To get to. Tonbridge by train or car
What to wear: board shorts, swimming shorts, running tights or leggings and a t-shirt
Sleeping bag/ sleeping mat/ hammock
Food ( easily cooked on camping stove) & drink
Warm clothes for the evening
Flip flops or other footwear you don't mind getting wet
Sun cream
Sun glasses ; be aware that they sink quickly so don't bring your best pair, or make sure they are securely fastened.
Physical requirements:
You are going to be paddling on beautifully stable stand up paddle boards so it is unlikely that you will end up in the water....although it can happen!
If you are a weak or non swimmer, please do let your instructor know so that they are aware of it.
You will start the session paddling on your knees before transitioning to standing, therefore, a degree of flexibility is needed to do this.
Beginners are welcome.
This event is run by Piers from Back of Beyond Adventures and Meriel from Still Point Space.
Back of Beyond
Website: https://backofbeyonduk.com/
FB: https://www.facebook.com/BoBAdventures/
IG: https://www.instagram.com/backofbeyonduk/