Description
A one-day immersion into digital marketing the DOYO Live and Sassy Girl Media way.
We give you the tools, you just need to execute!
DIGITAL DEEP DIVE (3Ds)
Dennis Schiraldi, Founder of DOYO Live and Deanna Fusillo, Owner of Sassy Girl Media are holding a Digital Deep Dive Marketing Workshop for Small Businesses, Entrepreneurs and Marketing Managers.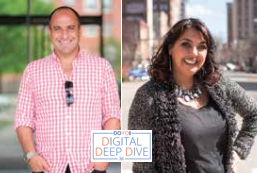 Part master-class and part workshop, we will take you under the hood of DOYO Live and give you access to the team and principles that make the DOYO Live engine run.
The Curriculum: Workshop will be tailored to the needs of individual groups and will have you leaving with all the practical marketing advice and tools to grow and scale your business.
The day will be filled with speakers, industry news discussions, exercises, and conversations in all the areas in which we're experts. Plus, you'll get a behind the scenes introduction to DOYO Live and Sassy Girl Media to learn how a brand is built in a 2018 world. All in all, sessions include a collection of deep dives into:
Culture - Developing a marketing culture in your business.
Digital Marketing
Content Marketing Strategy
Creative Story Telling
Social Media Strategy
Search Engine Marketing - Local Search Engine Marketing/Optimization – SEM/SEO
Lead Generation
Branding
Other
We will tailor the workshop to fit the needs of the individuals attending.
The DOYO Live Alumni Group: We are building a lasting community of Alumni while also creating connections with the DOYO Live team. As such, these events are reserved to small groups of no more than 12 people to ensure an intimate environment which can also mold to the attendees and their respective goals.
These sessions are reserved for small groups of no more than 12 people. A DOYO Live employee will be in touch prior to your experience so we can focus the day to meet your specific objectives.
Please reach out to audrianna@doyolive.com with any additional questions!