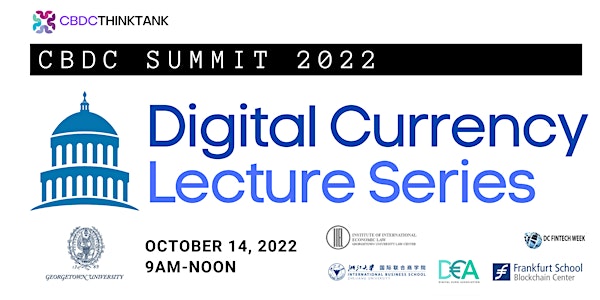 Digital Currency Lecture Series
A set of lightning talks on digital currency
When and where
Location
Georgetown University 500 1st Street NW 9th floor Washington, DC 20001
About this event
** Be sure to check out the CBDC & Digital Currency Masterclass on October 12th, details here, an intensive course with certificate of completion.
The CBDC Think Tank is proud to partner with Georgetown University, Institute of International Economic Law and DC FinTech in a morning of speed talks on blockchain and digital currency.
Talks (more confirming shortly):
The Macroeconomic Impact of Cryptocurrency and Stablecoins, Kathryn White, WEF/Accenture
Digital Money and Central Banking Operations, Manmohan Singh, IMF
Economic Model of Consensus on Distributed Ledgers, Jiasun Li, George Mason U
Blockchain Consensus Mechanisms, Parma Bains, IMF
Central Bank Digital Currencies for Cross-border Payments, Maria Teresa Chimienti, World Bank
Lessons from the Bahamas Sand Dollar, Vinay Mohan, Movmint
and more..
Held during the week of the IMF meetings, the Digital Currency Lecture series is part of CBDC Summit, a set of events around digital currencies and CBDCs. Day 1 of the Summit, held October 12th, is a CBDC masterclass in partnership with the IMF and George Washington University. Day 2, held October 14th (this event) at Georgetown University will be 3 hours of lightning talks delivered by 6-8 speakers on the topic of blockchain, digital currencies and CBDCs.
We ask that you register with your professional email address please. The venue will require adherence to COVID protocols as described below:
COVID Process, from Georgetown University:
Georgetown University looks forward to your upcoming visit. To help protect the health and safety of the Georgetown community, including our guests, all visitors ages 12 and older to University-owned or operated buildings must be up to date on COVID-19 vaccination (i.e., primary series and, when eligible, an additional dose), or attest to having a medical or religious exemption from being vaccinated.
Please follow the steps below that are required before your visit.
Step #1: Anytime between now and the day before your visit, please submit documentation showing you are up to date on COVID-19 vaccination with a vaccine authorized for emergency use or granted approval by theU.S. Food and Drug Administration (FDA) or the World Health Organization (WHO). Acceptable proof of vaccination includes, but is not limited to:
CDC COVID-19 Vaccine Card
WHO Vaccine Booklet
Documentation provided by a healthcare organization or country
Note: If you are not up to date on COVID-19 vaccination but attest to having an appropriate medical or religious reason for not being vaccinated, you will be able to indicate this as part of Step #1 and proceed with the process required to visit our campus. You will be required to submit to the University proof of a negative PCR test taken within 48 hours prior to your arrival time on our campus when you submit your health attestation on the day of the event.
Step #2: Assuming successful completion of Step 1, you will receive a short health attestation form via email on the morning of the event date (for multiday events, you will receive this email on the FIRST DAY of the event ONLY, regardless which day you are attending). Please complete this form, attesting that you are symptom free before coming to campus. If you indicate any symptoms consistent with COVID-19, you will not be permitted to visit a Georgetown-owned or managed campus or building until you are symptom free.
Your event or meeting host will be able to monitor your progress on Step #1 above, and they may contact you if they see if you have not yet completed this step ahead of your scheduled time on campus. While event hosts are not provided information about your COVID-19 vaccination or your religious or medical exemption from vaccination, they are notified of the outcome of any COVID-19 test required by the University in connection with a claimed exemption and whether you have reported having COVID-19 symptoms or being in close contact with anyone who has tested positive.