Digital Catapult Centre Brighton: Investigating Blockchain Technologies: Cryptocurrencies, Ethereum and DAPPs

Wednesday, September 16, 2015 from 10:00 AM to 5:00 PM (BST)
Event Details
Have  you heard of technologies such as Cryptocurrencies, Bitcoin, Blockchain, Ethereum, De-centralised Apps (DAPPs) etc and would like to find out more? 
What is Ethereum? From the website:
"Ethereum is a decentralized platform that runs smart contracts: applications that run exactly as programmed without any possibility of downtime, censorship, fraud or third party interference. Ethereum is how the Internet was supposed to work. Ethereum was crowdfunded during August 2014 by fans all around the world. It is developed by ETHDEV with contributions from great minds across the globe."
The Ethereum Blockchain was recently launched on Thursday 30th July in the first of a series of releases. See the video here and visit the website here: https://www.ethereum.org/
Agenda:
On the day we will investigate what the terms above mean and their applicability to solving real-world business and organisational problems. There are 2 morning sessions and an afternoon workshop. The 2 morning sessions are more general, suitable for anyone interested in finding out about these 'disruptive' technologies, particularly entrepreneurs and digital media and tech businesses. The afternoon session is a 'hackathon' meant for developers who would like to delve deeper and play around with blockchains. We will be running blockchains, creating accounts and coding simple DAPPs... 
You can choose to attend any or all of the sessions…
Arrive from 9:30am for Tea, Coffee and Delicious Pastries and Networking. 
1. Morning, 10 – 11am: An Introduction to Blockchains, Ethereum and DAPPs (Decentralised Applications). Suitable for a non-technical audience.  
Speaker: Vinay Gupta of Ethdev, Ethereum project.
Vinay is part of the Ethdev team that launched the Frontier Release of Ethereum in July 2015. He was worked on Comms, Release coordination and provided Strategic Consultancy. Vinay has given many talks on Ethereum and Blockchains, including appearing on a recent Radio 4 'Futureproofing' episode about 'Blockchains'. Listen here. Prior to Ethereum, Vinay was best known as the inventor of the Hexayurt, a simplified shelter design, particularly suited to disaster relief. Find Vinay on Twitter at @leashless.
2. Morning, 11:15 -12pm: Introducing Augur: A Prediction Market Application (DAPP) built on the Ethereum Virtual Machine and  Blockchain. Suitable for a non-technical audience.  
Speaker via Skype: Joey Krug of Augur
Joey is a lead developer at Augur, a decentralised prediction market platform being built on the Ethereum Blockchain. Augur are in the midst of a crowdsale to fund remainder their development - this has already raised the equivalent of $4,697,565.23 USD. The crowdsale runs to the 1st of October, details here. Find Joey on Twitter at @joeykrug447
3. Afternoon, 1-5pm: Blockchains 'Hackathon' Workshop. We think Blockchains are cool and we want to experiment  with them, so what's better to learn about a new disruptive technology than just dive into it hands-on with a group of like-minded people in a friendly environment? 
The Hackathon will be run by Brightminded, a Brighton based software company. Requirements:
You will need a laptop

If you want to create smart contracts and interact with ethereum directly you will need to be comfortable with the command line and with coding 

If you feel adventurous you can install the ethereum client (we will use 

geth

) and start programming your first contracts by following the tutorials in the ethereum website 

https://ethereum.org

 even before the hackday.

If you don't feel very adventurous you will find plenty of help with getting up and running! 

Are you a designer or a front end dev? join us anyway! we need those skills to create killer Dapps! 

Most importantly bring your ideas and imagination!
Session Prices: 
Morning Sessions: £5 including coffee/tea and biscuits  
Afternoon Session: £5 including a bottle of beer/refreshments and crisps  
Both Morning & Afternoon Sessions: £8
This event is part of the Brighton Digital Festival. Find us at:
http://brightondigitalfestival.co.uk/event/investigating-blockchain-technologies-cryptocurrencies-ethereum-augur/ 
Background:
Bitcoin, a digital currency and payments system that does not require any trusted third parties to operate, was invented in 2009 and has since become an approximate 4 billion dollar industry. Bitcoin has had its share of controversies and critics due to some associated high-profile businesses going bust. The value of the currency has also been known to fluctuate wildly on speculation. It is to be noted, though that Bitcoin's value against the US Dollar has been relatively more stable in 2015. 
Bitcoin introduced the blockchain, a special kind of public database secured by cryptography.  Over the past two years in particular, the concept of the blockchain has given rise to many projects who have looked to generalise its applicability to domains beyond just currencies and payment systems… one such project just launched in July 2015 is 'Ethereum'. 
---
This event is organised by Brightminded and the Ethereum Brighton Meetup, and supported by Digital Catapult Centre Brighton, thebestof Brighton and Hove and The Dock Hub.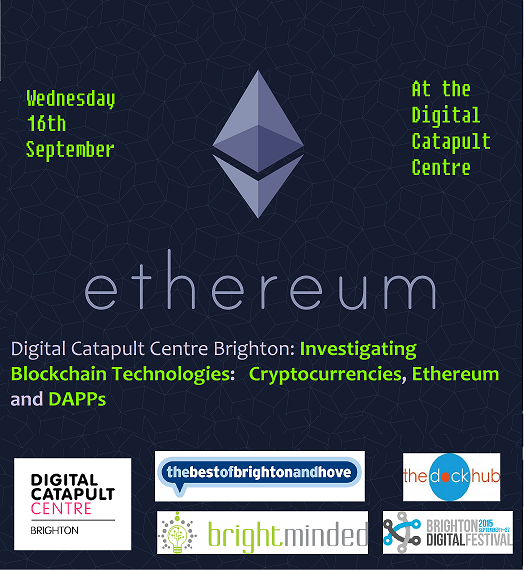 Attendee List
Sort by:

Date

|

First Name

|

Last Name
When & Where

Digital Catapult Centre, The FuseBox, Level 4 North, New England House, New England Street

BN1 4GH Brighton
United Kingdom


Wednesday, September 16, 2015 from 10:00 AM to 5:00 PM (BST)
Add to my calendar