Sales Have Ended
Registrations are closed
Please mail us on tech4herafrica@gmail.com to request for a free study pass.
Sales Have Ended
Registrations are closed
Please mail us on tech4herafrica@gmail.com to request for a free study pass.
Description
The Academy empowers women to solve key requirements for business success: Education, Networks, Mentoring, Access to finance, Access to markets.
Most importantly the academy retools them with the business and tech skills needed to stay competitive in the rapidly evolving modern workplace.
50% of SMES in Africa are mostly owned by women. However just a little percent are able to leverage Technology to expand their business ventures.
Most women don't have access to the tools and know-how of Technology and have overtime lost interest in its relevance to what they do.
Digital is now embedded in all forms of business/career choice and hence the need to empower women with digital tools.
To build a relevant business that will positively impact Africa and the world, women need to learn how to position their businesses for the future, taking advantage of modern tools that will give a new direction to the African economy.
The Schedule

This is a pre-class and usually conducted a month to the main courses that will start in July 2016.
You get your free study pass valid for two training series when you register before 27th May 2016. Limited free study cards available - first come first serve basis.

Registration closes on May 27, 2016.
Course Themes
Digital Marketing Sandwich:

Maximize Facebook, Youtube, Twitter, LinkedIn & Instagram for Your Business

, Create a winning digital strategy for your business.

Top ICT Skills for Entrepreneurs & Employees

Financing your Startup/Project: Financial strategy, Create winning impressions on Angels, VCs.

TechPlayBook Series: Easy steps to create your own website in 15 mins.

Workplace Ethics for Women
Meet some of the Coaches:
Aminu Kajunju:

President and CEO of the Africa-America Institute (AAI), a U.S. based non-profit organization dedicated to strengthening human capacity.



Eniola Dada: Consultant at Nigerian Economic Summit Group (NESG)
Anie Akpe: Founder at IBOM LLC, Innov8tiv Magazine, Networqappbased in New York

Raliat Mohammed: Channel Specialist at Etisalat Nigeria

Babatunde Fashola: Software Engineer at Twitter
Sanya Aderonke: Tribune Nigeria
Elizabeth Olorunleke: Founder/CEO Tech4Her Africa
Who is it For:
The Digital Business Academy is for:
Young Female Graduates, Entrepreneurs & Unemployed

Business, Employed & Home Women
Training Outcomes:
Understand how tech connects and applies to your business or career


Expand markets and profits by leveraging on technology

Foster collaboration and partnerships locally and internationally

Hands on tech skills to get you ahead in their career and business

Encourage ethical business practice e.g tax, workplace ethics for women, gender balance.
Organizer of Digital Business Academy for Women: Hack Your Career, Stay Ahead!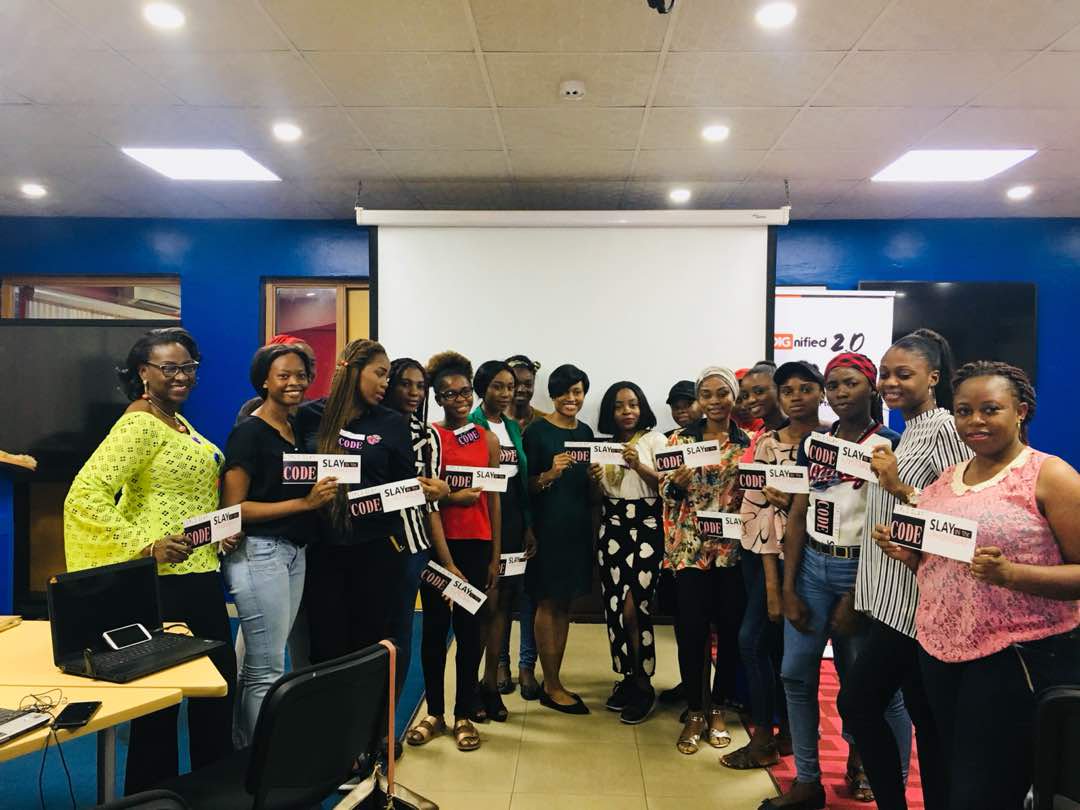 Tech4Her is a social enterprise working to improve the livelihood and expand economic opportunities for  girls and women in Nigeria and across Africa by enabling them in STEEM and equipping them with ICT skills.
Tech4Her Africa is a registered social enterprise incorporated in 2015  – working to expand economic opportunities for women and girls  in Africa by enabling them in #STEEM: Science, Technology, Engineering, Entrepreneurship, Mathematics leveraging ICT.
Connecting​ ​Africa.​ ​One​ ​country​ ​One​ ​state​ ​One​ ​woman​ ​One​ ​Girl​ ​at​ ​a​ ​time​ ​with​​ ​​#tech4her #STEEMDiva​​ ​​#Womenintech   
Our Tactics
ICT & Entrepreneurship Programs at Educational systems and Communities.

Creative funding for Women-led Startups.

Learning & Resource Centers for Women

STEM Development initiative for teens and youth
OUR 2030 Project: 
We are building the first and largest Technology Institute  for Women in Africa called IOTWomen. We are building the largest Technology Academy For females in Africa. Equipped with computers, libraries, incubation hub and mentors. Yes, We are investing in the next generation female science and tech leaders. Graduates from the Academy have access to internships, job placements, exchange programs in best companies across Africa and the world.
Our PROGRAMS;
– GSC (GirlsSlayCode Academy)
– DBAWomen- Digital Business Academy For Women
– STEEMDiva (Science, Technology, Engineering, Entrepreneurship, Mathematics) for middle school girls
– STEEM4Dev: Code Avengers, STEM For Schools, STEM For Teachers (include males)
– Her Code Network
– CodeCoffee
– IOTWomen
– Project 2030
OUR Media Appearances:
Contact Information Official Line: +2347059701187 Email: hello@tech4herafrica.com ; tech4herafrica@gmail.com Website: www.tech4herafrica.com