About this Event
As the use of digital technologies evolve and disrupt the field of Orthodontics, there is a need to integrate peer-generated innovation in the practice workflow. Three pioneering companies, KLOWEN, INBRACE and LightForce, are partnering to broach their fixed appliance technologies and define how they are taking control of the profession by addressing how:
• Collaboration initiatives in product development are taking place in Orthodontics for the betterment of the specialty among companies that support each other and offer avenues to reach common, yet non-competing, markets.
• The field of orthodontics is moving forward with the support of innovative industry players that offer accessible practice options.
• This summit will be an education platform for innovation and its practical application.
AGENDA (final schedule to be announced):
Day 1 (8 am - 5 pm)
KLOwen Braces (Dr. Brandon Owen) - 60 min
INBRACE (Dr. John Pham)- 60 min
LightForce (Dr. Alfred C. Griffin III - 60 min
Shark Tank Event
Day 2 (8 am -12 noon)
3D printed expanders (Christian Groth) – 30 min
Dental monitoring (Dr. Waldman) - 30 min
Custom lingual braces using 3D metal printing (Dr. Chris Riolo) - 30 min
Digital workflow (Dr. Heather Hopkins) - 30 min
The Importance of Teaching Digital Braces to Residents (Riyad Al-Quasami, Program Chair UDM) - 30 min
In-office digitally guided bonding (Jason Cope) - 30 min
Designing patient specific appliances and using digital to teach biomechanics to reisdents (Jean-Mark Retrouvey, Program Chair UMKC) - 30 min
More than you ever thought you'd know about 3D printing: lab, in-office, and printing brackets (Oleg Eisenstein,Brandon Owen, Alfred Griffen III) - 30 min
TOTAL CE HOURS: 9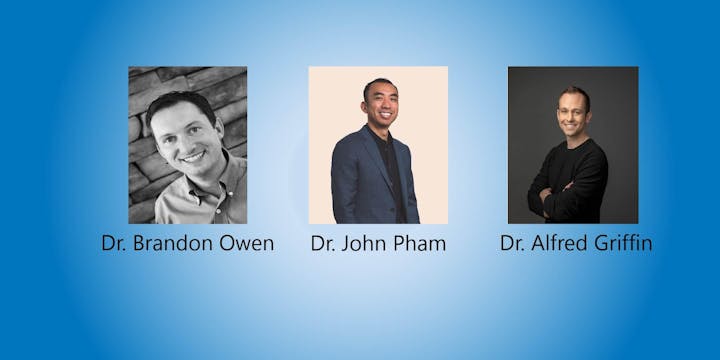 Dr. Brandon Owen, Founder and President of KLOwen
-First-ever Winner of the AAO Ortho Innovator Award.
-Inventor of the KLOwen custom braces system
-7 patents granted and 20+ pending
-Offered the position to lead digital braces development at 3 of the 4 largest orthodontic bracket companies
-Former lead consultant for digital and lingual orthodontics for GAC Dentstply
-First orthodontist in North America to do in-office digital indirect bonding
-First dentist in North America to do a CAD/CAM 3D printed night guard
-Consultant to numerous companies involved with digital dentistry/orthodontics
-Selected for the Innosphere startup incubator program
-Board member for Delta Dental CO
-Full-time faculty at the University of Alberta
-Member of the Angle Society, CDABO, ABO, AAO, PFA, AAFE, ICD, ADA, CDA
Dr. John Pham, Founder and CEO of INBRACE
John Pham DDS, MS is an entrepreneur, team builder, former aerospace engineer, and practicing orthodontist. As CEO and Co-Founder for Swift Health Systems, Dr. Pham is on a mission to leverage his years of research experience to transform the orthodontic treatment with an invisible, healthy, patient-friendly solution for malocclusion. He is responsible for infusing his passion for patient-centered care into the company's DNA and turning his belief in a diverse and empowered workforce into motivation for all to contribute and be successful.
Dr. Pham is uniquely positioned to turn technology breakthroughs into success for Swift Health Systems and INBRACE. He has launched multiple start-up ventures and brings valuable, real-world experience in advanced orthodontic methods, practice development, healthcare software systems, lean manufacturing, systems management, and sales team leadership.
Dr. Pham concurrently acts as managing orthodontist for Bristol Dental and Orthodontics Prior to forming Swift Health Systems, Dr. Pham was co-founder of Simplifeye, a healthcare business management solution, where he focused on strategic partnerships and business development. As an aircraft engineer for Boeing Commercial Airplanes, Dr. Pham acted as Boeing's corporate subject matter expert and primary liaison to the FAA on aircraft safety certification. Dr. Pham received his Bachelor's degree in Engineering and Doctorate degree in Dental Surgery from UCLA and his Master's degree in Craniofacial Biology and Residency in Orthodontics from USC.
Dr. Alfred C. Griffin III, Founder of LightForce
Dr. Griffin received his BS in Biochemistry from the University of Virginia, then completed a DMD and PhD in Craniofacial Biology at the Medical University of South Carolina in 2014. Dr. Griffin's research in skeletal biology and orthodontics has been published in several top peer-reviewed journals, presenting this research globally, winning research awards in Canada and Japan, and domestically including the 2011 American Society for Bone and Mineral Research's (ASBMR) Young Investigator Award. Dr. Griffin then moved to Boston for Orthodontics residency, where he met his wife, and finished a Masters of Medical Research and Certificate in Orthodontics from the Harvard School of Dental Medicine (HSDM) in 2017.
Dr. Griffin founded LightForce Orthodontics in 2015, the first company to apply mass-customization and advanced 3D printing technology to orthodontic brackets. Today LightForce is manufactured and sold exclusively in the US as the world's only 100% customized bracket and represents a team of 23 based in Cambridge, MA who are passionate about digitizing "tooth-moving tools" that aren't made of plastic.
Dr. Griffin is a member is the American Dental Association (ADA), the Massachusetts Dental Society (MDS), is a diplomate of the American Board of Orthodontics (ABO) and currently serves on the faculty at HSDM as a "Lecturer in the Department of Developmental Biology," teaching biomechanical principles and applied technology to the orthodontic residents.