Digital Auto BootCamp | El único Seminario de Medios Digitales para la Indu...
Actions and Detail Panel
Digital Auto BootCamp | El único Seminario de Medios Digitales para la Indu...
Wed, Mar 8, 2017, 8:00 AM – Wed, Mar 15, 2017, 4:00 PM AST
Description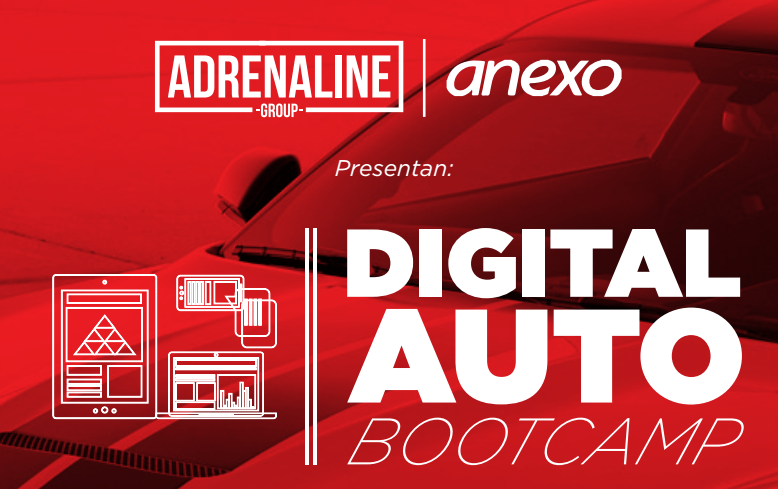 Digital Auto BootCamp
Miércoles, 8 y 15 de Marzo de 2017 (Dos Días).
8:00 AM - 4:00 PM
Adrenaline Institute
818 Ave. Ponce de León
San Juan, PR 00917
Información: (787) 760-9191
¡Integre HOY los Medios Digitales en la Venta de Autos!
El nuevo ecosistema digital ha generado un nuevo tipo de consumidor más exigente y consciente de su poder frente a las marcas. Por eso ya no funcionan igual los medios tradicionales de publicidad y es necesario plantearse la comunicación online, y sobretodo en un entorno móvil, desde otro punto de vista.
Con una metodología basada en el aprendizaje práctico y la aplicabilidad real, este taller está enfocado en introducir al participante en el emocionante mundo del Mercadeo Interactivo y las Redes Sociales donde se abordarán aspectos como herramientas, aplicaciones on-line y estrategias profesionales.
El taller está dirigido a Dueños de Dealers, Gerentes, Directores de Mercadeo, Vendedores y Profesionales de la Industria Automotríz de Puerto Rico.
Taller Profesional de dos días

Certificado de Participación
Desayuno Continental, Almuerzo y Coffee Break
Doble Pantalla de Proyección / Acceso a Internet WiFi
Objetivos del Seminario
Que usted obtenga el conocimiento práctico para implementar estrategias de mercadeo y publicidad digital en el proceso de venta de autos.
Con un formato práctico, se buscará mantener una dinámica participativa donde el trabajo en equipo sea uno de los factores determinantes del éxito.
Aprenda las estrategias usadas por Marcas de Autos y Concesionarios Multinacionales que están generando millones de dólares en Internet utilizando la estrategia del Porciento de Conversión.
---
Diseñe usted mismo Landing Pages y Páginas Web Profesionales enfocadas en generar nuevas oportunidades de negocio, fácil, rápido y sin ningún conocimiento técnico.
---
Genere su propia base de datos desde cero, obtenga suscriptores desde su web y aprenda a administrar, importar y exportar listados de contactos.
---
Desarrolle estrategias de E-mail Marketing & Mensajería de Texto (SMS) para todo tipo de comunicado enfocadas en adquirir y retener clientes. El uso de "Auto Responders" para crear comunicaciones en serie preprogramadas.
---
Aprenda a transmitir Webinars & Eventos en Vivo
---


Conoce por qué las redes sociales son el mejor instrumento de servicio al cliente y como una Estrategia de Generación de Contenido puede fidelizar sus clientes y a fortalecer su imagen en la red.
---
Aprenda como funcionan las redes sociales Facebook, Instagram, YouTube, Twitter, Pinterest, Snapchat, Google+ y LinkedIn y como pueden impulsar su negocio desde el primer día.
---
Administre sus contactos, clientes, citas de prueba de manejo y oportunidades de negocio desde su teléfono móvil a través de un sistema (CRM).
---
Desarrolle su Programa de Publicidad en Google Adwords e impulse su estrategia digital en el motor de búsqueda #1 del mundo.
---
Desarrolle su propia publicidad digital a través de Facebook, Instagram, Twitter, YouTube, y LinkedIn.
---
Periscope y Facebook Live: Aprenda a transmitir "video streaming" desde su teléfono móvil en tiempo real.
---
Presentaremos historias de éxito, casos reales y locales en Puerto Rico

Luis Fernando Rivera Alameda
Digital Media Specialist | Anexo www.anexointeractive.com
LinkedIn Profile



CORPORATE CHECKS / PURCHASE ORDERS TERMS: Call us at (787) 760-9191 to begin your Registration process. We need a Purchase Order Number (PO) or a signed Payment Commitment Letter and we will send you an Invoice. PO Terms are subject to prior approval and payments must be received in the same day of the Seminar.

CANCELLATIONS AND TRANSFERS: No cash or credit card refund only credit to a new seminar date. No show is liable for full payment. Transfers will have a period of one-year from the date of the Transfer request. Transfers will be charged $35.00 for subsequent registration, plus any fee increases for the difference of the program event. Transfers will be allowed only up to one-year, after such date the full payment will be forfeited.

IMPORTANT NOTE: If an unexpected situation occur with an atmospheric system, we will change the seminar date. We will send you a notification by email with the new date. We will not make money refunds.