With the level of exponential technologies across the globe, government & the private sector must leverage on new technologies for growth.
About this event
The theme for this year is "Building a New Africa with AI & Blockchain". This forum will examine the potential impacts of these technologies on Sub Saharan Africa. Towards advancing its goals for sustainable economic development that provides commensurate improvement in the quality of life for all its citizens. To this end, the event channels the vision to change the narrative that Africa is comfortable being a passive consumer of technology innovations created by others to one espousing its efforts to become an active contributor in the unfolding digital revolution.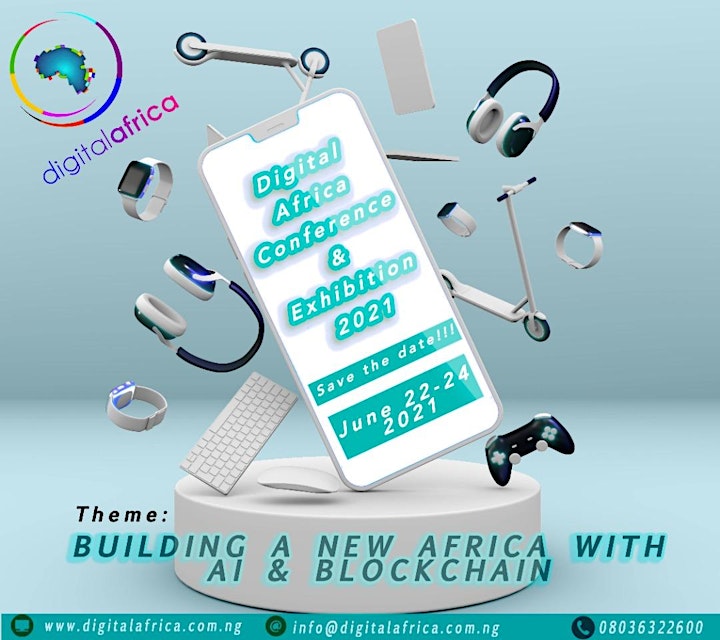 Organizer of Digital Africa Conference & Exhibition 2021
The event is organized by Digital Africa Global Consult, an international ICT consulting group promoted by professionals drawn from Africa, Europe and USA. The event is conceived as an integral part of the vision to move Africa from being a passive consumer to a dominant innovator and producer of digital technologies.
We create and execute programmes that facilitate the deliberate growth of the technology sector. While helping technology companies address the needs of local markets and reach out to the international market, we create a bridge between buyer, supplier and manufacturer, thus providing a channel through which international companies can expand their businesses into Africa with ease, less risk and profitability.
We also provide platforms where:
– Innovation and creativity are fostered,
– ICT stakeholders come together to share success stories, ideas and network
– Key decision makers and regulators are influenced
Your prospects, customers, colleagues and competitors will be at Digital Africa 2019. You should be there too. Contact us to start planning today for more details on exhibiting, sponsorships or partnerships, including custom-made options to fit your company's objectives and budget.