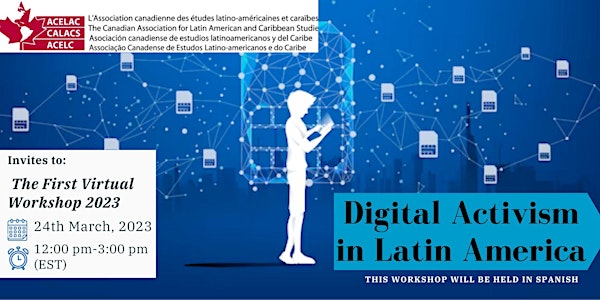 Digital Activism in Latin America
CALACS will be offering a limited series of multidisciplinary virtual workshops during 2023. These workshops will replace the in-person 2023
By The Canadian Association for Latin American and Caribbean Studies (CALACS)
Date and time
Fri, Mar 24, 2023 9:00 AM - 12:00 PM PDT
About this event
First Virtual Workshop: Digital Activisms in Latin America
CALACS will be offering a limited series of multidisciplinary virtual workshops during 2023 which are organized around pressing themes in Latin America and the Caribbean. We envision these workshops as spaces for collaboration, creation, and mentorship. These workshops will replace the in-person 2023 Congress.
When: Friday March 24, from 12:00-3:00 pm EST. Where: Zoom Link, TBA
Scholars and activists will share their perspectives and experiences on using digital technologies to engage in the public sphere. Cell phones and social media have played a prominent role in the protests that have rocked Latin America since 2019. These technologies support various goals, from mobilizing supporters to making state violence visible, but they can also be weaponized against actors with limited access to resources. This workshop will provide an opportunity for scholars, activists and CALACS members to share experiences and perspectives on digital activism, and to learn from each other. This workshop will be held in Spanish.
Roundtable Workshop Digital Activism in Latin America is divided into two parts.
First Part: 12:00 to 1:20pm (EST)
Invited Activists and Scholars from Bolivia, Ecuador, Mexico, and Colombia will share their knowledge and experiences working in the digital sphere
10 Minute Break 1:20 to 1:30 (EST)
Second Part: 1:30 to 3pm (EST).
Participatory Break-out room sessions.
CALACS members are invited to share their work, perspectives, and challenges with digital activism in break-out room sessions. Participation can take two forms: 1. Five-minute presentation requires a proposal to be submitted and approved.; 2. Informal participation, requires no proposal. Everyone attending must become/be a current CALACS member.
Invited activists and scholars will also be participating in the Roundtable discussions with CALACS members.
To have a presenter role in the second part of the event, CALACS members must submit a one paragraph statement on their topic.
• Submit statements to calacs@yorku.ca by March 15 @ 11:59pm.
• Presenters will have 5 minutes to share their ideas.
• Everyone attending and/or participating in the Multidisciplinary Workshops must become/be a current CALACS Member.
• Please renew or become a CALACS member. All information is found on the CALACS website. Visit our website for more information.
• Please note that membership fees are non-refundable and correspond to the calendar year, January 1- December 31.
Note that this event is open only to members of CALACS. The link will be provided to members upon registration.
For more information on how to become a member, please visit https://can-latam.org/
For questions and comments about the event, please contact us at calacs@yorku.ca
Agenda
12:00 PM - 1:20 PM
Part I: intercambio de conocimientos (knowledge sharing)
Soledad Machaca, Aymara scholar, La Paz (Bolivia)
Quya Reyna, Aymara activist, El Alto (Bolivia)
Carlos Macusaya, Aymara intelectual, La Paz (Bolivia)
Gabriel Chiriboga, elected councilor (Ecuador)
---
Scholars and activists from Bolivia, Ecuador, Chile and (other counties?) will share their perspectives and experiences on the impact of ICTs on civil society/social movement protest and collective a...

1:30 PM - 3:00 PM
Part II: Conversatorios (break-out groups)
---
Participants will be divided into 2 (or more depending on numbers) groups to discuss themes and possible solutions. The breakout groups may address the following questions, depending on participants'...

Frequently asked questions
Where can I find this event's zoom link?
How can I become a member of CALACS?
I have comments or questions about the event.