Digital Acknowledgments: Using Photography to Honor Student Knowledge
This event is part of TLH's Spring 2021 series on active and participatory learning
About this Event
This workshop is addressed to instructors in the humanities, social sciences, and the arts interested in incorporating visual thinking into their coursework as a means of promoting social justice. In the workshop Professor Tusia Dabrowska (John Jay College) leads participants through a progression of tasks that incorporates sharing photos and dialogue as means of recognizing the experience students bring to the classroom and promoting active learning.
Participants will be asked to complete a Digital Acknowledgement assignment that locates the learner's educational experience within the larger communal and virtual contexts. They will learn strategies for incorporating visual thinking in assignments, understanding students' POV, and creating a stronger learning community. In addition to directed exploration, discussion of teaching methods rooted in mentorship, and small group sharing, the workshop will also offer an opportunity for each participant to brainstorm how to adapt and expand upon the assignment in the courses they teach.
This 90-minute workshop does not require any prior knowledge of photography or visual communication, but the participants will be expected to take photos with their phones or cameras. Afterwards, participants will have an opportunity to share their own lesson plans and to create a repository of activities that incorporate visual thinking into academic work.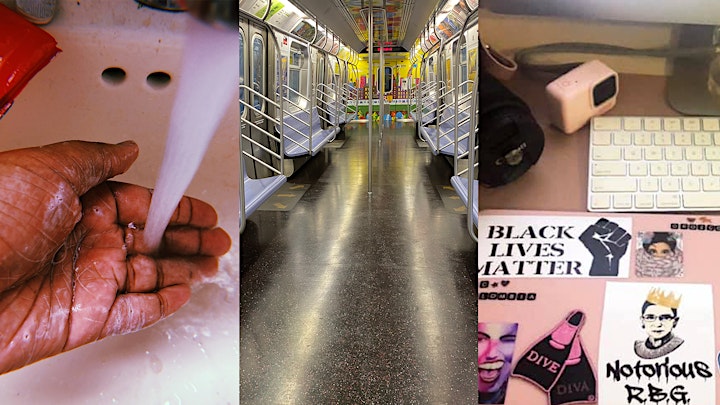 Above is an example collage of student images from Tusia Dabrowska's classes. She and her students also have a public blog that documents our mediated lives during the pandemic. It can be found here: https://selfmediasociety.cargo.site/.