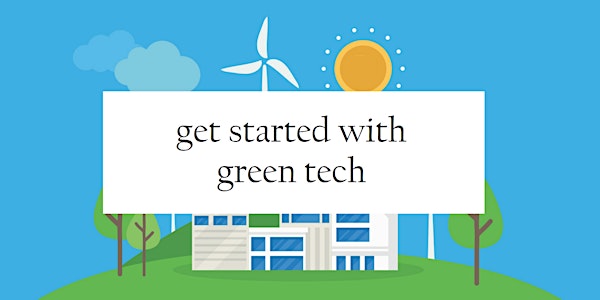 Digital Academy: Get Started with Green Tech -- Spring Series
Learn how to create sustainable technology solutions with experts from industry. Earn a digital certificate to promote your skills.
Refund Policy
Refunds up to 7 days before event
Eventbrite's fee is nonrefundable.
About this event
DIGITAL ACADEMY FOR TEENS -- GET STARTED WITH GREEN TECH
Learn how to create sustainable or "green" tech solutions and work on a project that helps the planet with experts in Microsoft Azure and AI. Earn a digital certificate to promote your skills on your CV and LinkedIn.
What Will You Learn
Learn the essentials of climate science and what can be done using technology and data to mitigate the impact of global warming. Learn how to design solutions and transition our world to a carbon neutral planet through energy-efficient approaches in AI, engineering and web design.
• It's all about the Data. Understand the data that are driving key decision in businesses and the importance of ESG (Environmental Social Governance) frameworks.
• Let's Get Smart. Learn how ESG data can be used to develop intelligence such as supply chain recommendation models or revenue at risk models.
• Real World Examples. Explore different use cases, from discovering new solar fuels, creating smart cities and electrical vehicles, identifying illegal deforestation, or monitoring environmental activities through social media.
• Design Green Tech Products. Develop your own ideas on how tech can be used to reduce our carbon footprint. Work in teams to use carbon credits and make decisions to transition the world to become carbon neutral.
• Create Green Tech Solutions. Learn best practices in designing sustainable cloud technology solutions and create your own cloud architecture for your idea proposition.
Students that complete the course will earn a Certificate of Completion that can be used on LinkedIn profiles and CVs.
The course includes 8 weekly sessions of live and recorded instruction with professionals, Digital Challenges, and project application with support from mentors.
Curriculum
• What is climate science and how can technology help in the climate change emergency?
• How can we design technology solutions sustainably?
• How do businesses measure sustainability performance?
• What Sustainability regulations do organisations face?
• Design a cloud architecture for your own project solution
Work Experience Project
Students in the course will be given an opportunity to join a work experience with Digital Camp, Digital Incubator, and/or industry partners, and apply their learnings in projects working alongside tech and business professionals from Microsoft, Vodafone and more.
Prerequisites: Students should be comfortable with basic concepts of computing and be able to use a PC with an Internet connection and video camera.
Target Age: 14-19 years
Study Time Required: 1-2 hours per week over 8 weeks
DATES & TIMES:
You may choose to join one of the following courses. The sessions will also be recorded allowing you to catch up on any sessions that are missed.
Spring Cohort: Wednesdays 6:00-7:00pm GMT
• Jan 25, Feb 1, 8, 22
• Mar 1, 8, 15, 22
WHAT YOU WILL NEED
You will need a PC or Mac and a smart phone ideally with video camera plus charging cables.
Under 18's require a consent form by a parent / guardian.
RESEARCH STUDY
We are conducting a research study with the Digital Camp, Digital Incubator, and Digital Academy with Dr. Jonathan Beale (Oxford, Harvard), Dr. Iro Konstantinou (Eton College), and Dr. Michael Mannino (Flow Research Collective) to test how digital education and purpose-driven programmes can impact academic resilience, performance, and flow in young people as well as growth and development in mentors. Participants will be invited to complete surveys and offer feedback and may opt out of the study.
OUR MISSION
We aim to inspire a love of learning with young people about technology and support their journeys to first work experiences. We believe it is critical to create an engaging and inclusive environment for girls, which are under-represented in both STEM and in leadership roles.
We're on a mission to build a sustainable education programme offering skills development and work opportunities for boys and girls of any age through a co-funded model with socially responsible businesses, educational organisations, and government.
This programme is a pilot supported by Vodafone, Microsoft, Elastacloud and volunteers from the tech and business community. Proceeds from the Digital Academy are helping to raise funds to enable us to build a sustainable programme to support students to launch their own businesses. We greatly value your support and feedback.