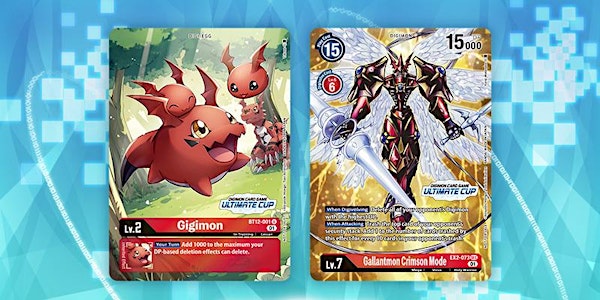 Digimon Card Game Premier TO Ultimate Cup [Oceania]
TAK Games are proud to support the Digimon Card Game via a Premier TO Online Webcam Tournament Event.
Date and time
June 2 · 6pm - June 3 · 3am PDT
Refund Policy
Refunds up to 1 day before event
Eventbrite's fee is nonrefundable.
About this event
This event is capped. Please register early to secure your spot.
We are proud to present the Premier TO Online Webcam events for the Digimon Card Game in the Oceania region.
This is a constructed, swiss tournament event. There will be no Top Cut. Each round is a best of 3 game match, with 50 minutes of round time allocated.
Players must compete using a webcam and with their real physical cards via the Digimon Battle Server, hosted by Discord. Players must submit two deck lists (an electronic version of their list via Digimoncard.dev) and a photo of their physical deck, clearly showing all cards within laid out and visible within the photo. A link for decklist submission will be provided to registered players.
Requirements:
- Webcam (720p recommended)
- Computer
- Microphone (headset works best)
- Dedicated Playing Space (for showing cards to your opponent)
Set Up:
1. Set up your dedicated playing space where your cards will be displayed for your opponent.
2. Adjust your webcam's position so your playing space is shown in entirety.
3. When pairings are posted, join the voice chat of your assigned table. Table 1 = Battle Channel 1 and so on.
4. When you join the voice chat, there is an option to begin video chat. Press it and your webcam will be enabled so your opponent can see your video feed. Have your microphone enabled so you can easily communicate with one another.
5. Play your game.
6. Once you've finished your game, report your results. Your opponent must confirm the result.
Important Notes on Webcam Play
1. Make sure to keep all relevant cards on the video feed at all times. This includes your hand.
2. Make sure to keep your hand over the table so that cards do not fall on the floor.
3. When you need your opponent to cut your deck, ask them how they would like it to be cut.
Because of the nature of online play, it is critical that both players clearly communicate with opponents – more often than you normally would in a real life event. You must use the assigned Discord Battle Channel to communicate with your opponent. Double check all moves and be sure to ask questions. More time has been allocated for each round to accommodate the additional communication requirements.
Prizing:
https://world.digimoncard.com/event/ultimate_cup_2023june/
You must be a resident of Australia or New Zealand to participate in this event. If competitors are found to be residents of countries outside those listed before, during or after the competition, they will be disqualified from the event and forfeit all prizes. Shipping is included for all players residing within Australia and New Zealand.
Need more information? Email us at digimon@tak-games.com.au
About the organizer
Managers of the organised play program in Australia and New Zealand for Dragon Ball Super, TAK Games prides itself on building community engagement through meaningful organised play events, driving traffic and business to established friendly local game stores and giving back to the playing community through the provision of well-run and well-supported tournament events.