DigiMarCon EMEA 2021 - Digital Marketing, Media & Advertising Conference
DigiMarCon EMEA 2021 - Digital Marketing, Media & Advertising Conference
About this Event
About DigiMarCon EMEA 2021DigiMarCon EMEA 2021 is your chance to ...
Hear from the most audacious and provocative speakers in the digital marketing industry.
Gain insight into emerging strategies, the latest innovative technologies, and best practices.
Network with thought leaders, build your network and collaborate with your peers.
DigiMarCon EMEA 2021 Digital Marketing Conference takes place October 20th to 21st, 2021, Online; Live and On Demand. 
It's the one digital marketing event you can't afford to miss! Whether your goal is to reinforce customer loyalty, improve lead generation, increase sales, or drive stronger consumer engagement, DigiMarCon EMEA 2021's agenda will help attendees enhance their marketing efforts. Sessions will focus on building traffic, expanding brand awareness, improving customer service and gaining insight into today's latest digital tools. 
This year's topics include:
Digital Strategy
Web Experience Management
Usability / Design
Mobile Marketing & Retargeting
Customer Engagement
User Acquisition
Social Media Marketing
Targeting & Optimization
Video Marketing
Data Science & Big Data
Web Analytics & A/B Testing
Email Marketing
Content Marketing
Conversion Rate Optimization
Search Engine Optimization
Paid Search Marketing
Geo-Targeting
Predictive Analysis & Attribution
Growth Hacking
Conversion Rate Optimization
Growth Marketing Tools
Marketing & Sales Automation
Sustainable Growth Strategies
Product Marketing & UX / UI
DigiMarCon EMEA 2021 offers all of the elements you need to achieve digital marketing success! Conventional thought will be challenged, new ways of thinking will emerge, and you will leave with your head and notebook full of action items and ideas to lead your agency / team / account to even greater success.
After careful consideration in light of the ongoing Coronavirus (COVID-19) developments and concerns worldwide, DigiMarCon physical events have been postponed to 2021. In lieu of physical events for 2021, DigiMarCon is creating a 2020 Virtual Series, adding to its existing online conference.
DigiMarCon America 2021 – July 21-22, 2021 (NEW)DigiMarCon Asia Pacific 2021 – September 15-16, 2021 (NEW)DigiMarCon EMEA 2021 – November 17-18, 2021
These virtual conferences, including DigiMarCon EMEA 2021 will blend the content of our individual regional events providing the digital marketing and advertising community with the latest trends and cutting-edge technologies online, live and on demand.
Agenda at a Glance
The DigiMarCon EMEA 2021 program is spread over 3 consecutive days with 3 hours of live stream content daily split into 2 x 1.5-hour sessions with a 1-hour break between. This enables attendees to manage work commitments around the schedule. If you are unable to view any of the live stream presentations video on demand of the live stream presentations will be available after the event.
Here is a general overview of the conference schedule and offerings (note: all times are Central European Standard Time GMT/UTC +1)
Tuesday, November 15th, 202110:00am - 11:30amWelcome & Opening SessionOnline: Live Stream11:30am - 12:30pmBreakFree Time12:30pm - 2:00pmSession 2Online: Live StreamWednesday, November 16th, 202110:00am - 11:30amSession 3Online: Live Stream11:30am - 12:30pmBreakFree Time12:30pm - 2:00pmSession 4Online: Live StreamThursday, November 19th, 202010:00am - 11:30amSession 5Online: Live Stream11:30am - 12:30pmBreakFree Time12:30pm - 2:00pmFinal Session & FarewellOnline: Live Stream Speakers / SessionsCome for three high-impact days of DigiMarCon EMEA 2021, from November 17th to 18th, 2021. Meet the "who's who" in the Digital Marketing Community, gain new insights and share ideas with fellow web business pros. Whether you're just getting started or you're a digital marketing expert, DigiMarCon EMEA 2020 will give you the latest strategies and information to increase your own knowledge and grow your business through digital marketing.
Click Here to view details about Speakers.
Click Here to view details about Sessions. 
PassesDigiMarCon EMEA 2021 pass:All Access Pass
All Access Pass includes:
November 17, 2020: All Online Sessions (Live Stream)
November 18, 2020: All Online Sessions (Live Stream)
November 19, 2020: All Online Sessions (Live Stream)
On Demand: Online access to video presentations of all DigiMarCon EMEA 2020 sessions (1-year access)
Pass RatesDATES OF PURCHASE:  ALL ACCESSSuper Early Bird Rate - $150 off(Jan 1st, 2020 to Sep 11th, 2020)  147Early Bird Rate - $100 off(Sep 12th, 2020 to Oct 9th, 2020)  197Regular Rate - $50 off(Oct 10th, 2020 to Nov 6th, 2020)  247Late Rate(Nov 7th, 2020 to On-site)  297 View the Pass Best Suited For You Then: Register NowRegister NowWill you be at DigiMarCon EMEA 2020? REGISTER NOW as space is limited.
Don't Miss the Digital Marketing Event of the Year!
For complete details about DigiMarCon EMEA 2021 visit https://digimarconemea.com/If you have any inquiry about DigiMarCon EMEA 2021, contact our Customer Service team by Email at info@digimarcon.com or Phone +1 (800) 805-5385 (Toll Free) during business hours 9am to 6pm, Monday to Friday Eastern Standard Time.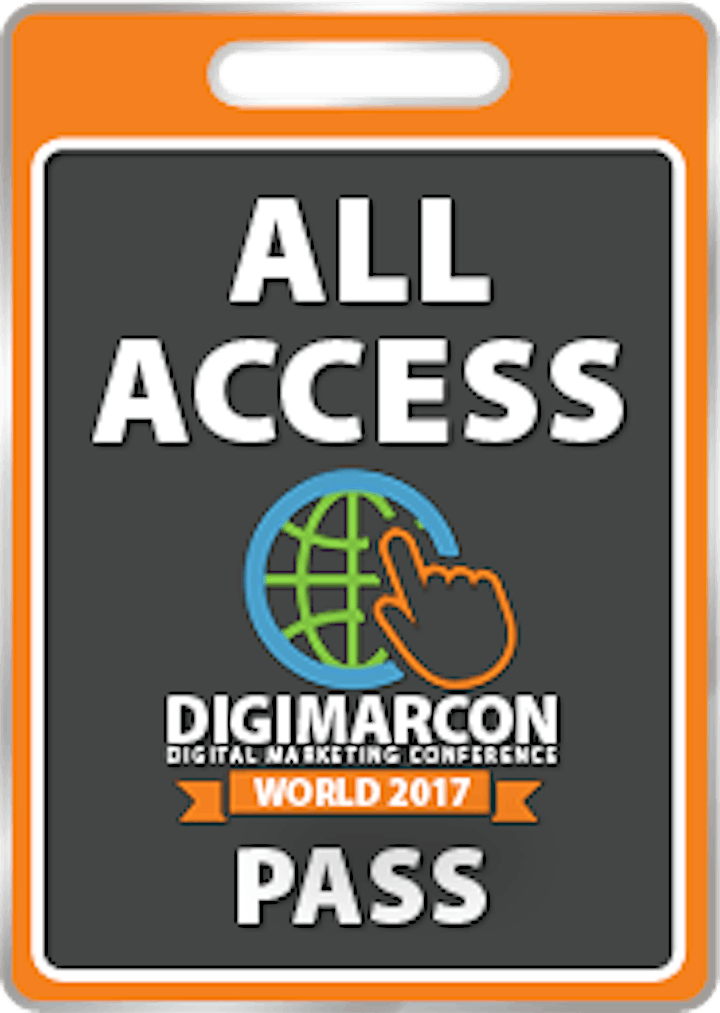 Date and Time
Location
Refund Policy