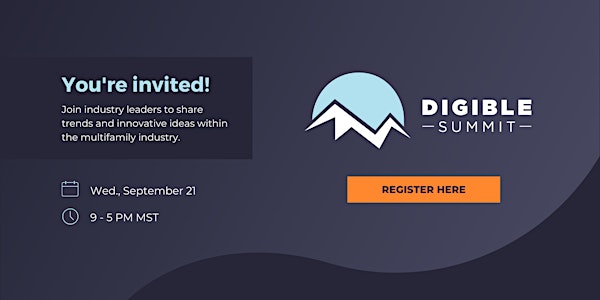 Digible Summit 2022
This event is for multifamily marketers, digital marketing professionals, and data-driven individuals.
About this event
The Summit is back!
For the fourth year running, we're hosting an interactive digital marketing conference—Digible style! That means a full day of industry leading insights, engaging virtual sessions, and thought provoking talks on everything from the single-family rental scene to the road to GA4.
The 2022 Summit will feature guest speakers from across the industry, as well as a few familiar faces from our in-house crew. Together we'll discuss everything that's happened in the past year, and we'll explore where multifamily is headed in the year to come. There'll be tips and tricks, community and collaboration, and plenty of nerdy tech talk.
You don't want to miss it!
Agenda
9:00 - 9:20 AM | Opening Remarks
Founders, Reid Wicoff, David Staley, and Nicole Staley
9:30 - 10:30 AM | The Impact of SFR and BFR on the Renter Experience
Moderator: Jenny Hart, Enterprise Managing Consultant, RealFoundations
Panelists:
John Carlson, Mark-Taylor Investment Management
Todd Gorelick, Sr. Managing Director & Co-Chief Executive Officer, Bridge Single-Family Rental
Joya Pavesi, EVP of Marketing and Strategy at RKW Residential
Operators of single-family rentals and build-for-rent communities have run centralized property management teams and marketing for more than a decade. We will explore how that operating model has influenced renters' expectation of a frictionless leasing and living experience regardless of product type.
10:45 - 11:15 AM | How to game the Digital Marketing system with Artificial Intelligence
Session By: Victor Dozal, Vice President of Engineering
In this session, we'll learn how AI can help with your digital marketing strategy, budget, and data-driven decisions. Artificial intelligence is like a pair of pants – if you don't have them, you don't know what you're missing.
11:30 AM - 12:30 PM | Mission-minded for the Multifamily Industry
Moderator: Arden Murphy, Account ManagerGuest: Bridget Foley, Director of Partnerships Move for Hunger
What happens to food when residents clean out their fridge and move out? It's thrown away.
In this session, our key note speaker from Move for Hunger discuss how apartment communities, onsite teams, and residents across the nation can take action and make an impact in their community to reduce food waste and fight hunger.
Move For Hunger is a national non-profit organization that created a sustainable way to reduce food waste and fight hunger by partnering with moving, relocation, and multi-family industries to provide their customers, clients, and residents the opportunity to donate their food when they move.
12:45 - 1:15 PM | TikTok: How Multifamily Can Engage With the World's Most Downloaded App
Session By: Abby Glaessner
At Digible, we run short-form TikTok videos on In-Feed Ads, which are served on users' "For You Page" or FYP, and are perfect for highlighting your property amenities, floor plans, and neighborhood.
During this session we will talk all things TikTok, how to integrate it into your media mix and metrics to measure for success. For a sneak peak, check out our TikTok Product Video
1:30 PM - 2:30 PM | 10 Things that Vendors Want you to Know
Moderator: David Staley
Guest: Robert Turnbull, President/COO/Founder of BetterBot
Guest: Jennifer Cyphers, Founder & CEO of Pynwheel
Guest: Jude Chiy, Founder & CEO of Flamingo
Just like Kitchen Confidential, we sit down with leading experts in the multifamily industry to tell all. From how to utilize your vendors, granting access to certain platforms, and of course, hot takes.
2:45 - 3:15 PM | GA4 Roadmap & Recommendations
Session By: Kayde Pierce, Senior Account ManagerTammy Koehler Smith, SEO StrategistMegan Haase, Digital Strategy Lead
Digible's product experts share what you need to know about Google Analytics 4 including what's changing, how to prepare, and how to future-proof your website data.
3:15 - 3:45 PM | Fiona's Past, Present & Future: The 10 Year Vision
Session By: David Staley, Co-Founder & President
Fiona, our Marketing Operating System has come a long way since the Alpha version was released in Q1 of 2018. But the road ahead is long. Join us in this session to hear about Fiona's current features, how she can support your multifamily marketing goals, and what the future of Fiona has in store.
About Fiona
With Fiona's Marketing Operating System, a multifamily marketing manager or other marketing executive has the ability to plan, execute, optimize, and analyze strategic, customer-centric marketing programs that drive measurable business outcomes.
Fiona allows you to track your calls, she scans the web for fair housing violations, automatically generates and posts content on Google My Business, plans your new budget, and so much more.
3:45 - 4:15 PM | Why Video is Important to Add to Your Media Mix
Session By:
Kelsie Blue, SEO Analyst
Kaitlyn Kocsis, Social Media Strategist
Are still images a thing of the past? Is TikTok effective for multifamily marketing? What the heck is a reel? In this session, we'll discuss video from every angle. Understand metrics, best practices, and the data behind why video is dominating the marketing world, plus how to implement video into your marketing matrix with ease.
4:15 - 4:45 PM | Digible Reporting ExperienceSession By: Nicole Staley, Chief Experience OfficerKayleigh Zimmerman, Senior Account Manager
In this session, Nicole and Kayleigh will share digital reporting trends including data storytelling, reporting for different personas, how to work with your agency, and the future of reporting.
Closing Comments
4:45 - 5:00 PM
(Reid Wicoff, David Staley, and Nicole Staley)
*Registrants will be emailed agenda details and event link prior to the event.