About this Event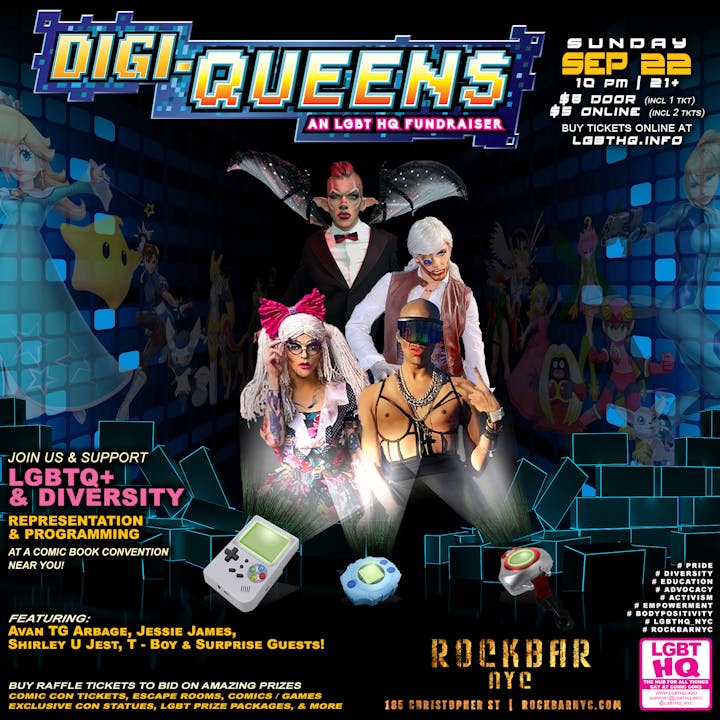 Sunday, September 22, 9:00 pm, LGBT HQ is back with a Digital Drag Gayming Revolution Fundraiser! This time around we are breaking down the walls of the digital world and going full 16-Bit on y'all! We will have all our amazing prizes from our great sponsors and LGBTQ+ community supporters! The suggested cover at the is...$5 (Due to online fees, you will get 2 raffle tickets with purchase) or $8 at the door (Includes 1 Raffle ticket)* You can buy more raffle tickets online when you place your order *
The night will feature Amazing Drag Queens / genderfluid performers Avan TG Arbage, Jessie James, Shirley U. Jest, T-Boy & Special Guests!
We will be offering multiple amazing prize packages for raffles throughout the event. Prize packages and Items can range in value from $50 to over $500! Including but not limited to exclusive tickets to Off-Broadway shows, Escape Rooms, LGBT+ themed Comic-Con Items and more!
Help us continue to bring interactive LGBT+ & Diversity programming & events to comic book conventions across the nation. Come and join in the fun at the Stonewall Inn, buy raffle tickets, win great prize packages, see fantastic performers and get your picture taken with some of the coolest and geekiest Drag Queens and cosplayers around! It's bound to be a night for all to enjoy!
Sunday, September 22, 2019, 9 pm, 21+
Digi-Queens, an LGBT HQ Fundraiser
$5 ( Due to online fees, you will get 2 raffle tickets with purchase)
$8 at the door ( Includes 1 Raffle ticket)
Rockbar NYC, 185 Christopher St, New York, NY 10014
www.lgbthq.info
* Digital Gayming Drag Queen performances
* Raffle prize packages totaling over $2,000
* Drink Specials (2 Drink Min)
* Exclusive Event Photo Ops